2020 – so strange they named it twice!
At the end of our 10th Anniversary year, I am looking back at what we have achieved in what, for many of us, has been the strangest of years.  In spite of all the weirdness, we have managed to hold onto our hats and continue to grow, connect and create new projects within the Costa Women Community and there have been some high points to celebrate too.  If you connect with the community on a regular basis, you will be aware that I try to find the good in even the challenges and this year has been no exception, so here are some highlights, achievements and special moments from me before we head into 2021
Went Online
One of the pluses for me has been the opportunity to meet Women I wouldn't normally be able to connect with through the 280 online events we have hosted since March.  Whilst we have been able to organise regional events over the last few months, being able to expand the network has been amazing. 
And we have created new groups in 2020 in:-
Tarragona with lovely local host

Janette Adams

 
Bay of Biscay with the awesome

S. LEE Wright

 
In Seville with friendly

Cristina Hays Sanz

 
Granada with super

Jeannie Kim

And in Andorra with top team

Agata Galuszka

and Caroline Whitaker
These new groups have extended our reach to 32 locations where groups meet around Spain – have you found one near you?
Our groups and events (whether online or local) wouldn't be possible without our lovely group of 33 volunteers who bring a welcome smile and organise the local events in your area and Lorraine Williamson who has been my constant helper through 2020. 
We appreciate that our hosts are volunteers and therefore sometimes life means they get too busy to organise regular events. If you don't see your location in the list and you would be interested to host, or co-host an event please let me know and we will see what we can arrange! It can be as simple as arranging a coffee morning, or glass of cava at a local bar in your area.  Email me at events@costawomen.com and let's chat.
(Costa) Women in Business
Our biggest annual business event in the Costa Women Calendar is the International Women's Day Conference in Marbella. We were proud to collaborate once again with Jackie Groundsell of 1230 The Women's Company.
As the day of the event arrived, we were advised that we couldn't host the event 'live' so took the whole conference online where our 140 guests and speakers could continue to enjoy the event, share knowledge and network.
Since that event, 95% of our business networking has been online and we have rolled out some new packages just for 2021 including advertising. Find one which suits your business here
Expanding our business contacts internationally, we are thrilled with our monthly collaboration with B.I.G. (Believe, Inspire, Grow) Network from New York City, as well as the joint events we have hosted with Jackie Groundsell of 1230 The Women's Company and Sue France with Creative Connecting in Cheshire. We are arranging monthly online zoom calls which form workshops, or tips, advice and discussions – if you have a business, or are thinking about creating one do join the group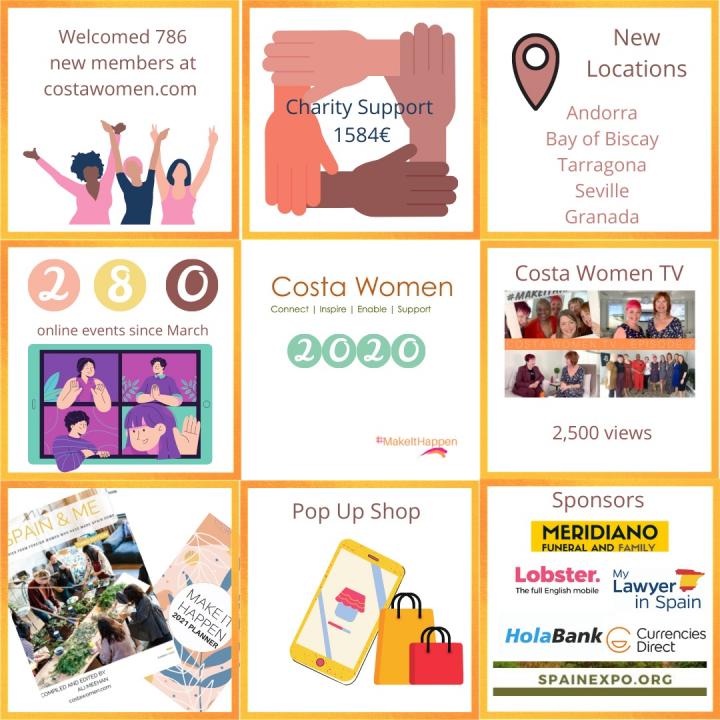 You put the Fun into Fund Raising!
Whilst many of events were curtailed this year, the community as a whole managed to raise
954€ for Bancosol Alimentos with our two fun Pop Up Shops (10% from sales was donated by our amazing shopkeepers) and Vintage Vogue

Through our annual Barcelona Conference raised 450€ for refugee widows & orphans at Safe Haven

Our West of Marbella group raised 180€ for Adana Animal Shelter

With a Caritas initiative to make a wish come true for local children in need for the Kings Celebration being the focus for our Costa Tropical group.
Many of you reacted to situations in your local areas and cooked meals, delivered food, provided support whether financial, emotional or physical, housing, helped with beach clean ups and more.  There is no monetary value we can attribute to the differences you have made to people in your area.
We Created
In February we launched Costa Women TV which 2,500 of you watch over the first three episodes.  We loved your feedback. New plans are afoot for 2021 so watch this space! 
When 2020 went off-script, we kept you inspired by generating 1549 minutes of content. Let's take a moment to reflect here
The 2021 Costa Women Diary/Planner has been a sell out success and a white label version is being enjoyed by the Happenistas' group in the UK.
You helped create the third ebook in the Spain & Me Series with your stories of moving to and living in Spain – download your free copy here
And I relaunched SpainExpo.org to help our members with new interviews from experts about moving to Spain.  More interviews and information will be added in 2021
We Celebrated YOU
And you nominated Costa Women who you believed had made a difference in 2020.  Nominations were given to Deborah Frati, Nadine Kazerounian, Ashlyn Watts, Lorraine Williamson, Jo Bendle, Selina Mackenzie, Tricia Gabbitas, Michelle Arbon Roberts, Ivonne Cabrera, Bakhyt Jan Barrett, Helen Woolley, Gina Marks and Suzie Malt
Congratulations to all these Ladies and our overall winners for 2020 – Lorraine Williamson and Selina Mackenzie.
Sponsors Shoutout
We were delighted to welcome in 2020 three new sponsors – 
HolaBank an account for residents or non-residents with financial solutions and personal services in your language to make your everyday life in Spain easier. 
Meridiano Funeral Insurance Policy simple & practical way to "be prepared" Have peace of mind that arrangements are organised and paid for. 
Lobster – Spain's only 'all-in-English' mobile service. SIM-only, 4G Super-easy to use. Unlimited texts & calls between Spain & other countries. 
They joined our other amazing sponsors:- 
My Lawyer in Spain (who offer a free 30 minute consultation at one of their 11 offices around Spain).  And they celebrated being awarded International Advisory Experts Award and Build Magazine Property – Lawyers of the Year 2020 – Spain
And Currencies Direct who were voted Money Transfer Provider of the Year in the 2020 MoneyAge awards!.  If you haven't used their services yet – they are completely free and offer transfers for as little as 100€
In the Press
You may have seen, read and listened to the news articles, or interviews about Costa Women which appeared in RTV Marbella, Sur in English, InSpanje.nl, Costa Connected, Expater, Expat Woman, Love Yourself Project, This is Fuengirola, Shaw Marketing and A World of Women  – thanks so much to all our media supporters
And that's not all… 
As we close-off 2020, let's celebrate the arrival of new members arriving into our community during 2020.  We welcomed our 9368th member and continue to celebrate our 127 different nationalities; each bringing your rich culture, stories and values to the community.
How can you get involved?
Blogs
If you are thinking about writing a blog, what better place to start than on the website.  You can upload your own blog here (unique content only please so we don't upset the Auntie Google)
The Blogs you liked reading the most in 2020 were:-
We are ALL in this together… or are We? – a very personal look at Black Lives Matter from Maxine Room CBE
Living in the Lockdown – Your stories
Homeschooling and entertaining kids during the lockdown – with tips from Ann Vanhuysse
Menopause, Awakening & Ascension Symptoms… – thoughts from Barbara Franken
In the Lens
Do you like taking photos?  Our monthly competition got many of you out and clicking, even during the lockdown!  Your favourite photograph of 2020 was from Sarah Allibone.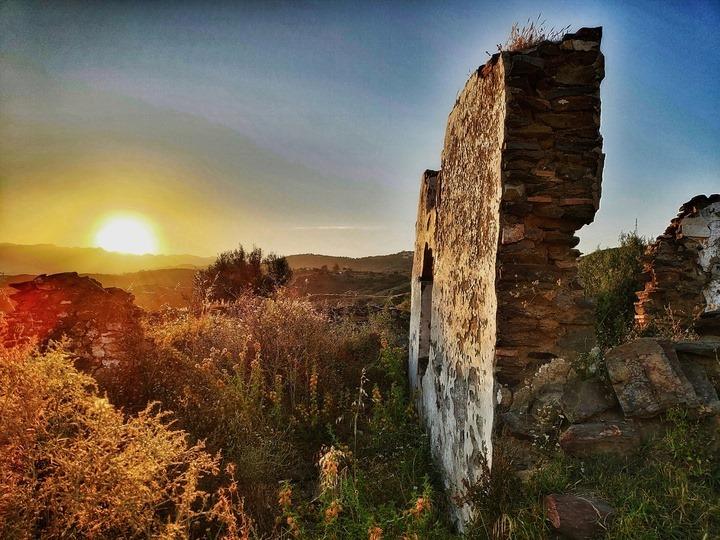 Join in the monthly competition (with the chance to win a prize) in our Costa Pics and Clicks group
Talking about groups – you created and joined one of our 145 interest groups for hobbies, ideas, projects, business, plus writing, photography and reading clubs, online groups for locations across Spain, and groups in different languages. Have you checked your groups lately to connect with other members with similar pastimes? 
And we interviewed 
In the 'Costa Women Featured' series we featured, and I interviewed, Costa Women and shared these via Youtube  or written blogs.
The 'Make it Happen' podcast reached over 500 downloads 
and YouTube channel now has 289 subscribers
In 2020 it could be YOU!  Are you launching a new project, have an uber cool business idea, need support for your charity, book launch, or just want to spread your love of Spain on a live Zoom video? If so, send me an email to interview@costawomen.com with a chance to be featured.
And we got social
We loved meeting you at events, on the website, via social media
Thank YOU Costa Women for creating 1000s of new connections and very happy memories.  Here's to a more positive 2021 – may it find you amongst (Costa Women) friends.
Ali x