In this week's interview we talk to Phillipa.  Phillipa lives in Velez Malaga where she has created a new tourism website to share all that is good about the Town. 
Hello Phillipa – tell us about your life before Spain 
I started my first business when I was 17.  My parents were self-employed and had a successful engineering business – entrepreneurism is in the blood. 
 At 21, after my degree in Applied Science I wanted to learn a language – I hadn't taken a gap year and thought it was time to do so. I'd visited Granada with a friend as part of an Andalucia tour and it seemed like a great city. So six months later I enrolled in a language course and lived with a Spanish family for 2.5 months. I fell in love with Andalucian culture, Spanish history, art and the city of Granada. After a year I went back to the UK to work.
I returned to Spain 4 years later after handling the sale of the family business, and generally because I was just missing the place terribly. I drove through Spain from Santander to Malaga city visiting as many places in between. This was 2004 and while flat-hunting in Malaga city I was introduced to a woman who wanted to open her second hostel. She asked me to set up and manage it, and after a year and a half of no sleep and a lot of fun, the first backpackers' hostel in Malaga city had proven Malaga was a city young, international travellers liked to visit.  
We won awards for best hostel in Spain, Europe and best staff in the world. I thought it was time to go back to the UK and get a 'proper' job, which I did and enjoyed but missed Spain every day.  
Back in London, by day I was working in management. My team was 80 strong and life was fun, busy but soulless,  However, we were building our own digital business on the side.  We were being carefree and loving what London offered – free galleries, markets, nightlife and interesting work.  
In 2011 I moved back to Spain with my husband who I met in Granada. This time we bought a listed townhouse in Velez-Malaga that needed complete renovation. And we are still here. 
So whilst you knew Granada and Malaga City well, you end up in Velez Malaga?  
I must have looked at 100s of houses – from Seville, Cordoba and Malaga to some small towns in between – but I fell in love with a typical Andalucian townhouse in Velez. The town has a great feel about it – typical, attractive, but not prettified. I wanted a house that needed renovation and offered options (we current use it as a coliving/coworking environment). I needed an airport close by, as most of our marketing clients are based in London, and I didn't want somewhere touristy or full of foreigners. Velez has a lot to offer and I liked that it was relatively untapped.
Why should we move to Velez-Malaga? 
Location – 40 mins from an international airport, 15 minutes from the mountains, 10 minutes from the beach.

 

Historic centre – beautiful, characterful, historic buildings are plentiful, some of which need renovating, which is a great opportunity for some people.

 

Authentic Spain – From flamenco to fiestas and festivals to amazing fresh fruit and vegetables.

 

And you love it so much you have now created https://mivelezmalaga.com/ – tell us more 

The digital footprint of Velez-Malaga is appalling, I wanted to change this. The town has so much to offer a resident, business owner or visitor, but is hidden by modern apartment blocks on the outskirts and poor signage/navigation. Velez is a cool town: great buildings, fab feel, creative art movement, good restaurants and ideal for people who like to be outdoors. I believe in society and want to be a part of where I live. So I feel I'm helping in the only way I know how and that is to build an online presence. There's a real artistic movement in Velez with lots of music (particularly Flamenco), dance and art exhibitions, there is also some great properties for sale but are poorly represented so I wanted to pull all that Velez has to offer together and promote them – thus Mivelezmalaga.com will fill this gap. 
What has been your greatest challenge with creating the new site? 
Being time-poor. I'm a digital marketing consultant and a mother first. Mi Velez-Malaga is very much a hobby. I tried a few different ways to 'cheat' which in hindsight didn't really save me time at all and I'm still resolving those issues now. There were – and still are – many weekends working while my husband and son were having fun. 
What plans do you have for the site going forward? 
For the Spanish language version to be live, property to be advertised and to just generally be a reference point for all things Velez-related. 
So if we can drag you away from your passion project, your idea of a day off? 
Disconnecting from all technology. Spending time with my family playing, laughing and discovering. If I'm really lucky I'll get to read something that isn't work-related and visit a gallery; or shopping at an antiques or flea market. 
Over the summer you will…. 
Work as usual, the digital world doesn't stop. But we'll be having fun too. Velez has three great festivals – the international Spanish guitar festival in July, Wednesday Jazz Summer nights at the CAC gallery and Noche en Vela in August. When I'm not working I'll be mainly in the sea or a swimming pool as my 4 year old son is a real water baby. For holidays I'll be visiting friends in London and Newcastle and spending some time on the Costa de la Luz. 
What's your favourite APP?  
This changes a lot but at the moment probably Sonos (the app is rubbish actually but I love music and having control of all the speakers in the house with one touch is bliss). Or Splice – my Gopro is my new best friend. 
What book are you reading at the moment? 
The Rise of the Robots by Martin Ford. It's about technological advances and how it could affect employment.
And a lover of upcycling 
I recently upcycled this shelf – driftwood and leftover cable from the building work on our house. Chairs I bought for €5, stripped back to wood and recovered.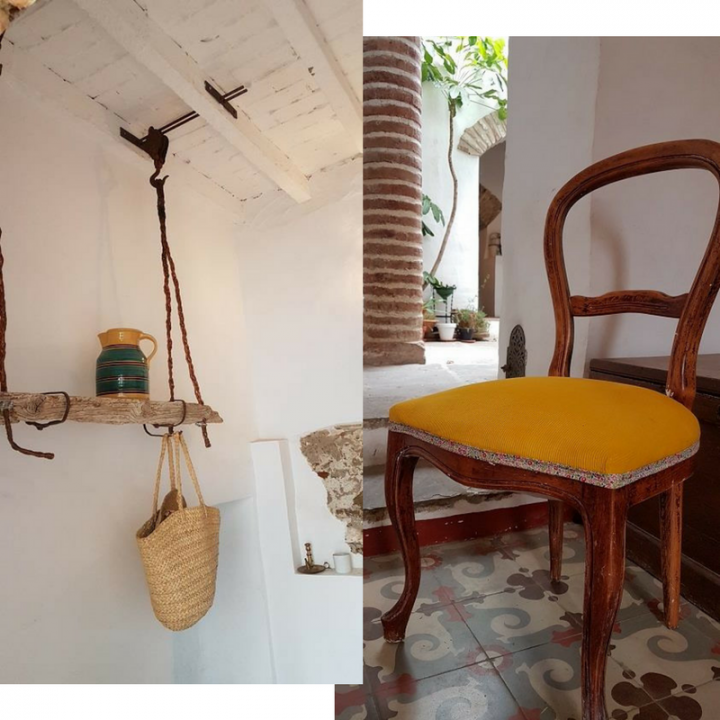 Who would you like to introduce Velez Malaga to?
Elon Musk – I'd walk him from Calle Lope de Vega, through Plaza/Calle San Francisco, up into the Plaza de la Constitucion and down Calle de las Tiendas and past a lot of atmospherically crumbling old houses along the way. Then I'd organise an open patio event where he could see some of the fantastic renovated properties, hear local Flamenco and see some artists. Afterwards we'd go out for tapas and I'd pick his brains. 
Where can we find out more about your project? 
https://mivelezmalaga.com/
https://www.instagram.com/mivelezmalaga/
https://www.facebook.com/mivelezmalaga/
https://twitter.com/MiVelezMalaga
Thank you Phillipa – see you in Velez Malaga!