Renate van Nijen has used her own experiences and life in Spain to create multiple books and artwork to share her story. As an artist, storyteller and teacher she uses her learning of "love yourself first – you are good enough" to create spaces where you can join in her world.
Tell us your story of arriving in Spain
Well, I would have preferred Italy as I had already lived there for five years. But in 2003, my then partner who I had met three years earlier, an Englishman who was also a functioning alcoholic – and a very good English teacher, wanted to live in Spain.
He arrived in Logroño (La Rioja) in August of 2003, I followed him in October, but first went to Alicante for a solo exhibition of my artwork for one month. 18 years and 8 books later I still live in Spain. I now live in the village of La Herradura on the Costa Tropical and I married Miguel, my Spanish avocado farmer when I was 54 and he was 48. Yes I know… toy-ish boy!
My English partner and I split up after 12 years of living and working together – I also earned a living as a translator from Dutch to English (I'm Dutch) and he was a proof-reader – the best, even when he was totally drunk.
I wrote and published my first book in 2010 it is called Secret Thoughts (quirky, sensual very short stories with a twist) I like to write storytelling books. Tapas of Tales (funny stories about my life in Spain) is my latest book, written in April 2020 and Memories of World War II (my now 92 year old father's experiences as a teenager in a family in the Resistance) was written in March 2020. Yes I was productive during the first lockdown.
I wrote my book Cheers, breaking the silence (stories of partners, children, friends of alcoholics and alcoholics and healthcare workers and my own story) in 2011, but I revised it in 2020. I'm still passionate about the subject as many partners or children of alcoholics suffer in silence.
I also wrote a book about the village I now live, called Reflections from La Herradura (it is both a storytelling book and an itinerary through the village. It describes the stories of dancers, writers, painters, musicians and other visionaries who came to the village). All my books are available on Amazon.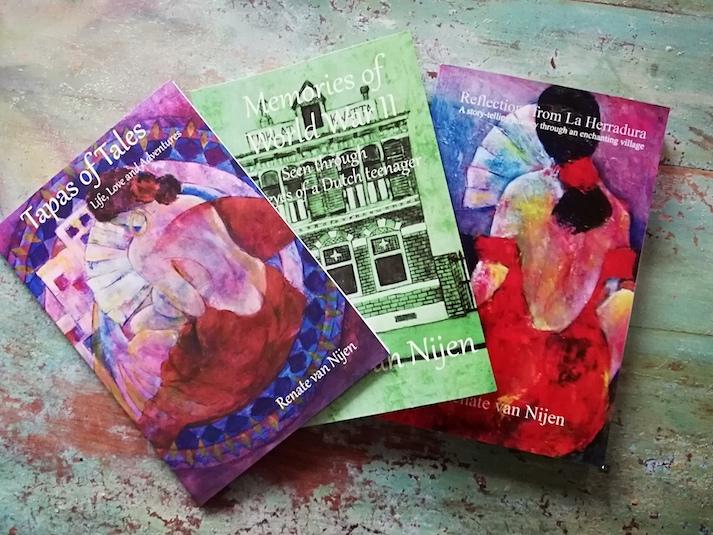 Tell us more about La Herradura
La Herradura is part of the town of Almuñécar. The top three reasons why you should check this village out (and I can recommend my book to get to know it already):
It is a magical seaside village, captured by two land-arms, hence the name La Herradura (which means horseshoe). One of which is natural park Cerro Gordo. On the other side of this land arm (still part of La Herradura) you will find the beautiful Cantarijan nudist beach if that is something you like. Because the mountains are so close to the village there is no space to spread out. There are no high-rise buildings, I think the maximum is six or eight apartments high, and it is still a very Spanish village – in the summer there is mainly Spanish tourism. Also good to know is that you get a tapa with your drinks for free. There is only one discothèque, but plenty of bars and restaurants to enjoy the sea view.
La Herradura is famous for it's diving opportunities, there are many diving schools, so if you love that, you should definitively come to La Herradura for a visit or a stay.
La Herradura and Almuñécar have a rich cultural offering. There are many artists of all genres who flock to the village. The famous Andres Segovia lived here and because of that the annual Andres Segovia classical guitar contest (a very prestigious contest) is held in La Herradura every year. But the village also attracts lots of spiritually inclined people. There are many yoga, pilates, tai chi, etc. classes and other interesting events you can join. One being my weekly art classes. If you are not in Spain yet, you could also join my Saturday morning online art class and yes, that does work.
What was the biggest challenge for your move to Spain and how did you overcome it?
Quite honestly there wasn't a huge challenge to move here. I never really liked living in the Netherlands and I had already lived in several other countries. It didn't face me at all. I did study Spanish for a year prior to the move, but that also came easy to me as I was already fluent in Italian. I was happy to get away and just packed everything we wanted to bring in an old Citroen and drove off. My dad sent me a cubic metre box with stuff a few years later. If anything the challenge was that my then partner was an alcoholic. But it was still better in Spain than in the Netherlands!
Best advice for Women wanting to make the move to Spain?
Best advice I can give you is that you should learn the language. For more than one reason, it is easier to integrate and also – in my view – as a matter of respect for the country you are going to make your home. I would also recommend that you really know how you will survive here, whether that's by making a living or having a pension, and just to find out about all the rules and regulations. I'm sure you've seen the television programmes….
How do you spend your days?
I have been a professional artist for over 35 years and have exhibited internationally, amongst others in Amsterdam, Rome and Paris. So art is still a big part of my daily routine. At the moment I'm painting Spanish bulls, but I've also painted flamenco dancers, Buddhas, colourful women and angels.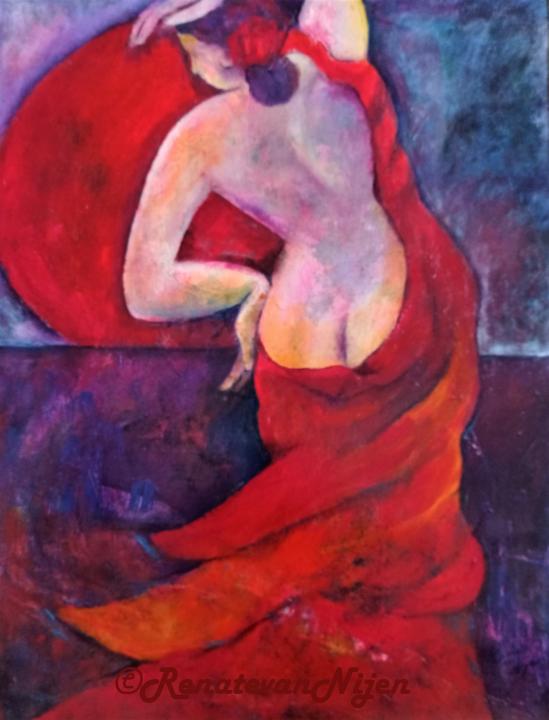 After I moved to southern Spain I started conducting art classes, which I still do. Nowadays both in my studio and online. I also offer master classes and mandala workshops for example.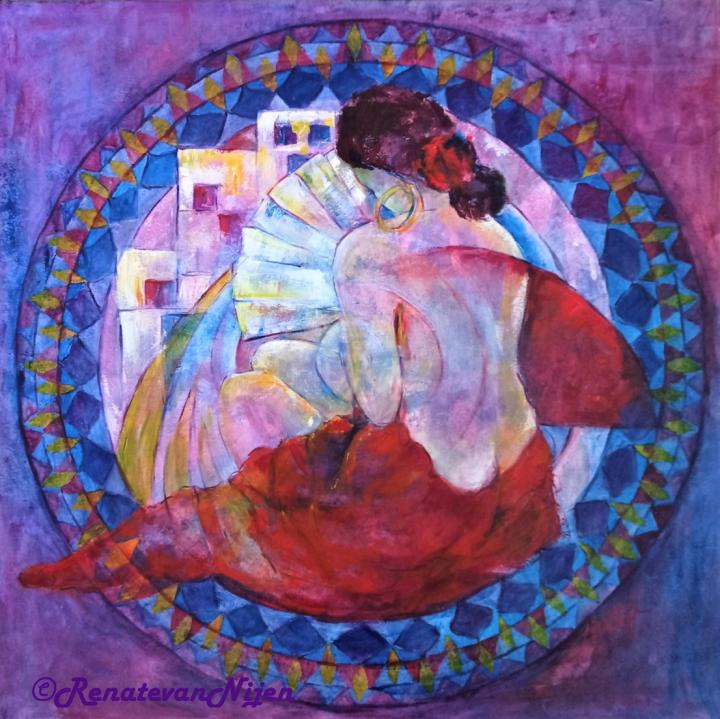 My first book was published in 2010, see the first part of my story. But I am now working on my 9th book and I already can reveal the title…"Help, I'm turning into a Buddha".
Until recently I offered all what I do (art and books, art-classes, Angel oracle cards, etc.) on one website www.renatevannijen.com, but a few months ago I've decided to create a separate website for my art, called www.renatevannijenfineart.com Feel free to check it out and if you like what you see, I'd love for you to subscribe to my once a month newsletter. The website still needs a bit more information and soon I will also offer high quality, limited edition prints of my artworks. So at the moment that is requiring a lot of my time.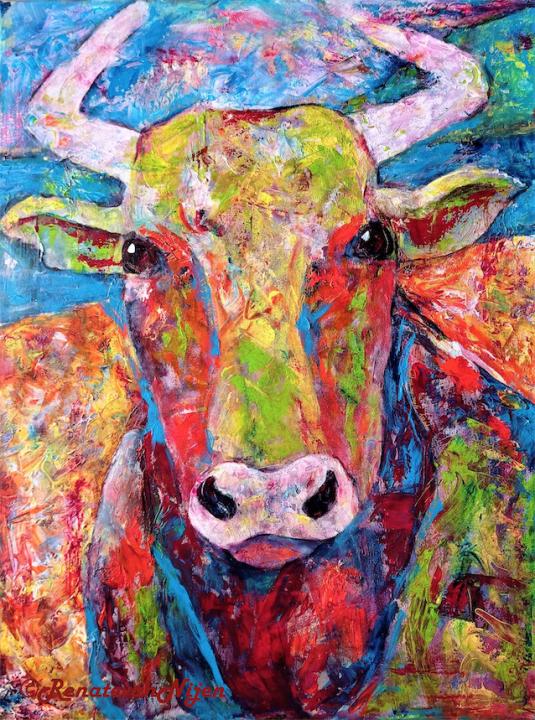 I've also created a YouTube channel where I talk about my art and my books.
I still have a big passion to help people who are living with an alcoholic and don't really know how to deal with that or find a way out. My book Cheers, breaking the silence… one voice at the time, helps people because they recognise themselves in the different stories. But I want to reach more people and have created a special YouTube channel where I talk about my own experiences in the matter and about subjects that are related to this. I feel it is hugely important to bring awareness to this subject. I have moved on from living with an alcoholic, but I know very well what that is like. I interviewed 40 plus people for my book, and I call myself an experience expert.
I'm also working on my Patreon page and on offering "expressing your creativity through art and writing online classes" as I know this is such a self-healing thing to do.
Pfff I get even exhausted when I look at all the things I do and realise I have to plan a little better. I love doing all of the above and just need to create a workable diary as I can sometimes feel a little overwhelmed… do you know that feeling?
Something you are grateful for?
I'm very grateful for my art and my books and for the fact that I can share my knowledge and colourful art and words with others. I'm also grateful for my Spanish husband – the avocado farmer. Lucky me.
Your special dinner party – who would you invite and what would you serve?
I'd invite Oprah Winfrey as she inspired me many years ago to take a more spiritual path and approach to life, introducing me to interesting writers such as Gary Zukav and many more. I would also invite Dr. Joe Dispenza as I love what he does! I've bought many of his meditations and books and am fascinated and inspired by all this. Donna Eden might also be one of my guests as I like her Energy Medicine routines. There are quite a few more people I can think of, but I don't like large groups, so I would have to arrange several dinner parties 🙂
I would create vegan tapas with different influences, Spanish, Dutch, Italian, Indian…. a bit of a mixture, but making sure they all work well together. Yes, I love to cook and especially vegan food!
Your special superpower …
Be myself, and inspire others without expecting anything back!
Favourite song, or quote?
I don't think I have a favourite quote or song as I feel inspired by many, but perhaps the most important lesson for me, and perhaps good to use as a quote is "love yourself first – you are good enough".
One thing you had to bring to Spain and could never give away?
Honestly, and I'm surprising myself by the answer…"nothing". I'm pleasantly surprised actually as this means I'm not really attached to things, which I think is good, especially when you look around my house (rather full with paintings, statues, books etc.). Something I did not bring with me was my doggy Miki, a rescue who came into our lives 3 years ago… I would never give him away!
Favourite book?
mmm again, not sure whether I have a favourite, but I'm most grateful to have discovered, many years ago, 'The Seat of the Soul' by Gary Zukav. Introduced to me by Oprah Winfrey.
Something you would tell your younger self?
The quote I mentioned earlier "Love yourself first – you are good enough"!
Where can we find out more?
www.renatevannijen.com is my overall website.
www.renatevannijenfineart.com is my art website
You can follow me on Facebook and on Youtube channel
Thank you Renate!
If you want to share YOUR story with us, please complete the online questionnaire here