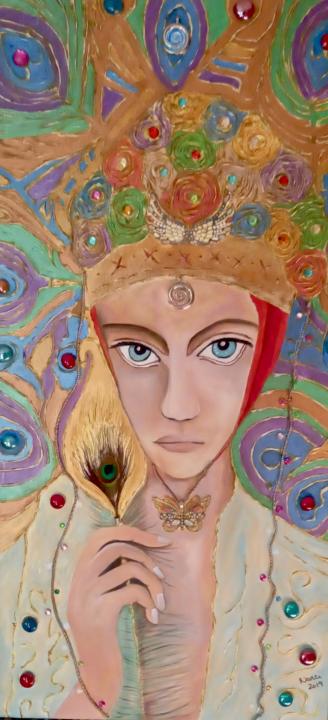 We are inspired to help our CostaWomen friend Ann Jenkins to fund her DENDRITIC CELL THERAPY and help her recover from stage 4 breast cancer.
Ann has been diagnosed with aggressive stage 4 metastatic triple-negative breast cancer. In the last 12 months she has undergone brutal chemo that resulted in severe depression, peripheral neuropathy (severe tingling in the hands and feet), neutropenia (low white cell count) requiring stomach injections and shortness of breath.
In February she had a mastectomy and during her radiation therapy learned that the cancer had already spread to her lungs and sternum. The oncologists have given her a diagnosis of two years and put her on palliative chemo.
Nancy Holt has donated the above beautiful art work (80 x 40 cms) to help us raise money for Ann. Please note that real jewels and peacock feather is part of this masterpiece.
Would you love to have this beautiful canvas in your home?
We are asking for the best price, starting from €50.00
Please contact me, Barbara on 650796579 (whatsApp also) with your best price and help make Ann's further cancer treatment possible.
I thankyou so much, Barbara on behalf of Benalmadena CostaWomen.
To read more info and to donate directly to Ann's go fund, go to… https://gofund.me/f2fc7b28
For the ones who can get to Benalmadena's Thursday coffee & chat at our new venue Taberna Didi in Arroyo de la Miel from 11-1pm, you can see for yourself this beautiful artwork and take part in our raffle! After receiving so many raffle prizes we decided to split the prize draw into 2 weeks!