The first Living by Frost® online program made for women who want to optimize sleep, mood, nutrition, work/life balance, and hormones with science-based hacks.
Living by Frost® online health for women
There are well-known sex differences in optimizing health. The most optimal diet, exercise and sleep needs of a woman depends on their unique biology and lifestyle. Getting the "health hacks" right requires knowledge, precision and the ability to implement science-based health strategies right for one's unique body.
Due to the menstrual cycle and life demands, women learn early on to tune into their bodies, and ways to balance mood, cravings and pain. Women's natural receptiveness to lifestyle changes helps them to easily implement new healthy habits that can make them flourish.
Living by Frost® online health for Women is my science-based online roadmap to optimize health for women. It provides you with a step-by-step guide for optimizing sleep, understanding your nutritional needs, balancing mood, balancing hormones, and protecting skin and hair with natural products.
Living by Frost® online health for women are the future.
Your wellbeing today and tomorrow is in your hands.
Living by Frost® online health for Women is designed by functional medicine health coach and mental health experts
7-week online learning program for women interested in optimizing their sleep, nutrition, work / life balance and hormones with science-based biohacks.
Introducing a step-by-step approach to improving sleep, energy levels, mood and overall wellbeing so that you can enjoy your life more.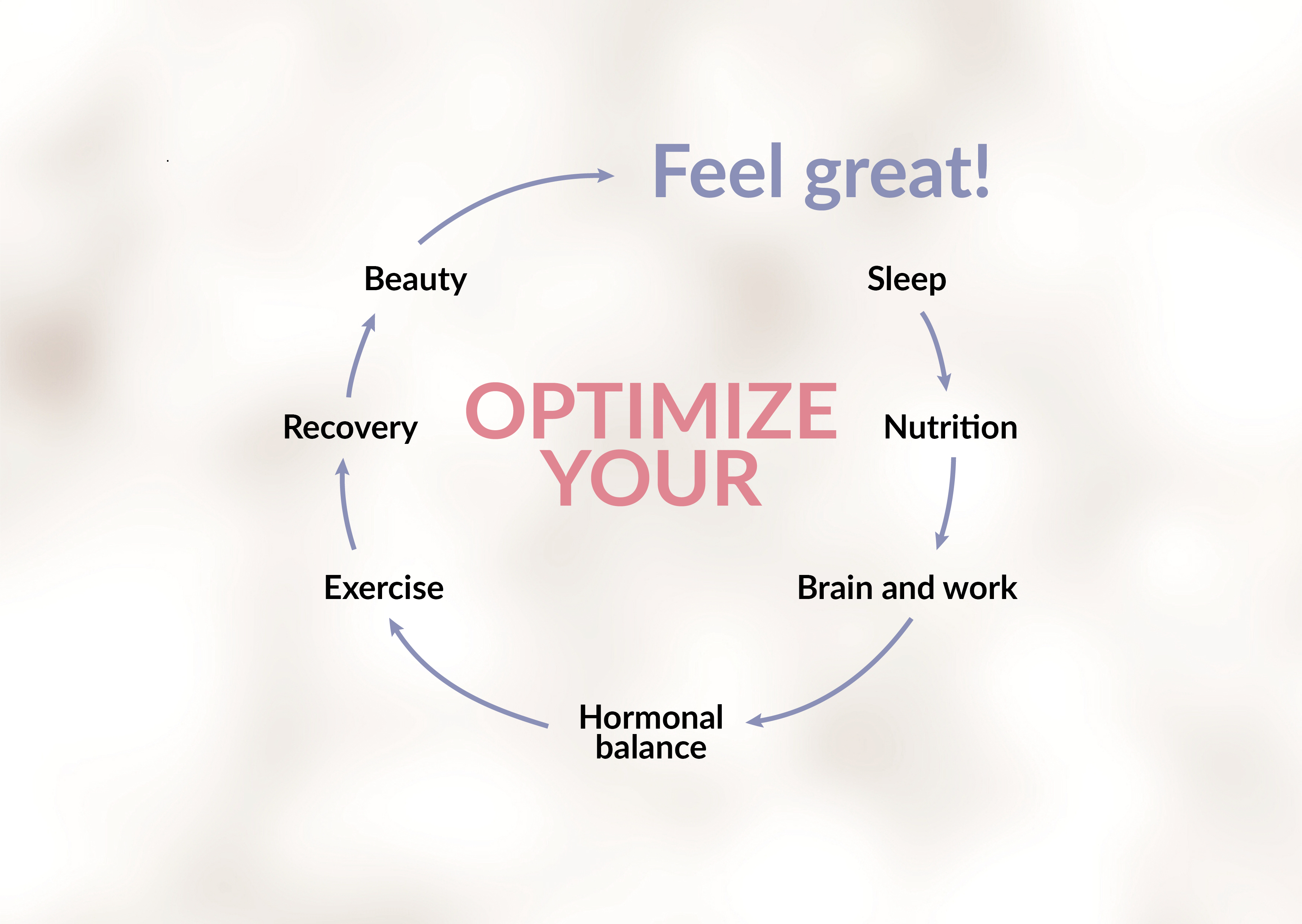 Whether you are just entering into the world of women's health or have some previous experience, this course will:
• Help you to feel fit and energized
• Aid you to relax and sleep better
• Improve your productivity and feel better at work
• Aid you to balance hormones
• Provide you with knowledge about popular diets
• Link you with a group of other like-minded women
"First easy-to-understand online course"
The world of health for women offers a variety of tools to improve your health and wellbeing. Sometimes it's hard to know where to start. This course is your systematic guide to understanding your health and wellbeing in different life areas (such as sleep, nutrition, work, and exercise). It provides you with a wealth of information on how to start applying these science-based principles into your everyday life. In other words, it's
Living by Frost® online health for Women made simple and understandable.
Learn about a range of topics from a single training
Enjoy the content on your own time flexibly from home
Get access to the latest science-based information on female health
Save money – Save time – Gain knowledge
This course will help you to
Did you know
Women sleep more than men and are 40% more likely to experience insomnia. The multiple ways to improve sleep can also help with general fitness, mental wellbeing, and energy.
Over 50% of women use hormonal treatments mainly to manage symptoms caused by hormonal imbalances rather than for birth control. Learning to balance hormones with lifestyle can help with challenges related to mood, energy, and menstrual cycle.
Preliminary evidence shows that the female body reacts differently to popular diets such as the ketogenic diet and fasting. Also, women have different nutritional needs depending on the time of the month and lifestyle. Taking these factors into account when planning what to eat helps to optimize health and wellbeing.
Weekly schedule
Week 1 – Sleep
Sleep is one of the important things to reset our brain and body each day. We need sleep to stay healthy, happy and motivated in all areas of life.
• What makes healthy sleep
• Are you a morning or an evening person
• How to regulate sleep hormones
• What is special about women's sleep
• Tools for improving sleep
• Measuring sleep
Week 2- nutrition
"Let food be thy medicine and medicine be thy food." – Hippocrates.
• Common diets and our take on them
• Fasting and time restricted eating
• Genetics and diet
• What is special about nutrition for women
• Tools for nutritional balance
• Measuring nutritional status
Week 3 – Brain & work
Protecting the brain with diet, exercise, sleep, and meditation can protect from memory diseases, mental illness and stress.
• Functions of the brain and nervous system
• How neurotransmitters affect energy, motivation, and mood
• How the brain changes through life
• Tools for Improving energy and motivation
• Tools for improving mood
• Tools for improving focus
Week 4 – Hormonal balance
Hormones are responsible for many of the body's major processes. Hormonal imbalance can have profound effects on mental, physical and emotional health. Taking care of our hormonal balance is vital, especially for women.
• How to get it touch with your cycle
• What are hormonal symptoms telling you
• Why do you need to have your macronutrients in check
• How to avoid endocrine disrupting toxins
• Tools for balancing your hormones naturally
• Measuring hormones
Week 5 – Exercise
Movement is an integral part of a holistic approach to health, wellbeing and longevity.
• General exercise recommendations
• Exercise for women within the menstrual cycle
• Recommended yoga poses for women
• Female athlete triad
• Tools to improve endurance, strength, muscle maintenance, muscle building and recovery
• Measuring recovery and activity
Week 6 – Recovery
Recovery means to recover to homeostasis, balance or normal state of health. We need recovery after a stressful situation whether it is work, exercise or emotional distress.
• How recovery helps you to maintain health
• How female hormones contribute to stress
• What life areas women should pay attention to in terms of recovery
• Tools for emotional recovery
• Tools for physical recover
• Measuring recovery
Week 7 – Beauty
Surrounding ourselves in beautiful nature and art affects our overall health. Beauty is something to enjoy and celebrate. Changes in our appearance are also information about the body's overall health.
• How and why you should switch to natural beauty
• How to take care of our skin from inside out
• What is skin microbiome and how to take care of it
• Tools for natural anti-aging
• Natural ways to improve hair growth
• Easy DIY beauty recipes you can try at home
Expert behind the course Siff Frost
Siff is a functional medicine health coach.
Her interests include women's health, gut health, preventive nutrition and
anti-aging.
She is also a certified personal trainer
Join the Living by Frost® online health for women