World Diabetic Day – La Cala de Mijas Lions Diabetic Support Group will be making random tests during November to support Diabetes Awareness. We have to begin promoting this now please – so that the public can make diary dates! On World Diabetic Day – in keeping with International Diabetes Federation suggestions , principle buildings and monuments all over the world for example Sydney Opera House, Euromast Rotterdam, Tower of Pisa, will be floodlit in Blue on World Diabetes Day November 14. We are proud to say our La Cala Municipal Buildings will again also be floodlit in blue. This Federation has signed a partnership with Lions Clubs International.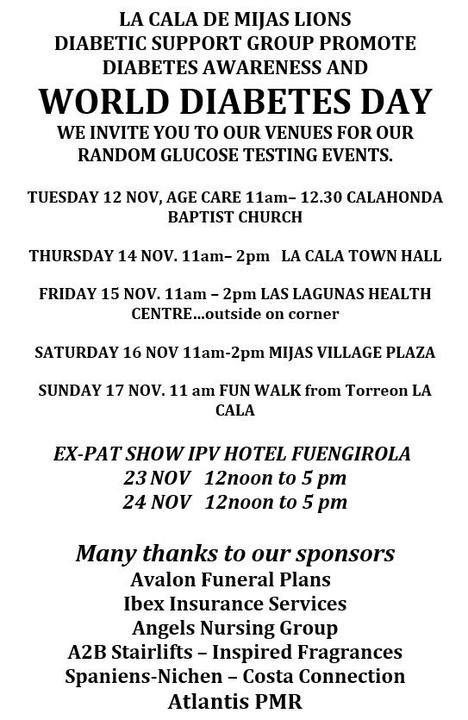 Here is our schedule for the glucose testing in the area of Mijas for the La Cala Lions. We look forward to also having members from Mijas Club on some of these days and maybe the German Lions in Marbella will bring some children from the German School to our Walk. The walk will be just under 3 kilometres on November 17th at 11 am. Meeting place will be the Torreon (Tower) in La Cala. Please ask as many as possible to attend the walk – schools, sport teams, local associations, Facebook etc. We really would like to have a good attendance. Bring your buggies, walkers, children, pets too!
Walkers can enrol at any of our testing venues where they will also receive a free t.shirt compliments of Atlantis PMR and later a smart cap and certificate on finishing.
We will also have a stand at the ExPat Show on Nov 23 and 24 at Hotel IPV Fuengirola – not to be missed!
Many thanks to our sponsors and Mijas Foreign Resident Department for all their help.
For more information contact Anne Bowles on 607879450 or email annediabetics@gmail.com
Photo shows members of La Cala Lions, Diabetic Support Group, Age Concern and friends on a perfect 3 day excursion to Salobreño and the majestic Alpujarras.