When you connect with Jessica Banuelos in Marbella she will not only share her love of South African wines.  Jess will also encourage you to explore, make the move and live your next big phase! Read her story.
Why Spain?
My husband is Spanish and he gave my beautiful home country South Africa 10+ years so I decided to return the favour 🙂
And where are you now?
I am based in Marbella. My top 3 reasons for choosing Marbella:
1. beach is mostly flat as a pancake throughout the year.
2. It's a hub of diversity in terms of people/culture and food.
3. If you feel for typical Spanish exposure, just drive approx 20mins inland and you will find it.
Marbella is best of many worlds.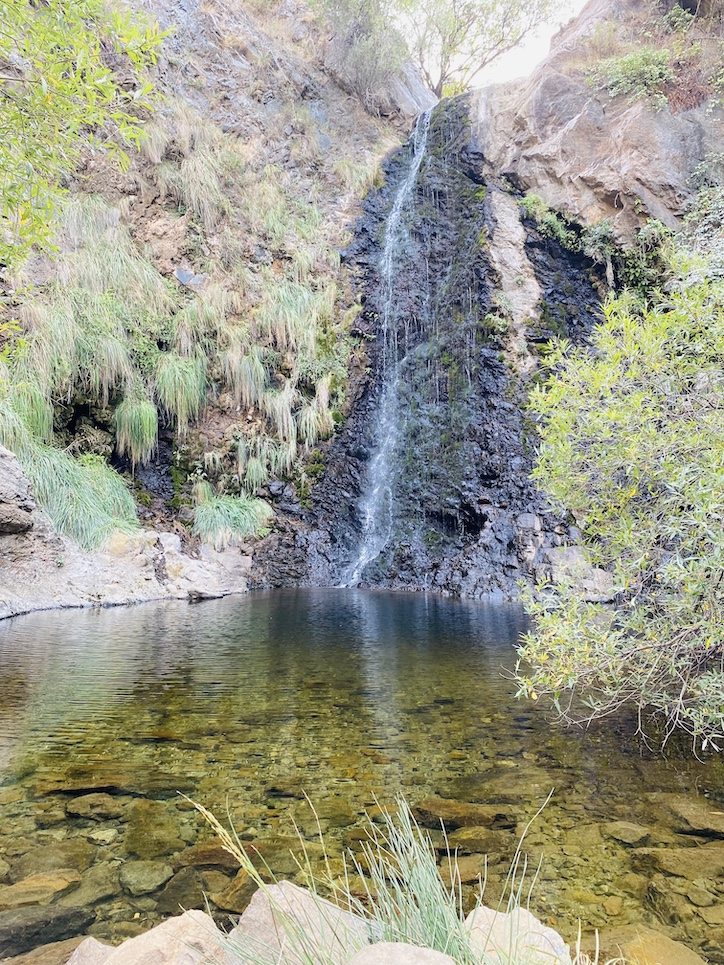 What was the biggest challenge for your move?
Knowing that I will lose the reasonable size garden/house and wineries which you usually get in South Africa at an affordable price.
I overcame this challenge by focusing on the positive of what I will get in Spain/EU.
The list is endless; skiing within 2 hours from Marbella, frequent mountainous hikes, international school exposure for my daughter, short getaways to other countries within EU etc. etc.
Do you have any advice for Women thinking about making the move?
Plan and Activate! Don't waste hours, life has so much to offer, so many experiences still to explore, make the move & live your next big phase!
What does a day look like for you? 
On a typical day I have 5 key roles,
Corporate Director for a global IT company,
mom to a little lady,
wife to an amazing hubby,
daughter to my dad based in South Africa; and
entrepreneur exploring my passion and building my new found business where we distribute South African wine in Spain – EnjoyVino.eu
Something you are grateful for?
Having survived and lived in America, United Kingdom and New Zealand on my own sweat. In addition, my home base is South Africa and now Spain.
Living these countries with always hard work and determination on the agenda thought me to live a purposeful life and one full of passion.
I'm also super grateful to be in a career that allowed me to engage with some of the smartest people I know from Google, Microsoft, SAP and the big 5 IT consulting firms.
Lastly I'm grateful to my parents who supported my ambition and desire to explore other corners of the world. This was not an easy release for them given our traditional upbringing but they saw my energetic need.
Who would be at your special dinner party?
My immediate family since they are close to my heart every day.
Indra Nooyi Pepsico former CEO, I have so many questions in terms of her growth/challenges/successes.
One friend from each country I lived in to embrace their intellect and commonality.
Bill Gates to thank him for being my inspiration and steering my career in the Technology space.
What's your secret weapon or accomplishment?
While the general advise is 'don't overanalyse big decisions' in my opinion, always apply mental pros and cons before taking decisions.
Do you have a favourite quote?
This is my favourite quote because you need both to continuously grow and enjoy. Work gives you structure and discipline which allows you to formulate right decisions for balancing the personal life.
One thing you had to bring to Spain and could never give away?
My favorite Shiraz glasses to enjoy elegance on my palate. (so far, they have not broken)
Do you have a favourite film?
Titantic, love the story & the songs brings tears since it takes me back to memories of my beautiful mom who has passed on.
Something you would tell your younger self?
Be aware, learn how to stay relevant and prioritise yourself ALWAYS.
Thank you Jessica where can we find out more?
Enjoyvino.eu is my new found business where we distribute South African wine in Spain. I'm passionate about South African wineries which has art galleries, great family outings, world class chefs, markets & more.
South African wines are so much more than just drinking wine.
My aim is to share this knowledge & passion in my new found home operated from Marbella & delivered anywhere throughout Spain. Have a read & indulge in some of South Africa's finest wine.
Website – https://enjoyvino.eu/
Instagram – https://instagram.com/enjoyvino.eu
Facebook –https://www.facebook.com/enjoyvino.eu
If you would like to share your story, please complete the online questions here
And read more Costa Women stories in our regular interview feature!