As a child, Joyce Groote was told by her parents that she could achieve whatever she wanted and that's a rule she lives by. Read her story.
Why Spain?
My husband had COPD and had less than 50% lung capacity in Vancouver, Canada. His respirologist told him to find a place in the world that had better air. Andalucia was one of them. We had never been to Spain, always wanted to learn Spanish and both have European roots. So, I sold my business practice (Executive Coaching), we sold our home and most of our possessions except those most precious to us and moved to Spain. Because we moved with so little, if it didn't work out, we would have moved somewhere else. Needless to say, it worked out in a big way!
And where are you now?
We live in Buenavista which is between the Mijas Pueblo and Higueron. Mijas in general has so much to offer. But important for us was it's proximity to the airport (20 minutes), Malaga city (25 minutes) and the amazing views of both the Mediterranean and the mountains. Other reasons includes its proximity to a lot of fantastic cities such as Fuengirola and Benalmadena.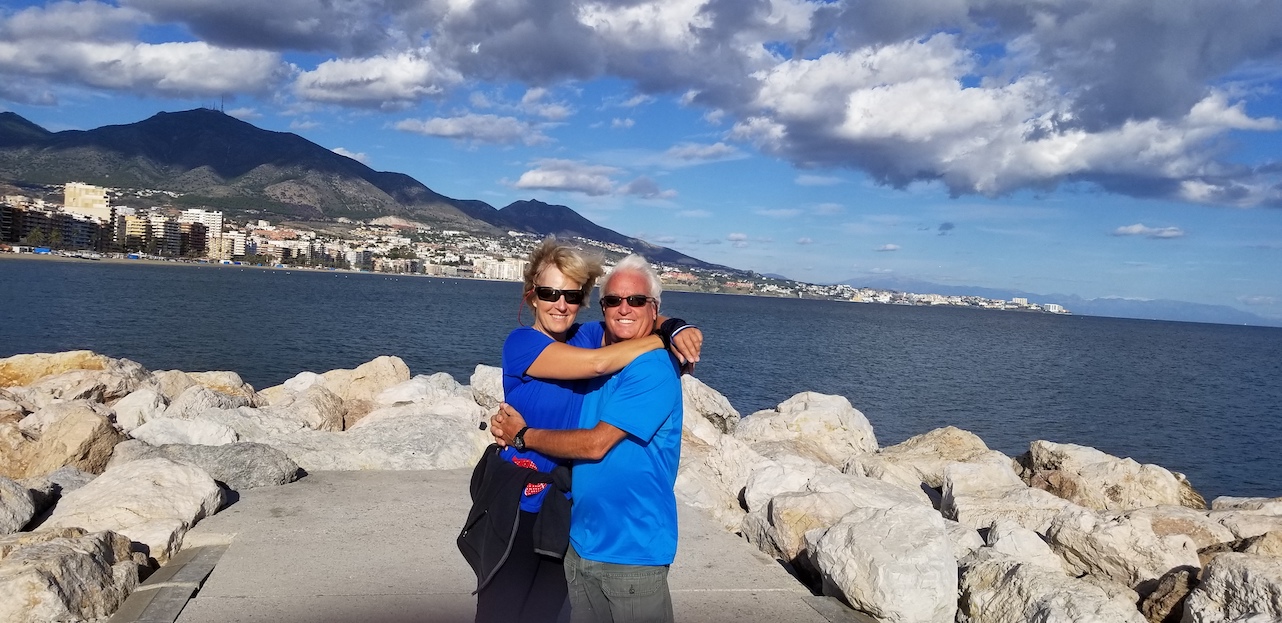 What was the biggest challenge for your move?
Our biggest challenge without a doubt was the administration/bureaucracy! None of the information on the web or even from officials when we spoke with them was accurate. It took sheer tenacity to eventually get our residence, drivers license, bank accounts, etc. Even when we got our residence, we went to Foreign affairs to renew it. The sleepy lady we spoke with told us to fill out the forms and send it in. What she omitted to tell us is that everything had to be in Spanish, including out bank account statements. After receiving a letter telling us that we had to leave the country in 15 days, we went to our lawyer who got it all sorted out very quickly.
Do you have any advice for Women thinking about making the move?
Find someone who has moved to Spain from the same country as you …as well as authorities in your country (although they may not have all the information) and get a check list of the various things you need to do before you come. Some of the things can only be done once you have arrived. You will need to know what they. The residence card is particulary important as it is impossible to get a bank account or really do anything without it.
How do you spend your days? 
We live in a villa which takes a fair bit of time for upkeep. There is always something to be done! But we do enjoy renovation projects, gardening and the various projects around the house that need doing which helps. Although I was supposed to be retired, my previous clients have asked for help with my Executive Coaching. I always seem to have 2 or 3 on the go each week which takes up a relatively small amount of time and keeps my brain happy. I do enjoy business and working with people so this is a joy for me. We also love to walk, hike, bike through the countryside and all the little towns along the way as well as exploring this beautiful country we now live in. Other less energetic activities include music (piano), reading, doing research on various things that interest me, meeting with friends and actually enjoying some downtime for the first time in my life.
Something you are grateful for?
I am grateful for many things. Of the things that stand out, there are 2 that I would like to share. When I was younger my parents told me I could achieve whatever I wanted. I believed them resulting in a very active and rewarding career where I never felt the glass ceiling or restrictions to stop me from growing and achieving what I felt was important. I am also grateful that I have let my passions guide me. Being passionate meant that I put my all into whatever I had committed to and did things because they were the 'right things to do'. When I lost my passion then I knew it was time to do something different. These 2 things have helped me to achieve more than I ever thought I could.
Who would be at your special dinner party?
There are so many famous women that we really don't know much about. We know about their husbands and all of their husbands accomplishments but the women tend to fade into the background… History doesn't do them justice as to their accomplishments, who they are as people and what is important to them. I think it would be a fabulous evening to be surrounded by Jaqueline Onassis (wife of John F. Kennedy), Marie Curie (mother of modern physics and receiver of 2 Nobel Prizes), Margaret Trudeau (married to Canada's Prime Minister Pierre Trudeau in 1971 and considered to be a wild child by Canada) , Elizabeth Cady Stanton (the pioneer of the womens rights movement), and Princess Diana. It would be fascinating to find out what life was like for them, their challenges and how they overcame them.
What's your secret weapon or accomplishment?
Getting to the core of a complex issue quickly!
Do you have a favourite quote?
I love this because it recognizes the importance of taking responsibility for who you are through your actions or choices, whether consciously or subconsciously.
One thing you had to bring to Spain and could never give away?
Antiques that I inherited from my dutch Grandparents and my father. These help me to keep my ties to who they were and what they meant and still mean to me.
Something you would tell your younger self?
What's going on inside you is usually apparent to others. So how you show up is always important: thinking positively, cheerfully and with compassion for others.
Thank you Joyce Groote for sharing your story!
If you would like to share your story, please complete the online questions here
And read more Costa Women stories in our regular interview feature!