Meet world traveller, Kathy Roots, who tired of the 9 to 5 and found herself moving to Mojacar.  However the travelling hasn't stopped! Read her story.
And where are you now?
Mojacar is a small coastal town – a white village with spectacular views of the mediterranean. As we've only been here since Jan 2020 – the start of the pandemic – we have been spoilt with only a limited amount of tourists! That said there are no high rise apartment blocks or hotels here. The coast line is rugged in places but stunning. I never fail to feel grateful every time I drive along the coast.
Three reasons I absolutely love it!
The sheer beauty of the coastal areas.
The relaxed lifestyle with access to more or less everything.
The people. It is quite an international community with such interesting backgrounds.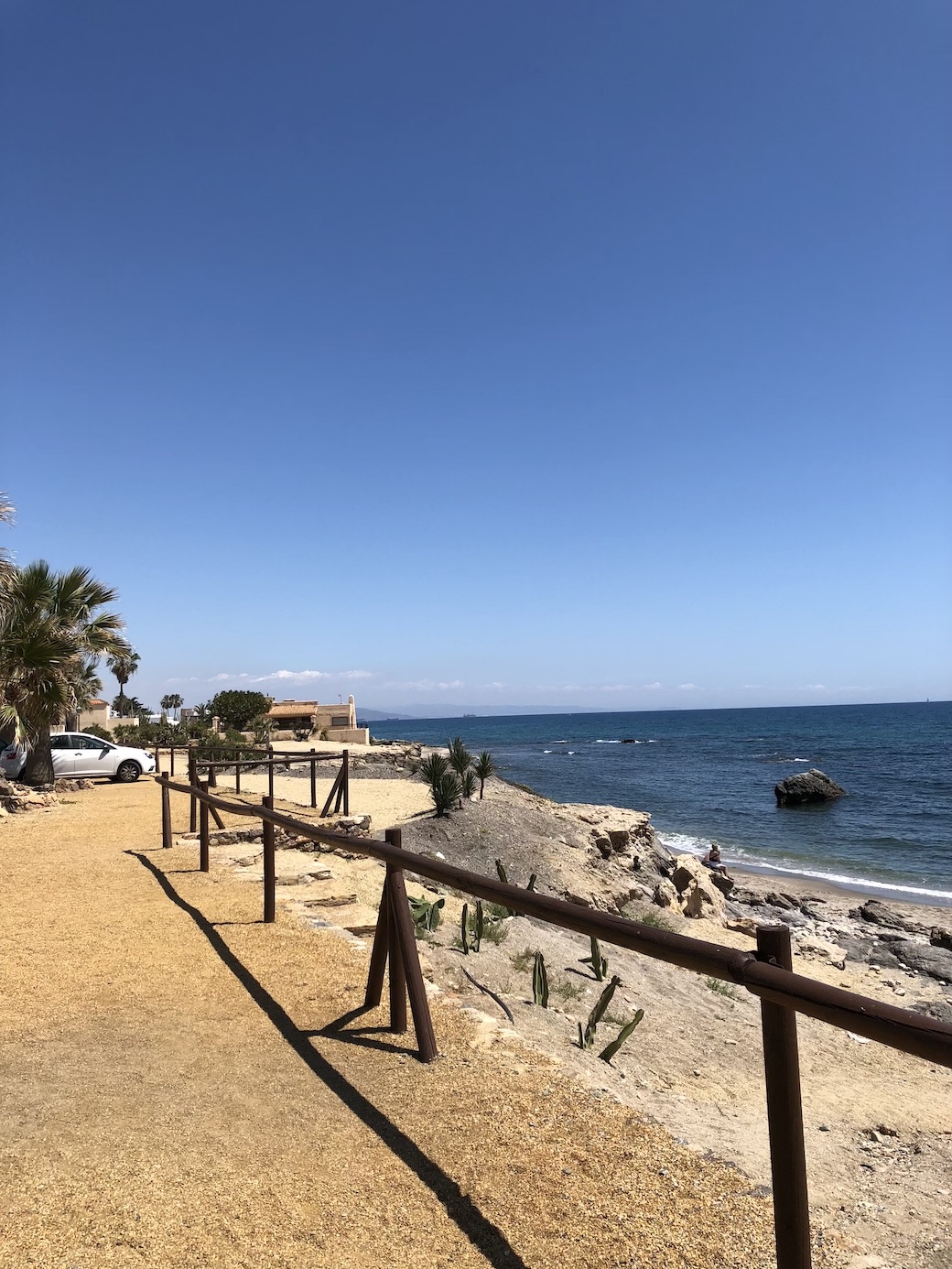 What was the biggest challenge for your move?
The biggest challenges is the bureaucracy, paperwork and not having sufficient language. The language issue is improving with regular lessons and practise. The bureaucracy still drives me mad – but I am more accepting – I hope!
Do you have any advice for Women thinking about making the move?
Do it!
Yes, there is a transition from one thing to the other. It would be good to get in touch with networks and support groups in the areas you want to move to.
Do your research find out as much as you can about an area before you move to it.
At the end of the day it's totally worth it. I've just spent a lot of time back in the UK and I know that I would not – by choice – return to live there.
You won't regret it.
How do you spend your days? 
I do a mix of things. I am in the process of refining an online business so that takes up a fair amount of time.
I also do a lot of design work using Adobe Photoshop/Illustrator and also Canva.
I still teach a few hours a week – mainly business engineers around the Barcelona area, which is great as a few have become firm friends.
I go to a local gym and am beginning to expand my network of friends.
I take time out whenever possible to get down to the beach and enjoy great Spanish tapas.
Something you are grateful for?
I am grateful to be alive, in beautiful surrounding, to have no mortgage and know the life loves me!
I have been a Buddhist practitioner (for 27 years) – a member of Soka Gakkai UK – which means the Society for the Creation Of Value. We develop our inner life through a process called Human Revolution and our aim is to create happiness and world peace – small tasks!!
Who would be at your special dinner party?
Oh most definitely Tina Turner – I just love this woman to bits. I love her immense courage, tenacity and determination. She is an incredible person. She is and always will be my hero – she is also a Buddhist practitioner LOL!
Sorry dinner party for 1!
What's your secret weapon or accomplishment?
The ability to pick myself up, brush myself down and start all over again.
Do you have a favourite quote?
It is my constant affirmation on through bumpy times!
One thing you had to bring to Spain and could never give away?
This is very interesting. As a traveller I try to travel light but there are things like boxes of photographs – before smartphones – that I could never part with. Although I probably don't look at the me from year to year they are safely tucked up in a cupboard.
Do you have a favourite film?
First Wives Club – probably a bit ancient now – love the women – Bette Middler, Diane Keaton and Goldie Hawn – love the music especially 'You Don't Own Me'
Something you would tell your younger self?
Just do it!
Thank you Kathy Roots where can we find out more?
Website is more or less complete still a little tweaking going on so please bear with! https://kathyroots.com/
And Facebook: https://www.facebook.com/kathy.trainer
If you would like to share your story, please complete the online questions here
And read more Costa Women stories in our regular interview feature!