With a mission to help women "embrace the menopause not fear it", meet Lynne Parkin.  With a love of all things 'Gone with the Wind' Read her story.
Why Spain?
Me and my partner Laszlo came on holiday to Frigiliana for several years before we made the move to live here in April 2016.
Over the years of visiting we fell in love with the white washed villages, beautiful countryside and the Spanish way of life.
We were both learning disability nurses and after working in the NHS for over 25 years we set up our own business in the UK supporting people with a Learning Disability to live more independently.  As we supported over 50 people but with cuts in budgets and changes in policies, it became very hard for small businesses in this sector to survive. So when I said I wanted to sell the business, laszlo said "Yes but only if we can move to Spain". 6 months later we were here, having sold everything in the UK!!
And where are you now?
We live in Caleta de Velez which is a traditional Spanish fishing village.  It's been our home for 8 months.
Before moving to Caleta we lived in a traditional white washed village in the mountains called Almogia. We had a holiday rental villa which we set up and which was doing really well until the pandemic. As with many people, the pandemic made us look again at our life. Our love of Spain, we decided, was being on the coast and here we are now.
Caleta is Spanish, traditional and has everything you need as in shops, banks, restaurants. It has good public transport and we can walk to neighbouring places with our dogs. It's perfect…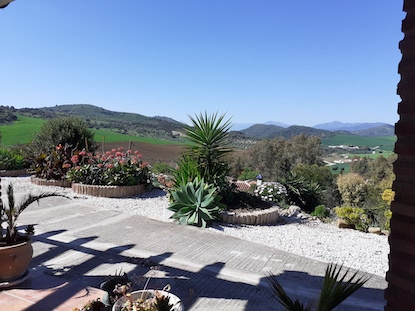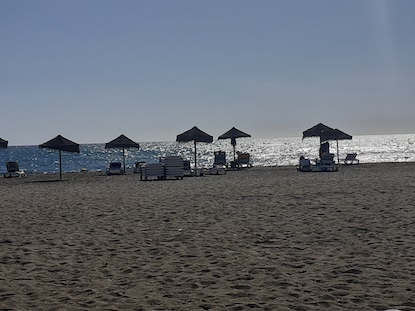 What was the biggest challenge for your move?
The biggest challenge for our move was coordinating selling a house and business in the UK and buying 2 villas in Spain. To bring an an income was needed as soon as we moved here. With a month to get the holiday villa ready, there was a lot of work to do. Those early days were crazy and extremely stressful working out Spanish systems and finding shops etc with very little Spanish….but we got there and we had our first guests on the 3rd June 2016.
Do you have any advice for Women thinking about making the move?
Do it, definitely do it, but be prepared for setbacks, things not happening when you want them to and getting used to the saying " Mañana". Oh and a sense of humour is a must…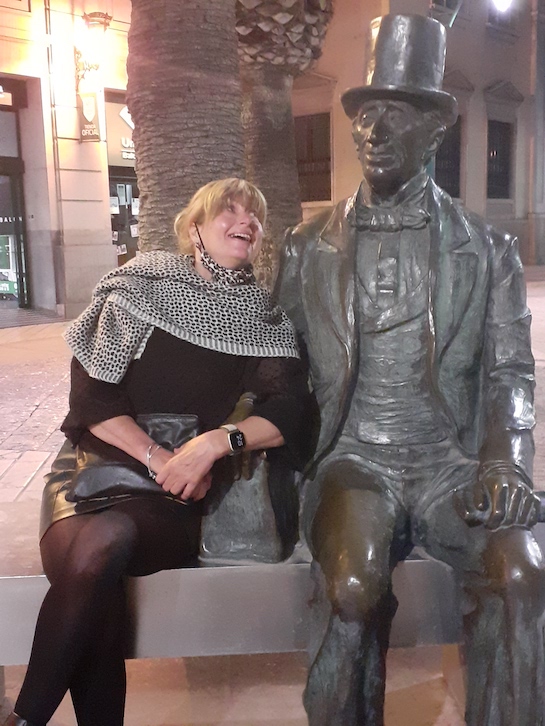 Now what do you get up to? 
Well for the first 5 years we had an all year round holiday rental so that speaks for itself – changeovers in 40 degree heat was not fun!
Since moving we have been getting used to a different way of life because living in the mountains and living on the coast are very, very different.
We are renovating our house, the full works…pool, extending, kitchen etc so we spend a lot of time in Leroy Merlin, tile shops, IKEA, Casa etc. We have also developed a love of Padel and play in different Padel Pool's and made lots of lovely friends.
We walk our dogs every day on the beach, I practice meditation, go spinning at the local gym and we love food, cooking and drinking lovely wine!
Let's embrace the menopause not fear it.
Now I have Oistros – Menopause, manage with Confidence.  This is a business I have set up to support women through the menopause giving emotional support.  It provides up to date information and the different treatment options available.
Having gone through a very difficult menopause and had to fight very hard to get the right treatment, I became so interested in the subject that I have retrained as a Holistic Menopause Practitioner. I can offer 1:1 sessions of 90 minutes either online or face to face. Looking at your symptoms, lifestyle, health and we look at what you want to happen to help you feel better.  Then I suggest solutions whilst also giving you information about treatments.
I cannot prescribe as I am not a doctor but I can support you as to where to go and how to ask for what you want and what you are entitled to.
As I am just starting, there is a lot of development in order to move the business forward.  My goal; I will strive to support women as much as I can so they don't suffer in silence and can dramatically improve and enhance their quality of life.
Something you are grateful for?
I am grateful for every day I have, even though some days I might not appear grateful and some days are difficult. I try everyday to be thankful for at least 3 things.
Who would be at your special dinner party?
Oh no, I was dreading this question!
For the entertainment it has to be Peter Kay as I am a northern women albeit the other side of the Pennines to Peter as I am from Yorkshire. I have seen him a few times live and his observational humour is amazing, he never fails to make me laugh out loud.
I have to say (and I'm not been mushy) but I would have to have my partner Laszlo…he is my rock but he also looks after me when I have had too much wine and gets me home safely!!
All five band members of Take That, again I have seen all 5 of them live at the Etihad Stadium in Manchester. I love their music, I have watched them change over the years and they are still making great music.
Beverley Anne Freeman is a psychic, healer, author and spiritual life coach. I met Beverley in Frigiliana after I had moved to Spain and she has been an excellent mentor to me. I have learnt how to meditate, connect with the Universe, reiki, crystal and spiritual healing. Beverley is an inspiration as she has really worked hard to be where she is today and I truly admire her work ethic, determination and love of her work….and she would connect with spirit and our loved ones so that would make the dinner party more interesting!
I am an avid Strictly fan (I have also been to the live show twice!) so for the entertainment I would have Aljaz, Kevin from Grimsby, Johannes and one of the first but I think the best judge Arlene Philips… I loved her on Strictly, she was an excellent judge, firm but fair.
My dad, who is now in spirit….he would be very bemused by it all….more interested in the food than the people! He would be shaking his head at any bad language but after a few glasses of red wine he would be sharing many stories about his life and living every moment of the evening.
And last but not least all my girlfriends who I have met over the years…. from my school friends who I still see to women I have met and become friends with over the last 30 years. The women I have met in Spain, some still here but sadly some have gone back to the UK.  A lot of these women have been there with me through good and bad times and they know who they are.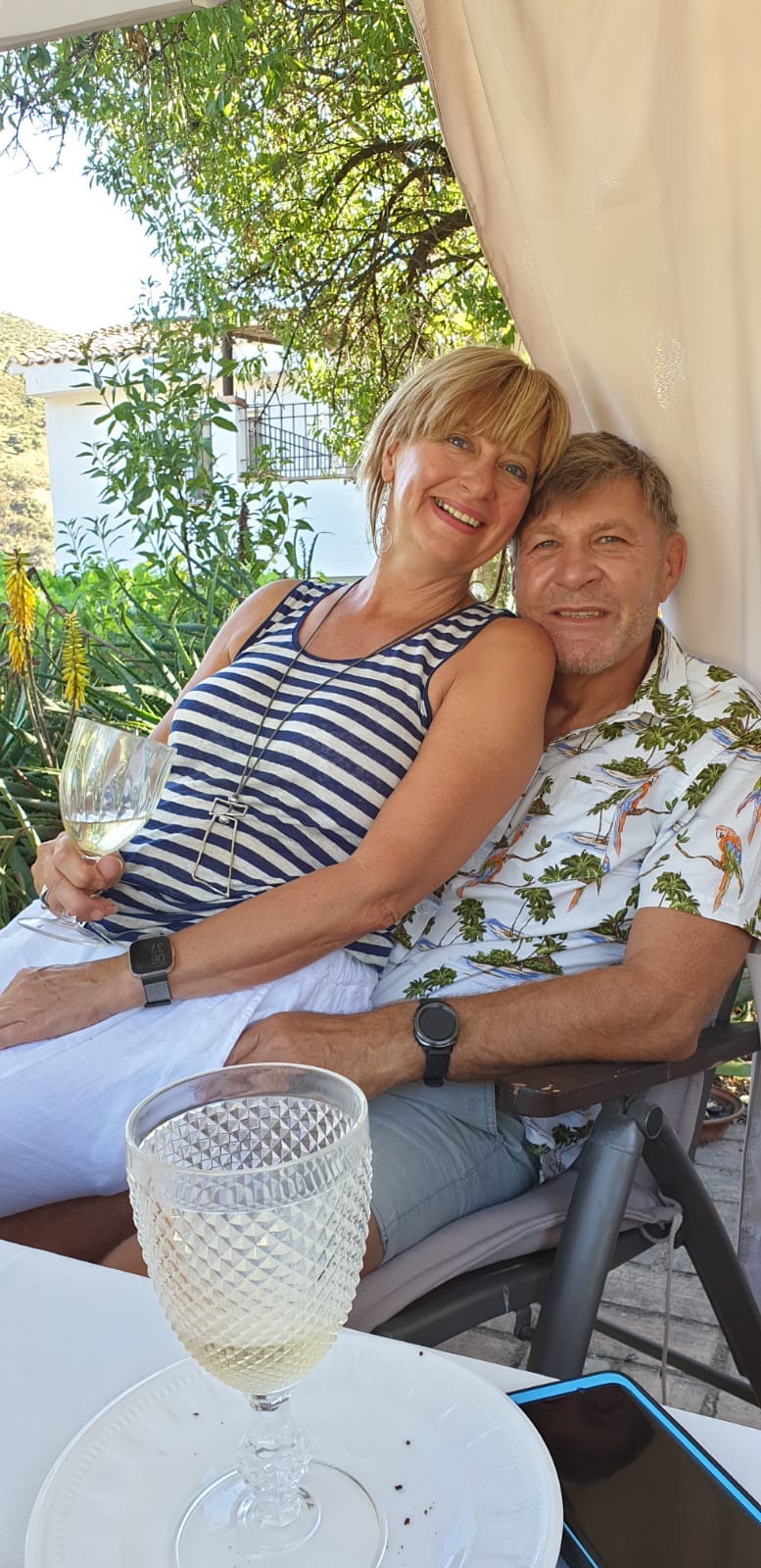 What's your secret weapon or accomplishment?
Always willing to take on new challenges even though they scare me and dont go the way they should but usually turn out OK.
Do you have a favourite quote?
Gone with the Wind is my favourite film.  I have watched it many, many times….and I have been known to use that phrase on a number of occasions when I don't know what to do about something.
One thing you had to bring to Spain and could never give away?
Obvious answer…my two Cockapoo's Missy and Merlin….they are always by my side and I love them dearly.
Do you have a favourite film?
I mentioned 'Gone with the Wind" – read it and watched it many times.  Love the story, the costumes, the drama, the cheesiness.
But a close second in total contrast "Top Gun" and the follow up to Top Gun is nearly as good as the first as we have just seen it at the cinema.
Something you would tell your younger self?
Be true to yourself.