Sally is one of our Almeria members who knows how to create unforgettable moments for life celebrations. She believes that even when things seem overwhelming, 'this too shall pass'! Read her story.
Why Spain?
My job as an Antisocial Behaviour Officer in the UK was a tough one. As you can imagine, I was not a popular person with those people I had to deal with.
5 years into the job, I trained as a Mediator for serious neighbour disputes that the police couldn't resolve, and loved that side of the job, but after 15 years, two death threats, it had taken it's toll, and as much as I loved the role and getting justice for the victims, it was time to take a leap of faith and try something new.
We moved to Almeria in September 2019 before the Brexit deadline, having visited the area before, and discovering it was a beautifully unspoilt.
Feeling I was too young to retire, I trained as a Celebrant and now as Celebrant Sally Spain I officiate weddings, vow renewals and funerals. I love putting smiles on faces and putting joy into people's special days.
We are here to stay that's for sure! 
And where are you now?
I live in a mountain village called Bédar, about 30 minutes from Mojacar, Almeria.
Bédar has a population of around 800, consisting of mainly Spanish, French, Belgium, and English residents.
Almeria is often described as the jewel in Andalusia's Crown. Along the coastline from San Jose, Agua Amarga to Mojacar, there are no high rise buildings, and the Cabo de Gata with its beautiful beaches is one of the few protected parklands in Europe.
What was the biggest challenge for your move?
Well I'm still trying to learn the language but I'm not sure I'll ever get beyond using the present tense and good old Google translate!
After both of us working full time in stressful jobs and having 6 children between us and grandchildren, the biggest challenge was learning to live with each other full time which I hadn't anticipated as being a problem.
We worked it out and both found our grooves and now each have our own interests and friends and can't imagine going back to being like ships that passed in the night.
Do you have any advice for Women thinking about making the move?
Life is short. Be brave, take a leap of faith and go for it.
Do have some sort of plan and be able to support yourselves even if you have to live frugally which you can do here.
How have you found your change in business? 
My Celebrant business is a part-time job which suits me fine.
Not being a business woman, I have struggled in areas of marketing and getting my name out there, but slowly with help and perseverance I am getting there.
I'm never going to make a lot of money, but for me it was about proving I could do something independently and making people happy on their special day.
Writing bespoke scripts centered around each couple brings out my creative side and I love bringing humour into the mix taken from each couples answers from my carefully thought out questionnaire.
I'm not artistic in any shape or form but I still enjoy doing the odd class and experiencing new things. I set up a book club in the village 3 years ago and it's still going strong with around 20 coming along each month.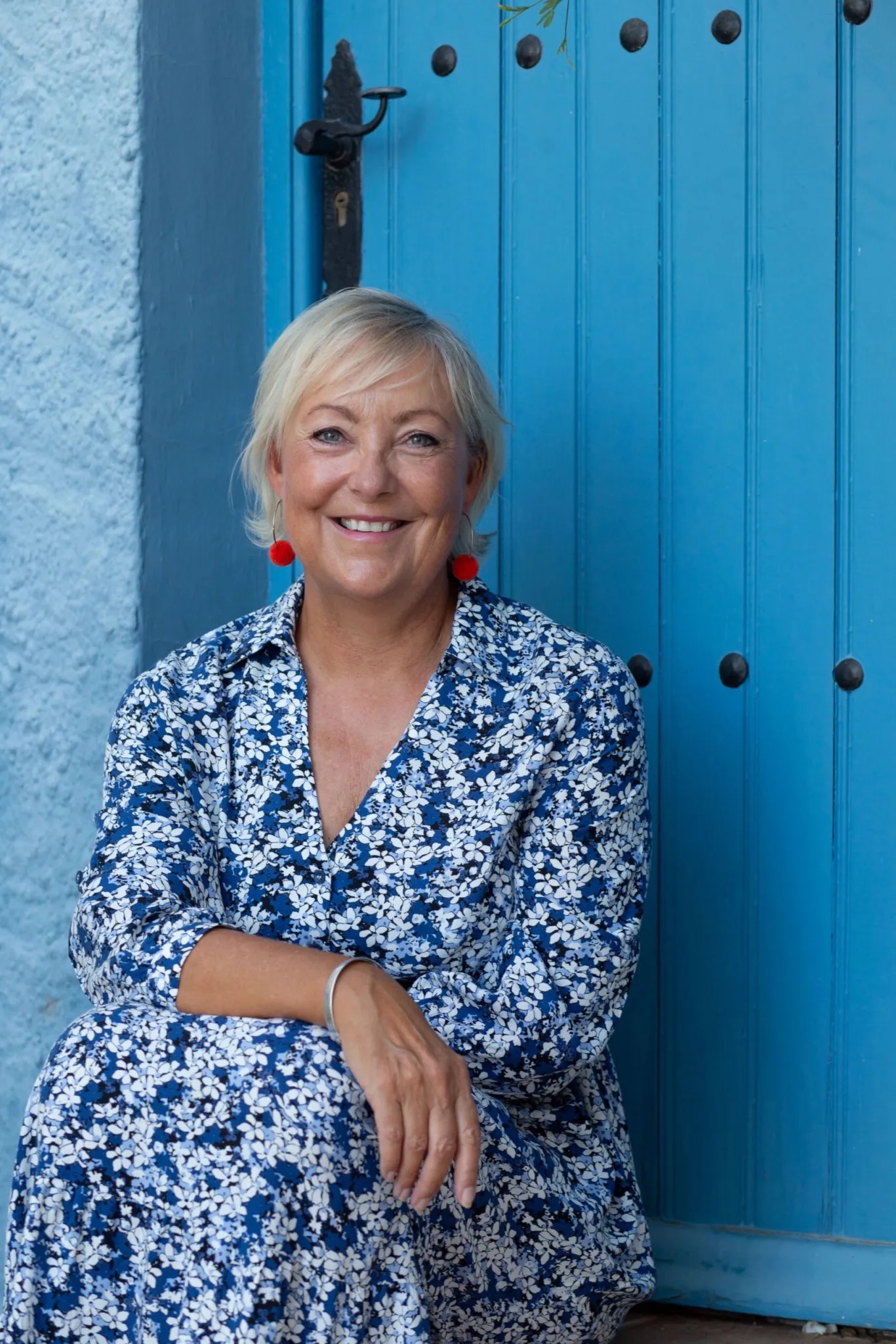 Something you are grateful for?
I'm grateful for all the amazing people I've met and in particular helping families through the funeral process and delivering the best celebration of life ceremony for their loved one.
Who would be at your special dinner party?
Elvis, oh that voice, The Queen – I'd love to hear some inside stories, Paul O'Grady for his wit along with Des O'connor … Oprah… how she got to the top and my mum Jenni who died 7 years ago as I miss her terribly.
What's your secret weapon?
My smile and warmth and wit.
Do you have a favourite quote?
So true even at the time when you can't see the wood for the trees!
Which song brings back happy memories for you?
Song, There Must Be An Angel by Annie Lennox was the song that stole my heart in the early 80's when I lived in Canada.
One thing you had to bring to Spain and could never give away?
A sentimental item that belonged to my mum, an old ornate perfume bottle bought for her 21st birthday containing her favourite perfume that I hold and smell if I want to feel close to her.
And movie that you just love?
Bridesmaids. I've watched it so many times and it never fails to make me laugh even though I know what's coming!
Something you would tell your younger self?
You are more than good enough!
Thank you Sally Chapman where can we find out more?
My website: www.celebrantsally.es Facebook and Instagram @CelebrantSallySpain 
If you would like to share your story, please complete the online questions here
And read more Costa Women stories in our regular interview feature!