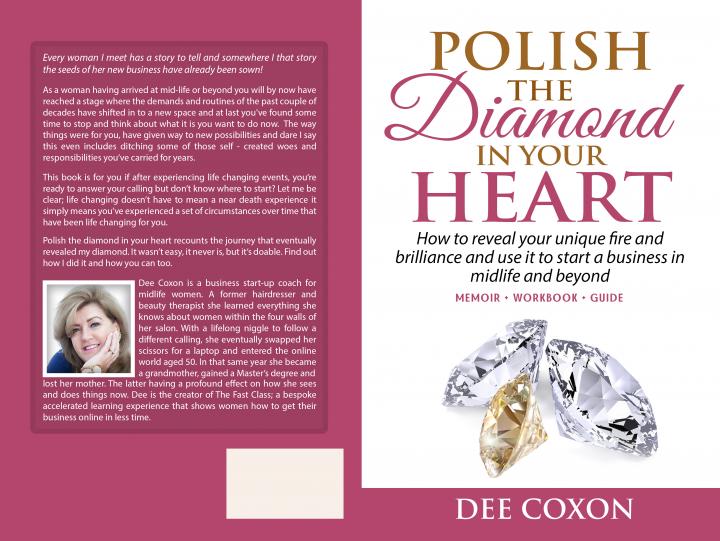 How to reveal your unique fire and brilliance and turn it into a business in midlife and beyond. Memoir – Workbook and Guide
Every woman I meet has a story to tell and somewhere in that story the seeds of her new business have already been sown; but how to do you get your unique brilliance out of your head and into a business of your own? Its not easy but its doable. Full of mess ups and course correcting this book recounts the story of how I uncovered my own diamond after years of trial and error and how you can too.

By using the analogy of a diamond to describe the value of a woman, it can be said that every woman is in fact a true diamond, the toughest substance in existence regardless of her behaviour or outward appearance. Given that the majority of our time is preoccupied with work, eating, sleeping, paying bills and bringing up a family it's no wonder we don't often see the diamonds buried deep inside us.

As someone who chose a mid-life career change I get that no matter where you are in your business journey something is happening within the context of your life, the two are inextricably linked. In sharing my journey you will discover there are aspects of my earlier life that have impacted my current business journey in a way that wouldn't become clear until much later. Like you I couldn't have known that what happened then would be relevant now.

Steve Jobs put it beautifully when he said you can't connect the dots looking forward; you can only connect them looking backwards. So you have to trust that the dots will somehow connect in your future. You have to trust in something – your gut, destiny, life, karma, whatever. On that basis; this book covers how the practical and experiential elements of life and business are interconnected and better understood by referencing them together.
As a former hairdresser and beauty therapist I learned everything I know about women within the four walls of my own salon where I admit to getting more satisfaction helping clients with their personal struggles than I did doing their hair and makeup and believe me I loved doing hair and make-up but after years of doing this it was no longer enough for me. I wanted to find a way of combining my business acumen with my intuitive skills and package these into an online business.

Fed up of being time poor my new business had to be lifestyle friendly too. Self-employed since I was 18 years old, I eventually left my vocational path, swapped my scissors for a lap top and entered the world of academia, believing this was what I needed to do to support my career change.
In the year I turned 50 I gained a Master's degree, a teaching certificate, became a Grandma and after a two year battle lost my mother to cancer, a loss that almost destroyed me.
Academia didn't help my entrepreneurial journey but it did make me understand: A formal education will make you a living but it's self-education that makes you a life! And for that reason I went off on my own to learn all I could about the world of online business. Unwittingly I took the long road and later discovered I only needed 20 perecent of all I'd learned to get my business out the gate.
On the upside I did gain an in depth knowledge of the online world especially the start-up and pre start up process; pre start up being the most important component for a beginner regardless of your age. Had I found someone to show me what to do from the get go in a way that was specific to me; my journey would have been so much shorter, a lot easier and far less expensive. Knowing what I know now I want to share that with you.

Polish The Diamond In Your Heart is due for release soon and availabe on Kindle and in paperback through Amazon. Get on the wait list at www.deecoxon.com to receive an email alert on the release date.
Thank you for taking the time today!
Dee Coxon MA MD MCMI