This is an invitation for open hearts who are ready to experience Embodied Realisation to join our next MasterCreatorClass, live online May 18 – 22
There comes a time when we all have to make a choice and follow our own inner voice. To step away from the drama out there and the energetic stealing of power that make us all feel valuable and important! To release the roles of aggressor and victim that give us the experience of success and failure in a world of limitation and control. AND finally surrender to the part of us that waits to take us on a most magical adventure beyond everything known.
Are YOU ready to lay down your sword and surrender your Human identity to your Divine and loving self within? Are YOU ready to move beyond your Human knowing and embody the truth of who YOU truly are, and what life is all about? AND live a life of celebration as Your Magnificent Self, right here on the Earth plane?
Then please accept this invitation, to join fellow Masters and Creators commit to, celebrate and embody your own Mastery, Realisation and Freedom! Our next MasterCreator Class is a 3 day online event via skype on Mon 18th, Wed 20th and Fri 22nd May from 2pm – 6pm. This journey, dedicated to you begins by receiving preparation homework on May 11th.
May 11 – Receive Preparation HomeWork for Class
May 18 – Loving & Trusting YOURSELF
May 20 – Acceptance & Understanding All of Life & The Voice of All Knowing
May 22 – Discovering the Unknown & Celebrating YOU
Please note: This class doesn't heal, teach or share any methods… it quite simply offers a safe and sacred space for YOU to dive deep within your core, balance Body, Mind & Spirit and allow the Master and Creator you truly are, to fully emerge and bring you into a new delightful adventure, creating your grandest dream!
You can enjoy creative acts: dancing, singing, acting, writing, painting & inner journeys during this class to inspire you to remember, imagine, play and create yourself and your life aNEW as a New Energy Pioneer. A Sovereign Master & Creator who embraces, integrates and embodies your multi-dimensional self, allowing YOU to live in all ease and grace, a life of celebration beyond anything known.

This MasterCreator Class Allows YOU to…
To consciously choose to expand out of your Human Identity and into All That You Truly Are.
To release all fears, past wounds and hurts, all ancestral & angelic lineage and move into your expanded identity of IAM… All That Is
To commit to… Loving and trusting all of yourself, Acceptance and Understanding all of life, The Voice of All Knowing, Discovering the Unknown, Celebrating YOU
To be aware and experience the integration of your Divine and Human selves…
To choose to live joyfully and experience your own Mastery and Embodied Enlightenment.
To create a journal and Master Creator testimony as an expression of your freedom and commitment to be your Master Creator self and live a life of celebration.
Cost…
As a non-profit charity 'Asociacion Conciencia Magnifica' I ask for a donation of 65 euros for this 3 day event. All donations go to fund our Free Creative Art Projects for local children in Benalmadena and surrounding towns.
How to Register…
Please either go to register and pay via my website store http://memymagnificentself.com/courses/mastercreator-local-class/ or contact me by Email to arrange to pay via PayPal or bank transfer the whole amount before May 11th.
Email: barbara@memymagnificentself(dot)com
It's All About YOU…
It doesn't matter whether YOU are a novice or an experience teacher in the world of spirit to particpate in this must-dimensional class because everything has changed! Old dualistic ways of working with spirit or consciousness has a new ingredient and has changed the whole game of energy dynamics and how life unfolds.
YOU
You are the new ingredient, who, by your own Human experience have stood up most passionately and said no more fear, pain and suffering! AND having expanded your consciousness in such a way, you have brought in NEW energy to serve yourself and all Humankind.

From life being about them/others and going out there to exchange energies… Life has become about YOU, going within and receiving from the powerful oneness YOU are.
Many of us are experiencing how the old ways of dealing with fear, pain and suffering no longer work and are sensing how a new game is in play! No longer are we dealing with a vibrational and predictable energy in a linear time/space environment and experience duality, separation and fear, we are dealing with an expansional, unpredictable and multi-dimensional energy and experience unity, wholeness and compassion.

It is no longer about fixing, making whole and healing, past, present and future it is about allowing ourself to embrace and embody in each now moment, the wholeness and oneness we have always been.
It's a most natural Shift of Consciousness…
As Consciousness expands, floods of light flow into our Earth plane, naturally awakening hearts from a deep hypnotic sleep… encouraging all to open and receive the truth and realisation of how each person is sovereign, powerful and magnificent.
One heart at a time we are realising how each person is the oneness, the Divine Master, Creator AND Human, who can now choose to embody this truth and live a life of celebration as their Magnificent Self.
In order to help Humanity take on this new role as Master and Creator, our Angelic and Galactic friends have stepped back, leaving the field free for us to experience our own voice, potential and magnificence. AND to ensure we embody this realisation it is necessary to say goodbye to all our yesterdays, blood ties of ancestors and biology and allow our own knowingness and magic to enter this new game.
It is with honour and joy I share with YOU my own experience Awakening, Integrating and Embodying the new DivineHuman, to inspire and support you on your natural journey of Ascension in all ease and grace.

Barbara Franken… Creative Visionary & MasterCreator
Inspiring New Energy Consciousness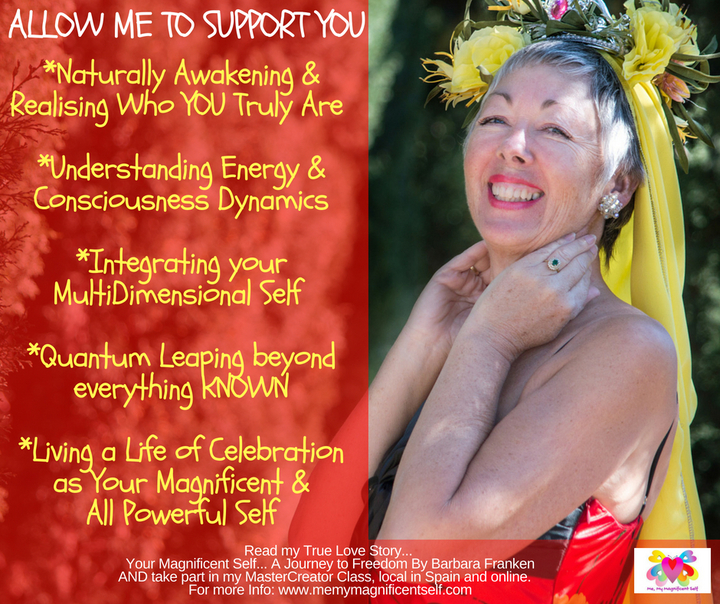 Magnificent Guest Blogger Feature 2020
I do hope you join me and several of my Divine brothers and sister in this next writing challenge April/May 2020 and write about your grand dream… so that we can co-create together another free e-book to inspire others to discover the truth within. Please check out this blog post. I'm waiting to hear from you. Thankyou

Join me for ½ hour QuietMeTime with The Conscious Breath
You can subscribe to my YouTube Channel and join me each week for some Quiet Me Time as we consciously breathe, relax and dive deep within, embracing All of Self and releasing everything that no longer serves.
A paperback and Digital Book is available from all Major online stores… Amazon and Apple
I share my own magical journey, exploring Who I AM with the help of nine Elemental Beings and expand from a world of fear, struggle and limitation into a New Energy Consciousness of love, grace and freedom. It is in this loving space that I discover my Divine and ALL LOVING self and allow myself to integrate together as one Body Consciousness… a DivineHumanBeing… and Magnificent Master Creator who expresses and creates heart and soul passion on the physical plane and beyond.
Join my MasterCreator Class and emerge yourself in the celebration of life through dance, song, art, relaxed inner journeys and beyond everything known… preparing yourself for your NEW role on New Earth.
There is no time like the present moment to Sign Up and give YOURSELF this magnificent gift… More Info: MasterCreator Class
Our next class in May 18, 20 & 22 is going to be online via webinar, so my friends from around the world can join!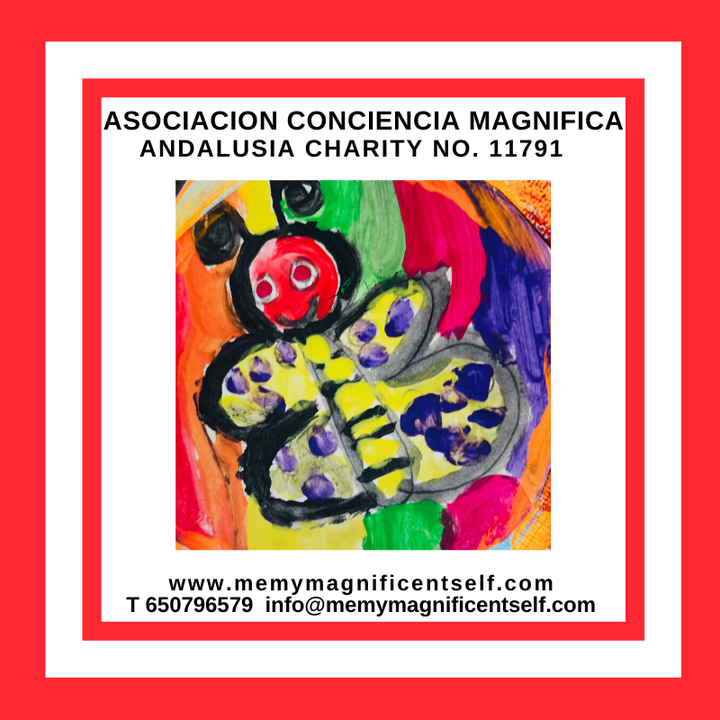 All the money raised from my books and classes go to my non-profit association The Magnificent Consciousness that holds free local projects in Benalmadena, Spain.