Can anyone be a wedding celebrant?
Celebrants are the lucky people who stand in front of everybody at a wedding, say something nice about the couple, get the couple to repeat their vows to each other and then announce them as married, right? It sounds easy, like something your friend or uncle could do and it would save you money, wouldn't it? With sample ceremony scripts online, can a friend or family member be your celebrant and officiate at your wedding?
Technically, if you are having a non-legal celebration such as a symbolic wedding ceremony or wedding blessing then yes, but think very carefully before deciding if this is really the place to save money…. Read on!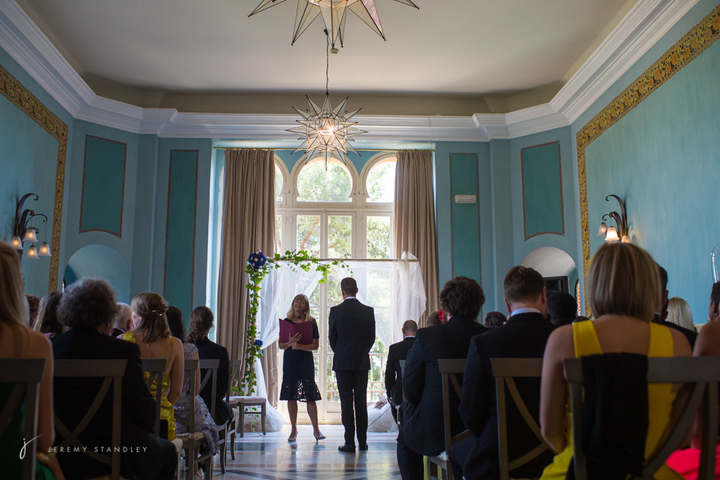 Credit: Jeremy Standley Photography
Wedding Guest or Wedding Officiant?
First up, does your family member or friend want, I mean REALLY want the huge responsibility of orchestrating the theatrics of the wedding ceremony itself, making sure that the entire wedding party does and says what they need them to do and say, exactly when you need them to do and say it?
Are they sure, I mean REALLY sure that they want the enormous pressure of writing the absolutely perfect wedding script that captures the love story of the wedding couple, with the right degree of emotion that delivers the wedding vibe that the couple have set their heart on… without getting teary themselves?
Is your family member or friend certain, I mean REALLY certain that they can deliver the ceremony in a professional manner that truly connects with every single person at that wedding?
Or would they really prefer to be a wedding guest, relaxing at the ceremony with the other guests and enjoying the whole wedding experience, celebrating the couple's union along with the other family members and friends?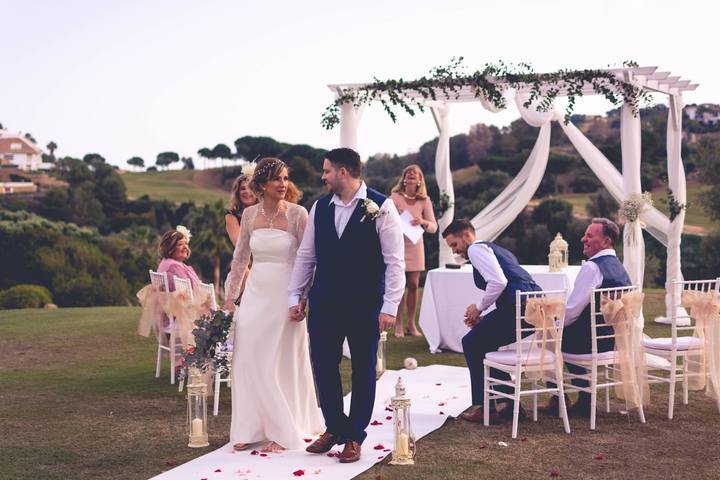 Credit: Simon Duggan Photography
The Celebrant as director, producer and actor
If you think of a wedding as a piece of theatre, with two main protagonists and a supporting cast, all of whom have to say their lines at a particular time. Well, the Celebrant is the ultimate theatrical multitasker!
In order to officiate the wedding, they have to be director, producer and actor all at the same time, whilst always appearing calm and unflappable no matter what is happening within the main proceedings.
Whilst every part of the ceremony may be scripted, a good celebrant should also be prepared to confidently adlib when the need arises whether it may be severe nerves, noisy children, lost ring, couples too emotional to speak, the list is endless!
A symbolic wedding ceremony may include any, all or none of the following: Processional; Welcome; Opening address; Declaration; Words of Commitment; Readings; Rituals; Religious elements; Multi-faith traditions; Personal vows; Certificate signing; Kiss and first presentation and Recessional.
Still sure you want the job?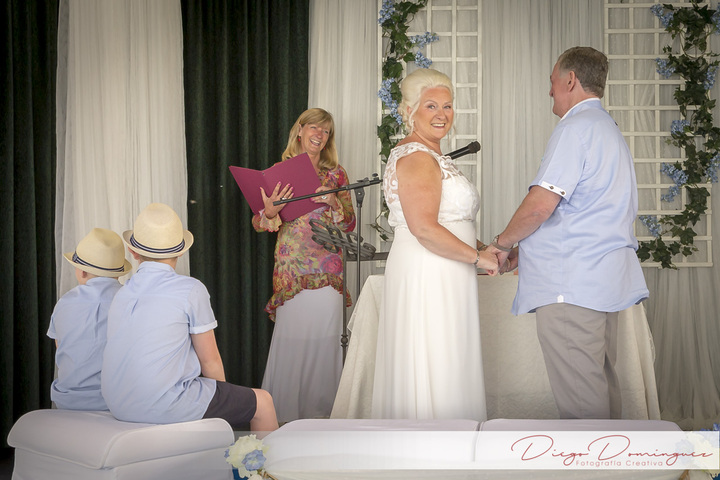 Credit: Diego Dominguez Photography
The Celebrant as minister of rituals, traditions and faiths
To officiate a bespoke wedding ceremony, a celebrant needs a few ritualistic tricks up their sleeve. The best known tradition is the exchange of rings. A perfect circle of love without end, symbolising to the world that a couple are committed to each other. But a celebrant should have a wealth of other rituals they can bring to your ceremony to signify unifying two families or in remembrance of an absent loved one. A visual representation of joining two people together such as sand ceremonies, wine blending or a handfasting with cords (the origin of tying the knot). Rituals can supercharge an already emotional and personal occasion. Plus being able to incorporate religious elements can satisfy not only the needs of the couple but of their families, when a couple of two different faiths get married for example.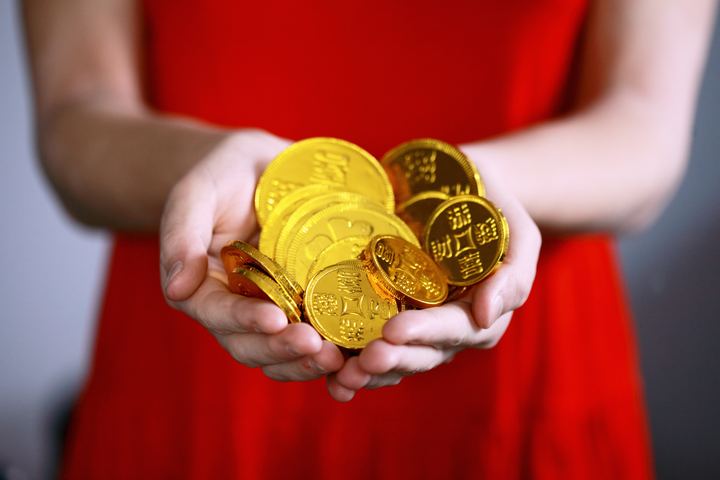 Spanish Arras Coins Ceremony
The Celebrant as a storyteller
Every good celebrant should have a way with words. In times gone by they would have been recognised and respected as storytellers and scribes as much as officiants. When writing a wedding ceremony any celebrant worth their salt researches wording that will totally resonate with each individual couple in accordance with their vision of the perfect wedding. We all appreciate that the wedding planner works hard at organisation and getting the visuals right and the wedding photographer seeks to capture those visuals, but it is the responsibility of the celebrant to capture an abstract feeling, to deliver that intangible essence that makes a good ceremony into a great ceremony – the wedding vibe!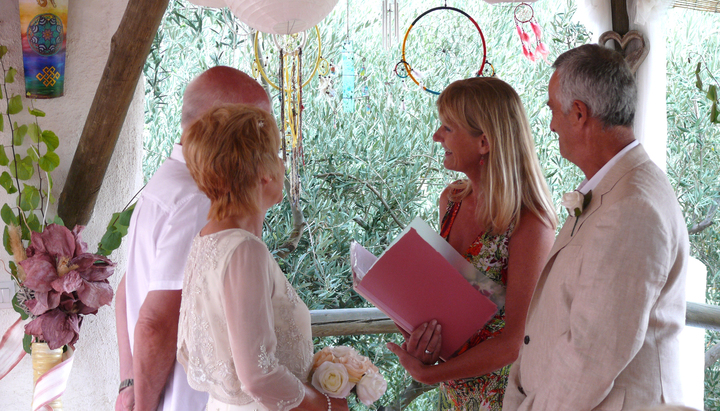 Celebrant led vow renewal ceremony
The Ceremony is at the very core of the wedding
Ok, so in summary, you have chosen an amazing wedding planner. You spend hours deciding on the details of your ceremony, the ideal venue, choosing what to wear, the colour scheme, the flowers, the music and the cake. You select an awesome wedding photographer and videographer to capture every precious moment. And there, at the very core of your day, your actual wedding ceremony, you entrust the absolute highlight of your special day over to your uncle, your cousin or your best friend…. really?!
Now if that family member or friend is themselves a minister, celebrant or registrar, excellent! Bring it on! (Remember to ask the, "Are you sure you don't just want to be a guest?" question)
But if they are doing you a favour because it looks like a nice thing to do, or to save you money… ask yourself again, "Is the heart of my ceremony really the best place to make a saving?"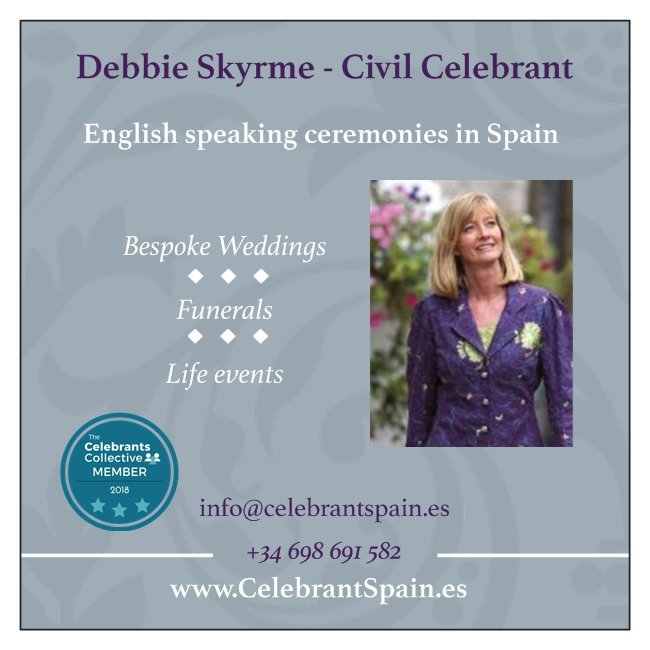 Biography:
Debbie Skyrme is a former UK Deputy Superintendent Registrar, now an independent Civil Celebrant in Spain.
She officiates bilingual weddings, elopements, vow renewals, celebrations of life and baby namings in English and Spanish.
www.celebrantspain.es
info@celebrantspain.es
Follow Debbie on social media as CelebrantSpain: Facebook, Instagram, Twitter , Tumblr, LinkedIn, Pinterest