Clear Mind, Healthy Body – The Group for Women who want the best out of life.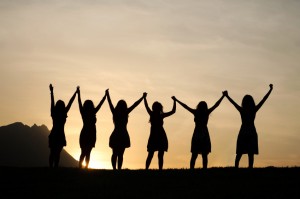 We are just about to start up the third group for women here on the coast, and I am really looking forward to it.
One of the previous participants says:
"I am thrilled with the results I have achieved by putting into practice Maria's teachings about nutrition. I have more energy, more stable moods and a sunnier outlook on life! The group was always very supportive and welcoming and I truly missed our sessions when they were over." (Nadia, 37)
!!Read more testimonials of the previous participants below.
It is important to give yourself the time and space in order for you to get the best out of life and to be the best version of YOU.  This group will be a perfect place to start or continue that path.
In the "Clear Mind, Healthy Body Group for Women" You will learn about the right diet for YOU – a diet that will stabilize your hormones, make you loose weight if you need it, improve your digestion, give you more energy and vitality, make you think more clearly and so many great things. You will get practical advices, tips and tricks on how to maintain a healthy lifestyle in your every day life. You will learn what is healthy and what is not…and why! You will learn how to stabilize your blood sugar and how to cut sugar and bad foods out of your diet without loosing your mind. You will also get to taste some yummy healthy treats along the way.
You will learn how the body and the mind are connected and why it is important to work on both in order to create the best life possible.
You will learn to be aware of when and why you limit yourself. You will learn how to change your habits in a gentle, self-caring way and how to protect and take care of yourself for the rest of your beautiful life.
If you have, children this group will make you feel like the best role model ever.
No matter what your issues are and what you wish to get out of the course, I can easily adjust the program so that everyone gets the most out of it.
Learning and growing in groups is a wonderful thing. You will be surprised at how much you learn from hearing the other women's questions, challenges and experiences. Even though we are all different, many of us have the same issues.
In this group you will be respected for who you are – there will be no judgment and everything will take place in a positive and safe environment.
Practical Info:
Normal price: 150 euros total – Now special offer: 100 euros total
The course will be every Tuesday from 11:30 to 01:00 PM startingOctober 14th 2014 at Calle Castano 6, 29639 Benalmadena. The Course will be in English.
You will start up with a 30-minute personal consultation (we will arrange the time together). After that, we meet in the group every Tuesday for 1½ hours for 5 weeks.
The group will comprise a minimum of 4 women and a maximum of 10 women.
When you decide to join the "Clear Mind, Healthy body Womens Group" course you will get:
–          Positive results – I guarantee it
–          30 minute private consultation based on your questionnaire and your                       personal needs
–          Five 1½ hour group sessions
–          The ability to contact me with questions by email during the whole course               period
–          The support of the rest of the group
–          Fun and most likely new friends
Read more about me on my webpage: www.maria-steffensen.com
Please contact me with questions on (+34) 622 264 959 or email me oninfo@maria-steffensen.com.
LIFE IS AMAZING – AND SO ARE YOU…..you just have to learn to live with it!
Best wishes
Maria Steffensen
Health Mentor, Nutritionist and Coach!
Testimonial of previous participants:
"The group was fabulous. I really enjoyed it and now I miss my weekly fix.
I attended the group new to Spain and not only learnt a lot about nutrition and the mind body connection but also met some lovely new friends.Maria has a lovely delivery style putting everything into simple to understand terms with plenty of time for questions with some delicious treats along the way.
The course has helped me to get back on track with a healthy lifestyle too.
Thanks Maria!" (Jenny,  age 40)
——————————————-
"After suffering for the past year with adult onset acne and having tried every cream and lotion available on the market without success I decided to sign up for one of Maria´s nutrition and wellness classes. I thought it best to tackle the problem from the inside out. Before classes started we were given a very comprehensive questionaire to fill out, covering everything from our physical to emotional ailments. Acting on Marias advice during our personal consultation I went straight to my gynaecologist who confirmed that I had a mild case of PCOS, a hormonal imbalance often experienced by women. The doctor wrote out a prescription for birth control pills as he said that there was absolute no other way to treat the syndrome. Maria and I ignored that advice and she immediately out me on a gluten-free, lactose-free and sugar-free diet. I also began taking Krill oil, a strong multivitamin, chromium to curb sugar cravings and selenium.Within a week I felt
that although the results were not yet visible on the outside that some changes were taking place inside my body. I suddenly didn´t have to sleep the siesta anymore and felt more mentally awake. The group sessions helped me to stay motivated every week and I managed to stick to the plan for four months. Towards the end of the first month my skin started to clear up, no more angry acne flareups and the overall texture of my skin improved. My periods have also become much lighter and not as painful, I now dont have to take painkillers.
It has been almost seven months since my last class with Maria and I have changed my lifestyle quite drastically. I take my supplements regularly, I try to stay clear of foods that could cause inflammation for me (milk, gluten, sugar-based), I make vegetable juices every day, I eat cleaner meals using local and or organic ingredients. I have also moved on to organic/natural cosmetics and toothpaste! Today I am very happy to say that my skin is 100% clear.
I learnt so much during my time with Maria. She made all of us feel so at home and comfortable and she really is a wealth of information. You will learn more about your body in six weeks than you have probably learnt in your lifetime. It is a very impowering feeling". (Ingrid age 32, Malaga)
————————————————
"I can only say good things about Maria' s nutrition sessions as I found them extremely informative and at the same time uncomplicated and easy to understand.
Maria is extremely knowledgable and well informed on current nutritional and environmental issues which impact many things for example hormones, skin and fertility.
Maria has a great sense of humour and brought her personality to the group which made it a very comfortable environment to be in, i felt I could ask her anything and equally tell her anything, which for me was very important, she is non judgemental and just really wants to help in any way she can. 
I highly recommend Maria's sessions as she has an answer for most ailments and conditions.
Maria is also a superb cook so expect some yummy nutritional all natural treats when you go along".(Sonja, age 40)
———————————————-
"I enjoyed Maria's series of inspiring lectures hugely. I still look over the notes she e mailed us and use the idea of being only 100% responsible as often as I can remember to do it. I met a lot of nice, interesting women and honestly feel better within myself as a result". (Janet, age 45)
————————————————-
"Dear Maria,
It´s been a great experience to have participated in your holistic courses. They made me aware of many important facts about positive thinking, nutrition, and a healthy lifestyle among other reveailng topics. 
It´s a real pleasure to have met you. 
Thanks for your guidance.
Warm regards, and lots of love"  (Yolanda)
————————————————
"I attended the course "Clear Mind, Healthy Body".
It was brilliant. Not only was it lovely to meet all the other ladies and to have some 'me time', it was very informative, interesting and highly motivational. Maria explained all the nutritional benefits and changes that can be made very clearly. The cherry on the top was the amazing food she lovingly (and healthily!) prepared  for every meeting! Each meeting was followed up by Maria emailing an info pack and examples of yummy recipes – that I am impressing my friends with still!
Thank you Maria you are an amazing & inspiring woman!" (Liz Wilkinson. Age 24 (cough I mean 42 wrong way round!)