Using the pandemic as a time to settle into Spain, meet Charlotte Nyberg who fell in love with the Nerja area within 2 days of arrival and has decided to create a life and business here to share with others.
Did you choose Spain, or did Spain choose you?
Since I was 25 years old, I had a dream of living in a sunny place. Somehow it feels like Spain and the language are running in my veins. So my dream became my goal and I aimed to move in 2019. As young it felt far away but suddenly it was 2012.
I had been running a riding school for 16 years with my husband by my side, and our two daughters. I educated myself in healthy living, how to eat healthy, mental strength, training and yoga. I also took over a Laser clinic from 2014. We didn't do much research before. One trip to south of Italy, and then the south coast of Spain. So in June 2019 we came to Nerja for the first time.
Two days and we were in love. Day three we even found our dream house in between Nerja and Frigiliana. In 5 minutes we said yes to the place that we now named Villa Sunshine \u2600\ufe0f
We went back to Sweden and sold everything and moved here in January 2020.
Now, many would think; so sad just before the pandemic. But for us it has been the best time to get to know our new home and to transform it to a nice tranquil place to be at. We now take groups for retreats, mostly yoga, but also for hiking, exercise, eating healthy or just to relax. We have also created a B&B. My husband Jorgen loves to cook and gets so many compliments. I try to grow our own vegetables, do yoga classes and fix the rooms. We feel so blessed and just love life at the sunny costa of Spain.
You are based between Nerja and Frigiliana why is it so special?
We are close to everything, mountains, sea, nice town. Here everything and everyone is easy going and friendly. The weather \u2600\ufe0f
What has been your biggest challenge?
To move without our daughters. We hang out through FaceTime.
What advice would you give to women thinking about making the move?
Live your dream instead of dreaming your life.
How do you spend your days?
At VillaSunshine.nu we take care of our guests, fix the garden, cook the food and have yoga classes and retreats. Of course one or more siestas is doable as well.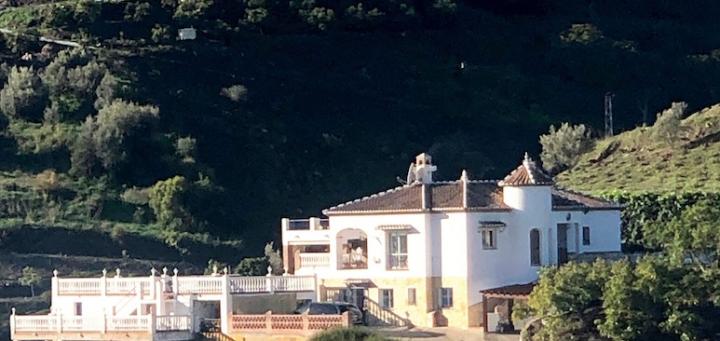 Something you are proud of?
Everything; taking the step, living my dream and learning all new things in a new country.
Who would you have to your special dinner party and why?
Dalai Lama – he's knowledge , Richard Gere – sexy, Julia Roberts- pretty and fun, Carolina Gynning – crazy, My Father – because I miss him (by skype from heaven) My husband Jorgen my other half that makes me whole.
The Mantra you live by?
Always be true and do your best.
Favourite song?
Let the sunshine in
One thing you had to bring to Spain with you?
My husband
Favourite Book
Brida by Paulo Coellho
Something you would tell your younger self?
Love your self
Where can we find out more about your project?
Website Villa Sunshine
Instagram @villasunshinenerja
Facebook https://www.facebook.com/villasunshinenerja/
Thank you Charlotte!
If you want to share YOUR story with us, please complete the online questionnaire here