One of the authors from our Spain & Me second ebook, Cristina Hodgson, is a published author in her own right. She has 6 books in publication and her latest book is just out (inspired by a Costa Women challenge!). I talked to her about Cordoba, why "Never give up" means nothing if you never begin and writing her latest novel.
I was born in Wimbledon, which is where I grew up. Bit of trivia, I was a ball girl when Martina Navratilova won her ninth title (does that give my age away!) I won a sports scholarship to Boston College. After a period in Boston, I returned to the UK and graduated from Loughborough University with a degree in Sports Science where I captained Paula Radcliff in my second year as cross-country captain.
Where do you live in Spain?
I live in Cordoba. I'm actually half Spanish, my mother is from Cordoba. Having spent every summer of my childhood here in Spain, I think I fell in love with the place before I knew how to walk.
Nestled between it's two rock-star neighbours, Seville and Granada, Cordoba often gets over looked despite it's famed Mezquita which is just the tip of the iceberg of what Cordoba can offer. A vibrant, traditional city full of colour, culture and music, where the interior patios, especially in the old quarter, come alive during the Spring months. If you go anywhere in May, Cordoba is a must.
Writing your passion and Triathlon and athletic events are your passions, how did those journey start?
Reading and sport have been my number one passions for as long as I can remember. The reading converted into writing and the casual school sport into national and international races in my mid-teens.
Your first book was A little of Chantelle Rose – tell us more and is it in any way autobiographical?
No, there is very little resemblance between Chantelle and myself. However the idea to the novel and the unique character, Chantelle, came to me many years ago when I was cast as an extra in a British gangster movie (filmed in Nerja). The prologue is based on that personal experience, but the rest is 100% fictional.
What would be your advice to someone thinking of starting to write – where should they begin?
It's not a get-rich-quick career and can be frustrating and draining at times, but if writing is your passion, it's one of the most satisfying careers you can have. I thoroughly recommend any newbie writer to join the writing Facebook community called 20booksto50K and read all the files, there is a wealth of information there that will guide any aspiring writer in the right direction.
Where do you write and is there a special time of the day that works for you?
I write in my sitting room, which I can tell you now, is NOT the ideal place to write! There is a continual hum of background noise, but it means I can keep an eye on my kids whilst they get their homework done, though of course I get side-tracked from my storyline all the time! Sigh! Which means that my ideal time to write right now is first thing in the morning, 5:30 am to be precise.
What has been your greatest challenge, whether personal or business?
Rather than a challenge, I think one of my biggest disappointments was when I had to give up on my running career, as a result of constant injuries. But the years of training has definitely help build my self-discipline and self-motivation. Necessary traits for a writer, or pursuing any career that requires hard work, consistency and a lot of dedication (no doubt applicable to the achievement most dreams and ambitions)
You can invite your favourite authors to dinner who would you invite and why?
Daphne du Maurier, she's one of my favourite authors and though my current titles are romantic comedies, they all have a hint of suspense and intrigue which I think I have got from reading du Maurier's novel in my teens. After the dinner I would kindly ask Daphne to read part of "Rebecca" to me. How amazing would that be?
What book(s) are currently beside your bed?
I have a few, lol! An autobiography "Knowing the Score" Judy Murray and "The Queen of the South" Arturo Pérez-Reverte
Best piece of advice you've ever been given?
"Never give up" means nothing if you never begin
Favourite quote and why?
Never regret something that once made you smile
And you have just achieved something rather special too… Tell us about 'A Expat's Guide to Falling in Love'!
This novel was actually inspired by the article that I wrote for Costa Women about a year ago on "Dating Spanish Men" So I actually have to thank you Ali, for giving me the opportunity to write something fun and special for the Costa Women community and hope that they also enjoy this new novel about a Brit who arrives in Malaga and ends up with a rather complicated love life whilst innocently finding herself in the midst of a clandestine operation.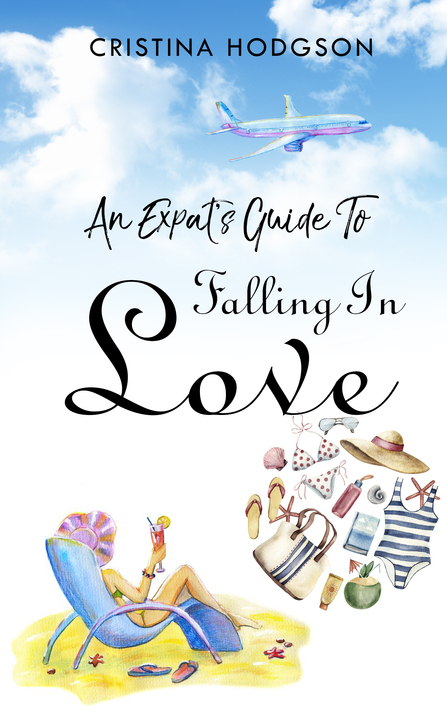 Where can we find out more about your books (and maybe join you on a triathlon/athletic event?)
I'm actually holding an online FB giveaway to celebrate my new release, open until the 12th November, so pop over to my Facebook page (https://www.facebook.com/HodgsonCristina/) and read the pinned post. I'll be giving away a $25 Amazon Gift Card and a signed copy of my bestselling novel "A little Of Chantelle Rose"
Thank you Cristina – you can find out more and even download a short story at http://cristinahodgson.com