Bringing her love of the Muscuoskeletal and deceptively strong thumbs meet Estelle (the Physio) Mitchell and read about her fun life and mini adventures in Spain.
Why Spain?
I got sick of the cold! I was born in Malaya and never quite got used to the cold and damp in the UK! We were debating between the South of France, South Africa and Southern Spain and then we saw our house. And here we are!
Where are you based in Spain and why should we move there too?
San Pedro de Alcantara. I love this town, busy and vibrant without being too hectic, a mix of spanish and international locals and a wonderful, friendly place!
What was your biggest challenge for your move?
Complete lack of research! We arrived with a wing and a prayer and a willingness to work hard. We were completely clueless!
What is your advice for a Costa Woman wanting to make the move?
Invest in a good lawyer and ask questions. And then more questions. And then some more!
How do you spend your days?
I spend my days following my passion – physiotherapy! I've been a Muscuoskeletal Specialist for over 20 years here in Spain with my own clinic and my wonderful team. With my work and my family, the wonderful friends I've met I'm a lucky girl! We try and have "mini adventures" as I'm rubbish at holidays. So we'll go to shows, take helicopter rides, boat rides, circuses . . . all kinds of fun and interesting trips.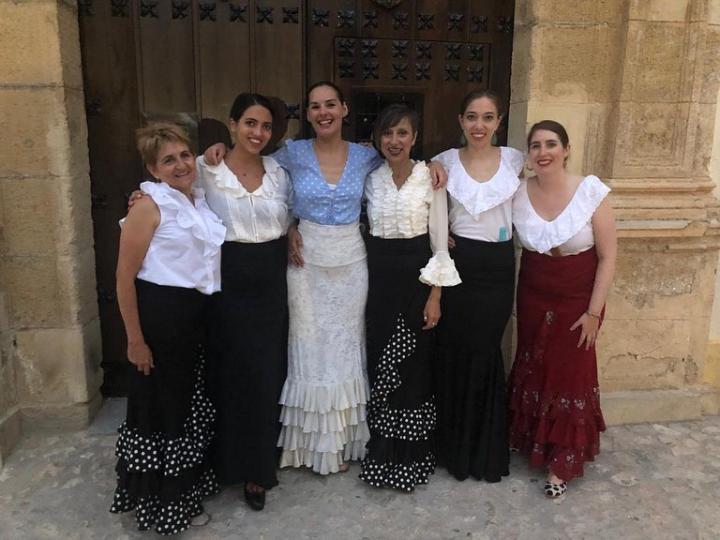 Estelle learning Flamenco with Granada Concierge in Moclín, Andalucia, Spain
Something you have achieved?
Being a physiotherapist (40+ years!) is my single greatest and continuing achievement!
Who would you invite to your special dinner party?
Prof. Lorimer Moseley, David Butler and Perry Mason (Stop Chasing Pain) – for professional hilarity! And my family and we'd have sushi and cava! (like my birthday!)
What is your secret weapon?
My deceptively strong thumbs!
Favourite saying?
Discs don't slip dammit!
One thing you had to bring to Spain?
Photographs of my parents in Malaya
Favourite book?
Explain Pain by Lorimer Moseley!
Something you would tell your younger self?
Have even more fun!
Where can we find out more?
You can find Estelle (The Physio) Mitchell via our website TheBodyworksClinic.com
Thanks Estelle!
If you want to share YOUR story with us, please complete the online questionnaire here