On leaving Harrow College of Art, Julie McSorley worked as a freelance illustrator for several Fleet Street publications. She has lectured on numerous university art programs, and her research in art education includes a Ph.D. A children's book Julie illustrated for Angus & Robertson was shortlisted in the Book Of The Year Awards by the Book Council Of Australia. Julie has also authored a successful true crime story, Out Of The Box. The book has received widespread publicity, and has been tipped for the big screen by the Sydney Morning Herald. Ali talks to Julie about her second novel – She – which was co-written with her son, Marcus.
Hello Julie, how did you end up living in Spain?
We relocated from the UK to Australia in 1988. After twenty-two glorious years of living and working in Queensland we were missing Europe. On vacationing in Southern Spain we fell in love with the Mijas Costa, and by the end of the year we had sold our Aussie home and made the move.
How did you choose La Cala de Mijas to be your Spanish home, and why should we live there?
While exploring possible places to settle we became smitten with La Cala de Mijas. We have lived here now for ten happy years, with no regrets. The town has everything we could want: A gorgeous beach and coastal boardwalk, fabulous restaurants and an authentic Spanish feel.
Before Spain you were…
Life before Spain for me was rich and varied. I was born in Adelaide, South Australia. My early years were spent on a rural outback sheep station where my mother was a governess. From a huge corrugated shed she would broadcast lessons for the station kids (including me) on all the outlying properties. When she planned to remarry we took a six-week journey to England on a Dutch ship called the Patagonia. The year was 1956, and the Suez Canal Crisis made for a dramatic disembarkation in Aiden for this five-year old girl.
My new Father was a squadron commander in the Far East, and my early teens were spent in Singapore where I attended Changi Grammar School. Following boarding school in The Lake District I enrolled at my first art college. This was the late sixties, such a great era to be young. By now I was in the thick of the new counter-culture; we thought we could change the world, and in many ways we did. I trained as an illustrator at Harrow College of Art, and over the next few years my drawings were regularly commissioned by several Fleet Street publications. Besides making art I had a yearning to teach it, and did my post grad year at the University of London.
While teaching, I landed the opportunity to illustrate a children's book for the Australian publisher, Angus & Robertson, so timely as we were planning to relocate to Australia. The book was shortlisted by The Children's Book Council of Australia. We arrived in Queensland at the end of 1988, and I was soon teaching and lecturing in art education. After completing a Masters degree at Queensland University of Technology I was awarded a full scholarship for my doctorate. By 2005 I had finished teaching, and we left beautiful Queensland at the end of 2009 to start our Spanish adventure!
And you have just published your second book – what can we expect to find between the pages of 'She.'
'She' is a crime-thriller, centering on the psyche of a woman with a mysterious past. A tragic accident triggers a chain of events affecting several people, particularly the young unsuspecting ex of the female protagonist, 'She.'
The back-cover blurb gives a good synopsis:
A husband seeks atonement…
Will Havers knew nothing about his estranged wife before they married, or that she was having him tailed that fateful Saturday. He's racked with guilt and his life is unravelling – a secretive ex wife who blames him for the death of their little son and his failing newspaper business. Now his mother is missing, and things are about to get a whole lot worse.
A wife seeks revenge…
Eve always suspected Will was having an affair with a girl from his office. Now she's seen the investigator's photos of them together minutes before the accident she's hell-bent on revenge. It's payback time – theft, poisoning, murder even – there's no limits, when you have nothing to lose.
A private investigator seeks the truth…
Ageing sleuth, Jack Sykes, is convinced that Eve is behind the poisoning at Will's office party, the disappearance of Will's mother, and the suicide of a young local man. He visits a remote Devonshire village in search of the true identity of Eve Havers. But will he be in time to save Will?
What has been the most difficult part of the writing process? Any tips for Women who are thinking of writing a book?
Every writer has a different way of working. Some prefer to start with an idea and let the story develop organically on the page. Others need to have a sense of the story arc, main scenes and the ending, before they commit one word. I am definitely the latter type. My main tip for any would-be author is to consider the 'voice' they will use to tell their story: first or third person, involved narrator or objective witness? In addition, it's important to have a sense of the genre of the book and your intended audience before you start. Lastly, read, read, read. Good authors read widely.
You have written this book with your son – how did that work?
We are often asked about the technical strategies of co-authoring. If you are working with someone you know well it's a lot easier than one might think. Writing can be a lonely enterprise, and it's good to share the journey.
To begin with we brainstorm possible characters and their facets, and main scenes. Marcus lives in London, so Skype has been a godsend for our collaboration. When we've agreed upon the structure of the book we each do first drafts of alternate chapters, second drafts of each other's chapters, then take it in turns to do a final edit. Once the book is with the publisher it is edited yet again; with such a big manuscript one always feels there's more to do, but at some stage you have to be prepared to let it go.
Illustration – you have designed the cover of your book. It has a distinct 1960's Biba feel – is that something that reflects you?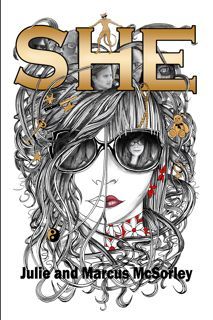 I'm heartened that you connected with the sixties genre of the cover Ali, and of course that reflects my roots in illustration from that era. Book covers are very important; research has shown they play a big part in piquing the interest of potential readers. Modern covers are frequently photographic, and we reasoned that a hand-illustrated image would give our book a point of difference. As a young art student I loved the detailed artwork on the vinyl album covers of the sixties and seventies. Without giving away too many spoilers; the illustration for 'She' embodies the two sides of the female protagonist, and fans of the cover have reported they've enjoyed searching for symbols from the story intertwined in her hair.
Where did you get your inspiration for your protagonist (and why do they seek revenge?)
Inspiration for a character rarely comes from one source. Rather, a fictional character tends to be a compilation of several real people. Of course we only know how these people react in situations we have observed, so the writer has to take a leap of faith to describe how they might deal with a variety of events that befall them. Revenge and payback are main themes of our story. How far might one woman go, and what could be the consequences?
It's not your first book either that is creating a lot of interest – Out of the Box was your first 'story' but it has a more personal link. Tell us more!
The 'Out of the Box' story was told over and again at the McSorley table for years before we came to write it. In the early 60's my husband, John McSorley, was the British Javelin Champion, and he met his Australian counterpart at the Commonwealth Games in Perth in 1962. They kept in touch, and in 1964 the Aussie athlete, Reg Spiers, turned up on John's doorstep in Twickenham. Reg had wanted to compete in the Olympics, but was throwing below par due to an arm injury. Now he was desperate to get home, but had no money for the air ticket. The young friends formed an audacious plan: John would build a man-sized box, deliver it to the airport with Reg inside, and post him back to Oz as airfreight. After sixty-three hours in transit, and the cargo-hold of a plane, Reg succeeded in his quest to fly home for free. His antics didn't stop there, and neither did his life on the run with his girlfriend across three continents. To find out how it all ended one has to read the book.
Out of the Box has now been tipped for the Big Screen – how did that come about?
When 'Out of the Box' was first published by a small press in the US it became obvious that we were going to have to find publicity for ourselves. After a couple of months we were lucky enough to be offered an interview for John and Reg on the BBC Radio Outlook program. The interview was a great success, and paired with an online article. Now publicity for the book snowballed and we didn't need to approach anyone, we were being contacted daily through our publisher and website by a variety of media organizations. This included articles in major UK and international newspapers and magazines, a variety of radio interviews, and major TV reporting in Australia and New Zealand. The Sydney Morning Herald picked up the story and reviewed the book, concluding that 'It is only a matter of time before the story finds its way onto the big screen.' (Fiona Capp: 26.3.2015). Following this spate of media attention publishing rights were also sold to Hachette Australia.
They are making a film of your life, who would play you?
I'd be honoured if Diane Keaton took the role!
Your table of 8 – who would you invite to dinner and what would you eat (fictional characters, people from history, media, friends and family etc.)
My fantasy dinner table would be all female high achievers – I believe in the power of women to entertain and inspire. Of course I would have to invite Diane Keaton. Others actors I'd nominate for a seat at my table are Kate Winslett and Helen Mirren. Although I didn't always agree with her politics, I admired the steely determination of Maggie Thatcher, and an evening with her would be fascinating. I would seat her beside the late, great Australian artist, Margaret Olley. The sportswoman of my choice is Paula Radcliffe; marathon running takes serious dedication and guts, and Paula is one of the finest. Lastly, I would invite the French fashion designer Coco Chanel, who changed the face of women's clothing and inspired so many designers that followed. I think we'd be in for a good night!
Something you WILL achieve this year?
I'd like to make real inroads into my third book. This will be another true story: a historical memoir about my Great, Great Grandmother. I have a number of her letters detailing her extraordinary life in the 1800's as the daughter of one of South Australia's first pastoral pioneers: Charles Thomas Hewett.
What book is beside your bed and why are you reading / enjoying it?
I'm currently rereading one of my all time favourites. Great books can be read over and again, and this one is no exception. If you like poignant true stories I recommend 'Into The Wild,' by Jon Krakauer.
Where can we find out more about 'Out of the Box' and 'She' (website, amazon, social media etc).
Twitter – @autoteller
Instagram – @thissixtieslife
Outoftheboxstory.com
juliemcsorley.com
marcusmcsorley.com
amazon.com/author/juliemcsorley
Thank you Julie!