'Get up and run fast' is one of Linda's mantras and she has hit the road running since her arrival in Malaga.
Why Spain?
After many years of slowly discovering every nook and cranny of this beautiful country we realised that a little piece of our heart was always in Andalucia. Malaga has everything, the sea, the mountains, gorgeous rivers, lakes, waterfalls, amazing food & wine and of course its beautiful people.
Where are in Spain?
Currently we are right in the beating heart of Malaga but were likely to end up in the mountains trying to live self sufficiently & fulfil our eco living dream!
What has been your biggest challenge when moving to Spain and how did you overcome it?
Leaving my friends behind 100%. I am a social creature and felt very isolated when I arrived, especially because I had only just started to learn Spanish so my conversations were limited. Eventually I stepped out of my comfort zone and started networking with groups like Costa Women, going to language exchanges & shamelessly telling people like my hairdresser in Malaga that I needed help finding friends. I've met some amazing people already and I'm feeling confident that I can rebuild a network here, it just might take a little time!
What advice would you offer to Women thinking about making the move?
Make the language a priority, everything is so much harder and scarier when you can't communicate. But I would also say that even if you haven't started to learn yet you should still dive in and embark upon the adventure of finding a new way of life, everything comes with time.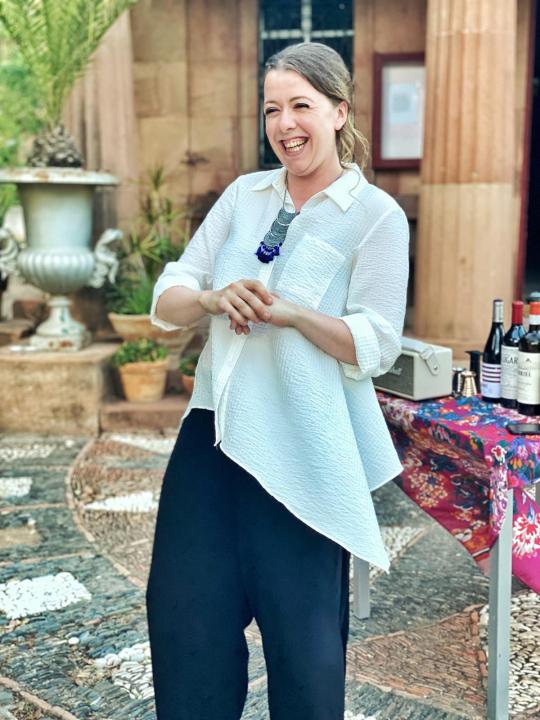 How do you spend your days?
I spent my first few weeks here wandering the city, mentally mapping all the restaurants and wine bars I wanted to visit and hiking around the green areas that surround the city. Now I spend most of my day totally emerging myself in my new business – Winederlust. I have just started to run wine tastings in Malaga and as much as its something I have done for years, getting set up again from scratch in a new country requires A LOT of work. I love what I do which makes it so much easier but there just aren't enough hours in the day (or enough Linda's)!
Something you have achieved?
My biggest achievement is probably my marriage! It's the backbone of everything I do and gives me a reason to be happy every day. We're an incredible team and that makes all my adventures all the more magical. I'm grateful for this every day.
Your dinner party … who would be there and why?
Stevie Nicks because I bet she's got some stories to tell! Also I could listen to Sara, Rhiannon & Gypsy on repeat all night long! Secondly, Helena Bonham Carter because I bet she's a complete wild card at a party. Finally my mum because she was my best friend and my biggest cheerleader and I miss her dearly. Oh and can I throw in Ludo from the film Labyrinth, just because it would make the whole things so much more trippy and he's so cute.
What is your secret weapon?
My secret weapons are my mantras which all come from parental advice. On life – "get up & run fast". On mean people "kill them with kindness". On disappointments "everything happens for a reason" & on ambition "reach for the moon you might get the stars"
Favourite song?
Barbra Streisand's 'Evergreen' because my mum used to sing it. And much to my wife's dismay "you only live once" is my favourite saying which has gotten us into all sorts of trouble!
One thing you had to bring to Spain?
My cat. All my friends offered to adopt her but she's my furry baby in stripy pyjamas and I just couldn't dream of leaving her behind.
Favourite book?
I think it has to be 'The Colour Purple' by Alice Walker. I've always loved the film for a good cry and the book is written so beautifully.
Something you will tell your younger self?
Eat less carbs and exercise more! You'll thank me when your 38!
Where can we find out more?
On social media @winederlust.malaga
Thank you Linda!
We all have a story to tell – share yours by completing the online questionnaire here