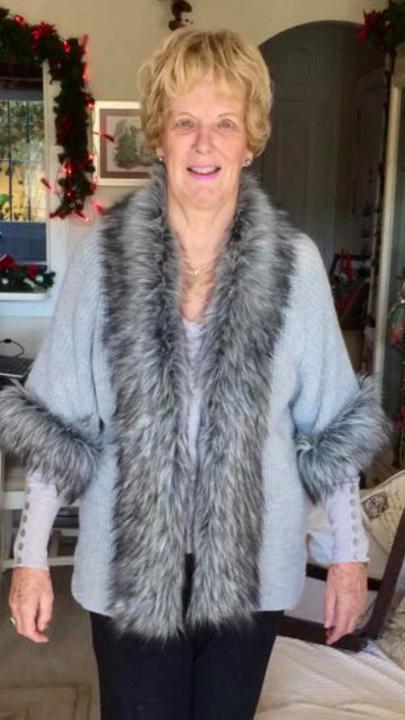 Meet Trisha Rodgers who has been living on the Costa del Sol since her retirement in 2002. Trisha is a crafter and makes hand-made cards. Find out more about Trisha …
Why Spain?
We retired to Spain in 2002 after our daughter, who already lived here said "Daddy why don't you sell the business and come and live in Spain with us". It didn't take much persuasion and we came to Spain. It is a decision that we do not regret at all.
Before Spain you were…
We lived in Harrogate in North Yorkshire in the UK where my husband had an engineering company I was retired but helped sometimes at the family business. We were both drawn to the holistic side of life and decided to become Reiki Masters. We both treat animals of all descrpition and human beings and have had good success. We enjoyed our garden going on holidays and socialising.
3 reasons why we should move to the Costa del Sol
In an answer "Why Not" it's a lovely way of life – not the pressures that there are in the UK and of course the weather – no grey dull days that last forever –we do get one now and again but they don't last. August is a little hot but then one can't have everything.
Crafts, how did you start making cards?
I used to do Cross Stitching in the UK and loved it but had for a long time thought about making cards but just didn't know where to start so when we moved here I had spare time so I decided to give card making a "go". I have progressed from there and it has become a passion of mine – no card too difficult – the client says what they would like to be shown on the front of the card and I try very hard to make their wishes comes true.
Where do you source your craft items?
I source them from all over the world mainly the UK and America. In Spain there is nowhere that I have found that give me the choice that I like to make my cards. The Spanish are only just coming round to sending cards.
Thoughts on people using email to send wishes, rather than posting cards?
There is a market for this sort of thing and its useful but there is nothing like opening a card whether it be for a General Greeting Card or for Christmas Card – I particularly just love making Christmas Cards – I cant tell you how much I love making them.
Benefits of a holistic life?
Peace, Tranquility, and Tolerance of people. You view things from a different prospective.
Best piece of advice you've ever been given
Never Give Up
Last thing you bought on your credit card?
Some card making items
One BIG thing you will achieve in 2018?
To make and sell more cards than in 2017 and to be happy.
If you were to be one woman for a day – who would she be?
Golda Meir – https://en.wikipedia.org/wiki/Golda_Meir
Where can we buy your cards
You can buy my cards either at Fairs, come to my home in Cerros De Aguila, Lush Hair and Beauty Salon or come to my home.
I usually go to various Fairs and lunches to sell my cards. If this is not convenient then I can always bring the cards along to wherever people would like to meet – Icleand is a good choice at the moment. I do events at people's homes for various charities and if anyone would like me to come along then just contact me.