If you're feeling alone, lost, even unwanted, and see no end to your unhappiness, wondering why you have to suffer for so long… waking up each morning still breathing!
I want to ask you to stop thinking about this for a moment and feel around you. Imagine, you have tiny feelers on your body that feel into the Environment and within your Body/Mind.
Keep feeling and maybe turn your shoulder and sense the Environment around you.
IAM here with you, my consciousness expanded from where IAM now, fusing with your consciousness or in other words, your Higher Divine self, your own loving presence.
Feel this loving presence, loving and nurturing you, the Human Body/Mind. Feel how intense the love is. Feel how you begin to feel less alone, a little warmer and calmer. The more you allow yourself to feel, feel how your hopelessness seems to gently disappear and is replaced with a sort of courageous and trusting feeling!
Feel this loving presence, because this is who you truly are! You are so much more than your Body/Mind! You are Spirit too! You've always been and always will be part Body, Mind AND Spirit.
IAM here to give you a gentle nudge to help you feel your own Spirit, your Divine and Loving Presence who is ready now to guide you further through this most critical time, into a new adventure.
I know for sure, as time goes by, you'll remember more and more of your true worth, how essential and important you are in our magnificent world and of your unique mission you were born to fulfil this lifetime. You will be inspired in each moment as to just what to do and where to be. People will surround you, willing to help you move into a new life, a new and passionate work space, new relationships and a new home.
You are slowly and quite naturally waking up from a long and deeply incredible and traumatic Human experience over eons of time. You could say, all your experience has been about bringing you to this now moment. Sitting here with me, feeling, remembering and realising that it is time now to go beyond your Humanness and fully discover your multi-dimensional self. No more worries or concerns, as you trust everything to fall into place.
Relaxing now, sitting back ready to observe how easily you can create and experience a new life for yourself.
Do you know how you would like to experience a new life, a new you? Imagine grand and wonderful things happening to you, imagine wellness, abundance and feeling joyful in a peaceful and unified world.
Of course, we must acknowledge gravity and matter, it's one thing for things energetically or the mind to change quickly, but the physical will take a little longer. Have patience for this all to unfold.
Spend time with yourself, get to know yourself better and dream your grand dream because there will be times you will feel the burden and reality of your situation; the illness, job, relationship or home as old remnants move through your Body and Mind, releasing yourself of everything that no longer serves you, to make space for magic and miracles to come into your life.
Feel it all well, embrace all thought and emotion, all darkness and light. Breathe deeply, embracing everything with your loving presence, like a mother loving her child and remember that part of you, your Spirit or Divine self is bringing you through this time of great cleansing and transformation.
IAM always here with you, as we are all part of the one consciousness as well as each being our own Sovereign oneness. You can connect with me if you wish, even join me holding this grand vision, following passionately my mission to nudge and help transform all the hopelessness of Humanity. Oh quite magically. For all to be able to feel the love we truly are and be excited to create a new world of harmony and unity together.
It's the most magical time to be awake, be aware and experience it all now.
You might like to join me in my online MasterCreator Class, a sacred time for you now to fully experience this transformation, committing to and celebrating your new role as Master and Creator and living a life of you've always dreamed of.
© Barbara Franken… Creative Visionary & MasterCreator
Inspiring New Energy Consciousness & Multi-Dimensional Living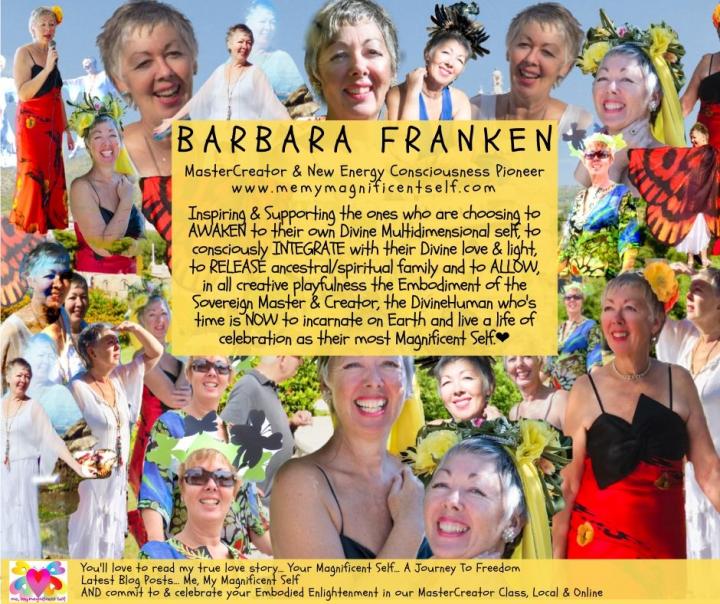 A True Magical Children's Story about Love and Life. To inspire our children to connect deeply within themselves and the natural world around them, and remember the truth of their being 'Sparkles of Love', here to bring love and harmon into the world, quite simply by being themselves and enjoying their life in each moment. Click here to read more information & link to purchase.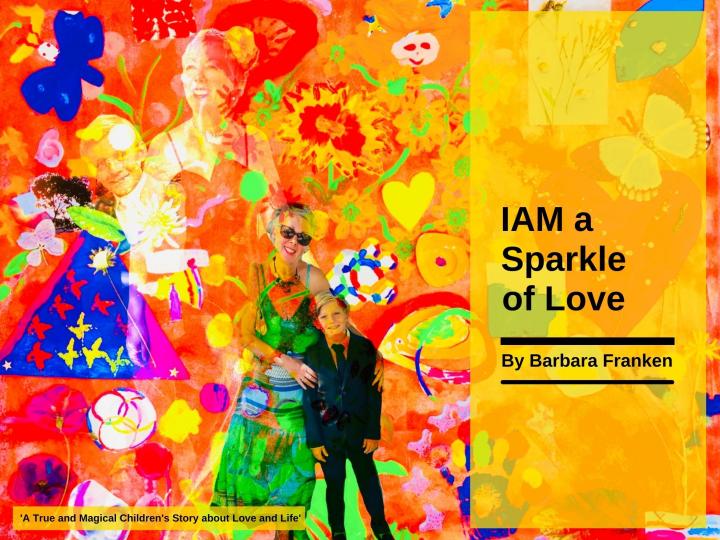 A paperback & digital book is available from all major online stores… Amazon & Apple
I share my own magical journey, exploring Who IAM with the help of nine elemental beings and expand from a world of fear, struggle and limitation into a New Energy Consciousness of love, grace and freedom. It is in this loving space that I discover my Divine and All Loving self and allow myself to integrate together as one Body Consciousness… a DivineHumanBeing and Magnificent MasterCreator who expresses and creates heart and soul passion on the physical plane and beyond.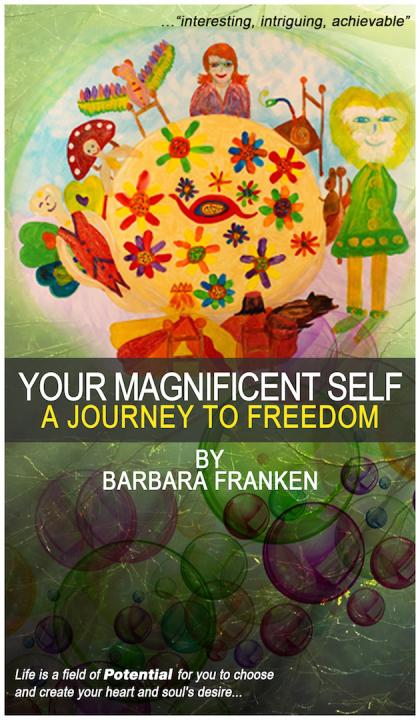 Are YOU ready to join our online MasterCreatorClass… a 21 day dedication to YOU, committing to your Awakening & Ascension and fulfilling YOUR new role as MasterCreator, a New Energy pioneer creating a new world of harmony and unity from within. You can sign up to participate here.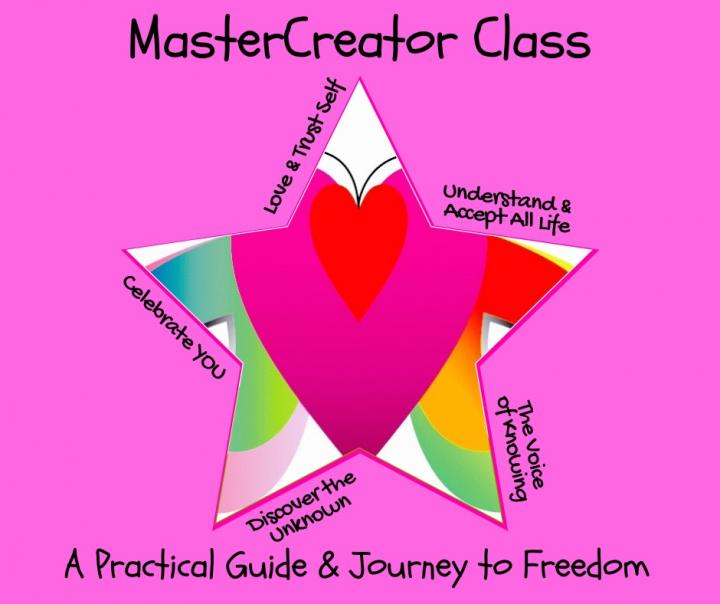 Money raised from my books and class allows my charity Conciencia Magnifica hold free local Creative Projects for Children & Adults in Benalmadena, Costa Del Sol, Spain. Read more about my charity and how you can help!