Recently, on the costawomen.com Facebook page, I asked for one tip our Facebook Friends would give to someone moving to Spain. The responses ranged from research before you move here, embracing the culture and the all important – learning the language.
Thinking about taking the plunge?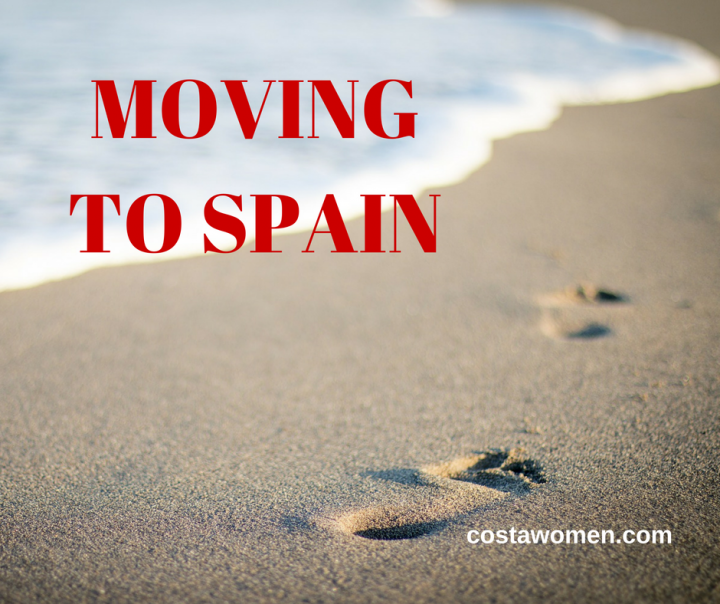 Hannah Murray – presenter on Talk Radio Europe "Go for it! So many people say "You're so lucky to live in Spain" and I think, yes I am lucky, but I made the choice to move here, and you can too! I came here with no money, no job, and nowhere to live. All you need is guts and determination!"
Sarah Drane, Director at Purple Cake Factory reiterated the "Just do it." theme. "Don't let anyone put you off with a tale of woe about how it didn't work for them. You make your own luck in life, whether you're in UK or Spain or Timbuktu. Life is short."
And ignore the negative feedback from naysayers and negative immigrants! Jill Langhus-Griffin encourages us to "Stay positive and determined. We had so many naysayers on the way…it's amazing that we made it here really."
Karoline Coster Barrett believes, "Take every story with a pinch of salt. Learn to relax and accept things don't generally happen in the now and that's acceptable. Laugh whilst in a queue and reach the head of the queue to be told you can't do this on a Monday."
Singer, Rachelle Fisher "Give it time! Don't expect to feel settled straight away. It may take a few years. Don't give up!"
Whilst taking the chill pill, Maureen Anthony said "learn the manana attitude if you do that then you are 90% there no stress"
Language
Make the effort as early on as possible to learn at least the basics of the language is important advice.
Angela said "I find it incredible how many people living here don't make the effort. The Spanish really appreciate it if you try and often will helpfully correct you so you get it right next time."
Leah Dodd believes " Spaniards are awesome so if you can communicate then you will gain so many amazing friends!" (and we agree!)
Eva Lindberg Östberg "Learn the local accent (Andalucian, Catalunian etc). And when in Spain, be a Spaniard."
And top tip from Angela Geddis for making friends – "start by saying 'hola' to every Spaniard who are your neighbours. It develops into a friendship, although it might take a year or so, so be persistent."
Making the Move
Many people buy following a holiday, or during a very short inspection visit to Spain. The place you are in love with may change dramatically over the period of a year, especially if it's in a tourist area.
Gina Towhidi advises "Don't buy a property, rent first and have a good look around – see if this is the area you want to live in and give yourself plenty of time to find the property you really want."
And using the R word, Debbie Bennett said "Do not underestimate the power of research. Research the area, research laws, research processes, research schools etc. and when you think you have it all. Research some more!! Saves you a lot of hassle and knowledge is power!"
Enjoy the new Culture
Wherever you live overseas, it's important to remember that whilst its your new home, its not your country and the locals are allowed to do things differently! It's not wrong, it's just different!
Deborah Cater said "There will be some things that annoy but they will be outweighed by the positives. The Spanish are very accommodating, repay their kindness by learning some basic Spanish at least, mix with them – the more time you spend with them, the more you'll understand why things are the way they are. Relax and enjoy it – treat it like the adventure it is."
Julie Sparks advises "Don't expect things to happen at the same speed they do in your own country, relax and adapt to the local environment….Above all try to be Spanish,not a Brit in Spain."
I loved this comment from Debbie Skyrme of Casa Girasol, "open your mind to new possibilities, open your eyes to a new culture, open your tastebuds to new tastes, open your heart to a new people, embrace the differences and learn the language so you can talk as opposed to just 'communicate'."
‪Diane Dunleavy‪ said "Dont think things will be like the England. Local shops close normally from 2pm until 5pm . Expect that everything you normally can do in the UK within 30 minutes or less, will maybe take 2 weeks here. Always a piece of paper work is needed!
Don't think the Spanish are being rude if they don't say please or thank you (because they aren't)
‪Don't assume there is a full-blown argument going on between the locals – they will just be having a friendly chat (but all shouting talking over each other)
‪If you go to a market don't except to be served in "first come first served" noo nooo its who shouts the loudest!" But after 10 years, Diane "still loves Spain and wouldn't want to be anywhere else."
Danielle C Garsia, Group Managing Director at Toned Body Coach, agrees and says not to moan – instead "embrace it , except it, and you'll love it I am happy with my perfect life in spain. My children love it." She has found "the education is brilliant and the lifestyle is perfect for me" – she is "one happy immigrant".
Inez Robinson of Best Nutrition Tips stresses "Keep your sense of humour. It's a journey. A learning curve. And something you take with you to your grave. Your (positive) attitude can help you with most things."
Louise Jensen suggested "Get out and experience something as often as you can! Talk to people and adjust to the traditions."
Read more of the responses to our original question and don't forget to download the free ebook – Spain & Me, with advice and tips from Costa Women members for moving to and living in Spain.
If you had one tip for someone moving to Spain what would it be? What would you add?