Do you ever stop for a quiet moment to observe your ideas, thoughts, words and actions that create your physical reality?
Yes… you read correctly… create your physical reality AND yes YOU are that powerful and therefore need to be that responsible as to everything that goes on within your body/mind and radiates or reflects out into the Environment.
Unfortunately we've been lead to believe that power lies out there, with everyone and everything except OURSELF! Why did we all fall for this untruth… that we are mere mortals, powerless and have to behave and climb our way out of the shadows? Why do we continue to allow others… systems to treat us as puppets and slaves, working to survive… for rewards and the benefit of others?
If you allow yourself a quiet moment, to be free for a while from all the insane hypnotic beliefs, misconceptions and misinformation… and just relax, you will be welcomed by a grand silence. Feel into this silence and allow it to embrace you. I promise you with practice, the silence will expand and you will begin to hear the whispers of your intuition (the communication with YOUR Divine self) trickling through the silence AND you will realise how lovingly powerful you are, which will change your life in an instant.
It's time for YOU to stop the emotional thinking, feeling worried and concerned and follow your heart instinct which will lead you further on your journey… beyond Human suffering.
For a long time now, when visiting my birth county of Derbyshire in England… I've had the urge to visit two stone circles, Arbor Low and 9 ladies in the Peak District. This time I managed a visit to Arbor Low and what a beautiful, peaceful and well worth time spent. I remain grateful for Mother Earth and her Elementals who have always supported us, throughout all our Human experience AND I know she will continue her support… just in another way.
Arbor Low
With thanks to www.VisitPeakDistrict.com
Over the years I have learned how essential it is to FEEL (rather than think), it comes in handy especially when visiting places and when in the company of others. It helps keep you centred and anchored within yourself and focuses your intention to be/act. Normally I like to be alone and sit quietly in a sacred place, to feel and connect with my Environment… ask questions and receive answers, but this time I was with my dad and husband and I didn't want to make a big deal about it.
Instead, I intentionally opened my heart and introduced myself as I walked into the circle. Immediately I felt a warm delight as I intuited that it was more than OK, in fact it was essential to just be myself and walk and stand/sit wherever I felt I wanted to be… with the others too.
I felt great peace walking around the stones, as if I was being held, even cradled… I was being welcomed back to my birth home… the beautiful Peak District and in particular this sacred stone circle at Arbor Low which marks a great central vortex and network of leylines that flow and nourish the landscape throughout the UK island/s.
From an outside mound, I could see a circle of cows grazing in the next field, which confirmed to me how very grand and sacred this energetic site indeed is.
I suppose we use the word energetic to describe in particular, the non-physical world, but just because we cannot see beyond the physical landscape with our 5 senses doesn't mean there aren't things happening on so many different levels.
Jeremy, an elemental being I perceived a few years ago, once explained to me…
…that the land contains an enormous amount of salts and minerals that create a pure and clear crystalline structure in which to absorb the raw powerful and creative energy that flows vertically down from the heavens, through the mountain peaks and into the vortexes; circular points on the Earth surface, where they meet the raw energies of the Earth that flow upward.
The coming together of the Heavenly and Earthly energies is a great love affair… transforming the raw energies into life force energy that flow horizontally through the ley lines and nurture the whole landscape.

From my book Your Magnificent Self… A Journey to Freedom
I intuitively knew this grand vortex on Arbor Low is a major connection point of the male and female fertile energies that sustain the Environment. Taken care of, guarded over the years by various nature elementals and our native ancestors. Unfortunately, over the millennia, we have also destroyed much of our landscape, blocking vortexes and leylines… but thanks to the intuition and wizard wisdom of some, they responded to Mother Earth's cry to help unblock and detox her body.
On my return home I googled Arbor Low and came across a couple of guys, Kal Malik & Chris McDermott over at Hedgedruid who have spent much time dowsing the area, unblocking the vortex and the major leylines and helping this sacred space return to its natural balance… which I felt during my visit. So a big thankyou to Chris & Kal and others who joined them on their sacred quest over the years.
Whilst standing on the central stone I felt completely in balance… knowing the Environment and myself were reflecting each other AND how it is time for Humanity to reclaim their magnificent power and take over Mother Earth's role of nurturing self, each other and our Environment.
I felt Mother Earth and all the Elementals saying goodbye… not that they are disappearing but they are integrating or merging with each of us… with the ones who are ready to be the sacred vessel, flowing with life force energy between the cosmos and the Earth… through the simple breathe. Ready to sustain ourself and the Environment… as joyful, loving and peaceful multi-dimensional beings… creating in each moment new sensual experiences of unity and harmony.
The message I received from Mother Earth at Arbor Low was clear…
Go out in nature & reconnect with your true origin, pure consciousness. Allow yourself to expand out into your Environment. Feel one with everything. Feel the absence of separation AND feel how powerful you are. It is time to embrace your POWER & create your heart and soul desires in the physical reality. It is time to allow magic to happen… being the magician you've always been..
Remember… life out there isn't going to change, others will continue to try to enslave you, to control you… but IAM telling YOU… YOU have a choice to be Your Magnificent Self, all powerful and step out of the game and live a life of celebration. It all begins with YOU… with your CHOICE.
Yes… I hold the grand vision of us all playing, swimming in clear water and laughing together on New Earth… experiencing new sensual wonders beyond our imagination.
Enjoy browsing through these links I found about Arbor Low.
Arbor Low Part 1 – Bands of energy
Arbo Low Part 2 – The Ley Line Connections
Google map of 'The Wheel of Albion'
Before I end this post I wanted to share Kal's words he wrote before he passed away… and of which I deeply resonate…
Arbor Low, Derbyshire… StoneHenge of the North
Barbara Franken… Creative Visionary & MasterCreator
Inspiring New Energy Consciousness & Multi-Dimensional Living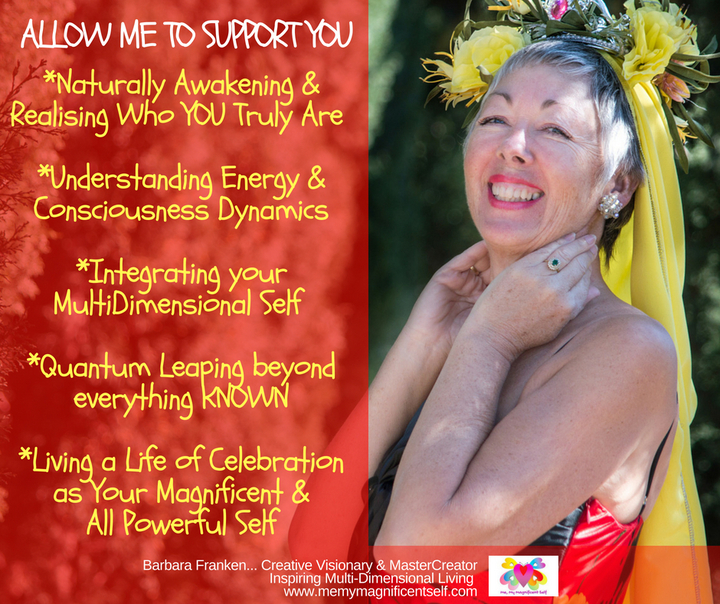 A paperback and Digital Book is available from all Major online stores… Amazon and Apple
I share my own magical journey, exploring Who I AM with the help of nine Elemental Beings and expand from a world of fear, struggle and limitation into a New Energy Consciousness of love, grace and freedom. It is in this loving space that I discover my Divine and ALL LOVING self and allow myself to integrate together as one Body Consciousness… a DivineHumanBeing… and Magnificent Master Creator who expresses and creates heart and soul passion on the physical plane and beyond.
A sacred and safe space in which to understand & fully experience your own natural Awakening and Integration in preparation for YOUR new role as Master and Creator, living a life of celebration.More Info: MasterCreator Class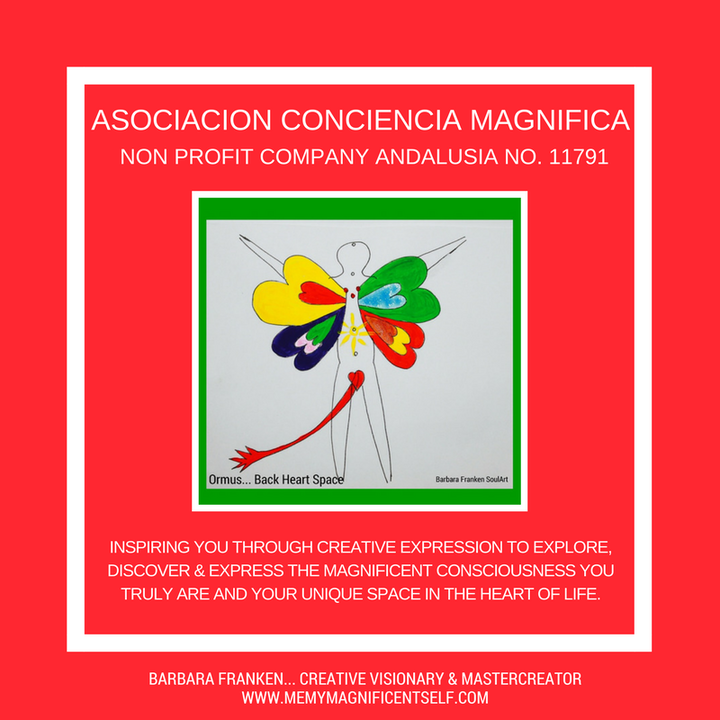 All the money raised from my books and classes goes to my non profit business: The Magnificent Consciousness that holds 2 FREE local projects… 'Creative Art Project' inspiring our children to explore, discover and express life and their part in it ALL and a 'Relax and Talk Group, inspiring everyone to balance their body, mind & spirit back into wellness in a natural & simple way.
Ascociacion Conciencia Magnifica… Inspiring YOU through creative expression to explore, discover & express the magnificent consciousness YOU truly are and YOUR unique space in the heart of life.