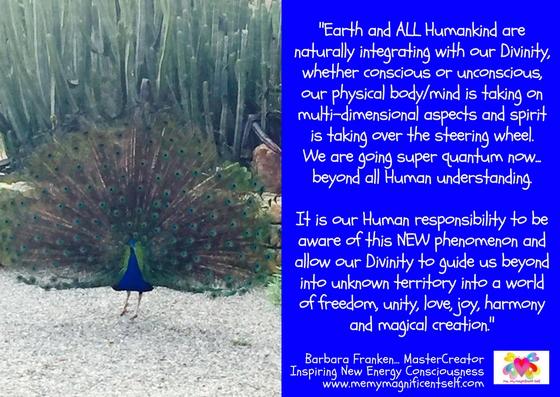 IAM happy to introduce you to my Local MasterCreator Class/Taster sessions I have lined up on Monday afternoons 2-4pm on March 20th, April 10th and each monday 1-5pm in May at Liisa's StudioMindBody in Fuengirola. For my friends who won't be able to attend, I will be uploading the recordings of the taster sessions onto my website and my MasterCreator Class is now available online.
After eons of time… trying to live a life fulfilling our dreams, we are finally realising that there is no end to our Human struggle, limitation, domination and control. We have tried it all, done it all… to no avail as we still live in the midst of fear, conflict and disease. Oh the scientists and doctors will continue their pursuit to perfect the Human, to be more intelligent, faster, younger, immortal… but will you be happy having a robot as your best friend or better still will you be happy to become a robot?
I always knew the answer to all Human conflict and how to find happiness didn't lie on the surface or outside of me but right under my nose… AND it lays under your nose too. YOU are the answer and I can help you remember that it is YOUR time now to take up your NEW role as Sovereign Master and Creator and create your Happy Ending.
I wrote my magical story awakening to Who IAM in my book Your Magnificent Self… A Journey to Freedom and created my MasterCreator Class to help remind and prepare myself and others to take on our NEW role as Master and Creator. There is nothing more to learn, we've done all the Human learning, its time now to quantum leap beyond, create and experience our grandest dream.
After years of leading group workshops & one on one sessions healing and reading ENERGY, I have found that the combination of passive and active *'meditation' is a powerful way to open, balance and expand consciousness that allows us to live our best life in each moment. (*For me 'Meditation' is to be aware of awareness itself, in each moment, in each breath, in each step we make.)

MasterCreator Class Taster… Channelling You and Your Magnificent Energy.
Monday 20 March 2-4pm, at StudioMindBody, Los Boliches, Costa del Sol
In this Taster Class YOU will make sure your Body/Mind/Spirit (One Body Consciousness) is open, balanced, expanded and READY to practice Channelling YOU and Your Magnificent Energy. YOU will receive tips on how to remember 'your most easy and clear way' to communicate with your Divine Self and together we'll practice channelling and talk about the experience.
PLEASE NOTE: IAM not teaching anything, only helping you remember your natural connection and communication with your own Divinity… YOU know everything within.
I ask for a 5 euro cash donation for this event. Please let me know that you are coming via Facebook. Thank you.

MasterCreator Class Taster… SHE heals HIS Wound
Monday 10 April 2-4pm at StudioMindBody, Los Boliches, Costa del Sol
In this Taster Class we will focus on balancing the femmine and masculine energies within each of us through passive & active meditation. The disbalance of our energies began many many years ago when Man first separated himself from his greatest love. Although he tried hard to protect and honour his love over the years, he became caught up in a web of power play that only made his wound bigger.
As we look around the chaos today, we can see Man's wound is bringing him to insanity and the only one to save him is his long lost love. When we are open, balanced and expanded we can focus on bringing ALL our energies back together as One Body Consciousness and restore the innate flow of COMPASSION that we are and in turn heals the world outside of us.
I ask for a 5 euro cash donation for this event. Please let me know that you are coming via Facebook. Thankyou.

Five Week MasterCreator ClassFive Week Local MasterCreator Class…
Monday 1st, 8th, 15th, 22nd & 29th May 1-5pm at StudioMindBody, Los Boliches.
Week 1 May 1st – Loving & Trusting Yourself
Week 2 May 8th – Acceptance & Understanding All of Life
Week 3 May 15th – The Voice of All Knowing
Week 4 May 22th – Discovering the Unknown
Week 5 May 29th – Celebrating your IAM Presence
For this intensive class I can take up to 12 'sacred hearts' and help YOU commit to and celebrate YOUR most Magnificent Self and take the leading role in a life YOU have always dreamed of. It's beyond all Human knowing… leaping super quantum… being free AND never looking back. The classes are for everyone that resonate with me/my events, whether a novice to spirituality or like myself have been a student/teacher for decades… BECAUSE we are going quantum, beyond Human comprehension AND it'll be your Divine self who will nudge you to say YES IAM READY to be part of the grandest celebration ever to take place on Earth.
The Five MasterCreator Classes allow you…
To consciously choose to expand out of your Human Identity and into All That You Truly Are.
To release all fears, past wounds and hurts, and move into the expanded identity of IAM… All That Is
To express your innate creativity and spirit/soul voice through play, dance, song, art, expanded journeys & celebration
To commit to…
Loving and trusting all of yourself
Acceptance and Understanding all of life
The Voice of All Knowing
Discovering the Unknown
Celebrating your IAM Presence
To be aware and experience the integration of your Divine and Human selves…
To choose to live joyfully and experience your own Mastery and Enlightenment.
To create a journal and Master Creator testimony as an expression of your freedom and commitment to be your Master Creator self.
As a non-profit 'Asociacion Conciencia Magnifica' I ask for a donation of 65 euros for this five week MasterCreator Class (20 hrs).
For the hearts who are saying YES, please register with either me directly, with Liisa at the Studio or through my website and arrange to pay a deposit payment of 30 euro before April 12th to ensure your place and have time to start your homework!
For my friends who can't join in locally, I have put this class online for you to participate from your own home and at your own pace. You can begin here now…
Barbara Franken… Creative Visionary & MasterCreator
Inspiring New Energy Consciousness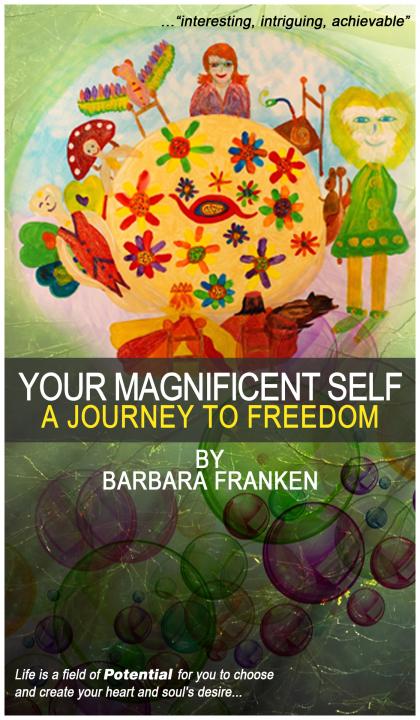 Your Magnificent Self… A Journey to Freedom By Barbara Franken A paperback and Digital Book is available from all Major online stores… Amazon and Apple
I share my own magical journey, exploring Who I AM with the help of nine Elemental Beings and expand from a world of fear, struggle and limitation into a New Energy Consciousness of love, grace and freedom. It is in this loving space that I discover my Divine and ALL LOVING self and allow myself to integrate together as one Body Consciousness… a DivineHumanBeing… and Magnificent Master Creator who expresses and creates heart and soul passion on the physical plane and beyond.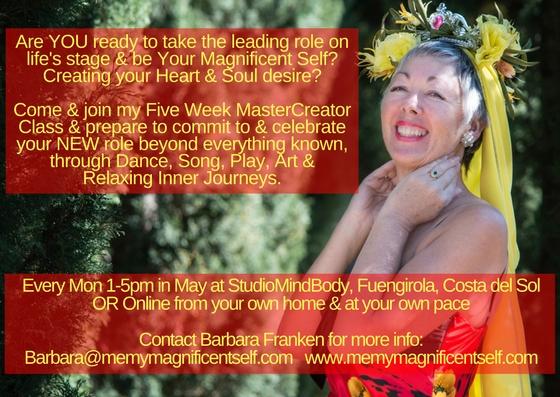 My Local and Online MasterCreator Class is to prepare you for your NEW role on New Earth. There is no time like the present moment to Sign Up and give YOURSELF a magnificent gift… I promise YOU you'll never look back. More Info: MasterCreator Class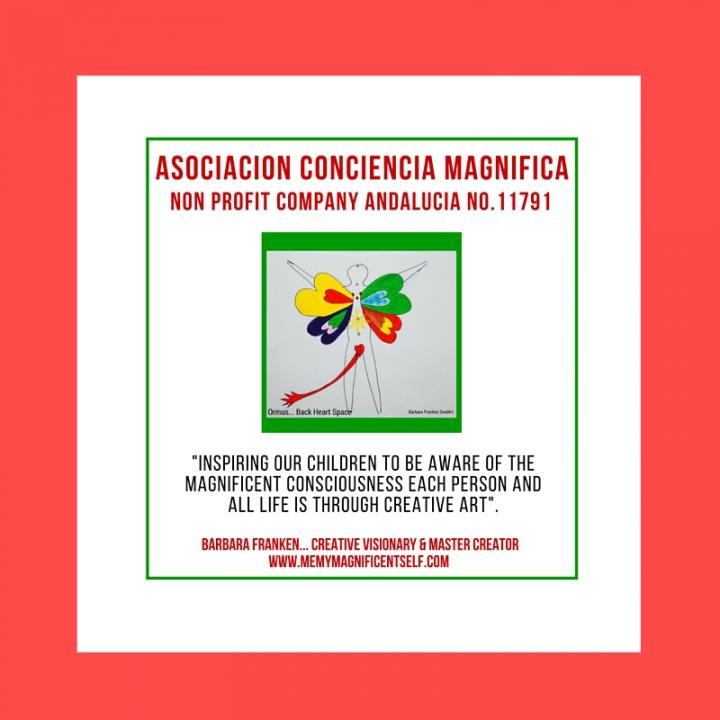 All the money raised from my books and classes go to my 'Creative Art Project' The Magnificent Consciousness that I bring to our little ones… inspiring them to explore, discover and express life and their part in it ALL.