The Bull boys are off on another adventure to raise money and they need Costa Women help!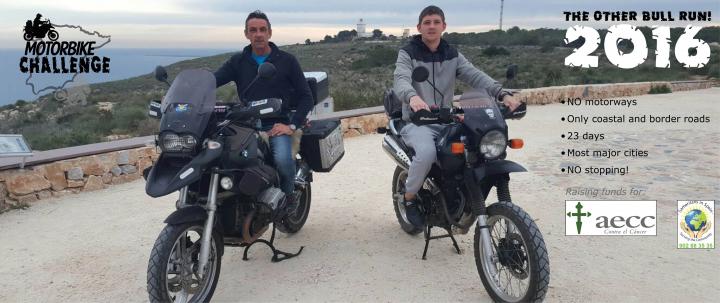 It's not long now until father and son team, Dave and Mitch Bull, will be off on their epic journey around the coast and borders of Spain on motorbikes, raising money and awareness for the AECC (Cancer research) and the Samaritans in Spain, of which Dave is the patron.
23 days travelling will see them visit most of Spain's biggest cities and along the way they'd love to meet up with Costa Women who can offer them a beer, meal or just some general support. They'll have just 5 euros each per day for food and drink because they both want to keep costs to a minimum. Each night they'll be looking for a friendly campsite where they can pitch their tent for free and, fortunately, with both of them having a passion for cooking, the evening meal should at least be tasty, although a Camping Gaz stove restricts the variety on the plate somewhat! Here is their route – if they are coming your way, please let me know if you can help. Either reply below or message ali@costawomen.com
The ´challenge´ for the two of them is to cover almost 400 kilometres each day without using motorways and sticking as close as possible to the coast and the borders with France and Portugal.
Following on from last year's successful challenge to row two kayaks down the River Segura, from Murcia to the coast at Guardamar (52km), which raised over €3,000 for the charities, Dave and Mitch have raised the bar this year to try and cover the 7,500 kilometres in the time allocated and visit some of Spain's best known places. Their progress will be updated every day on social media with videos and images of the day's ride. And along the way they plan to meet up with biker groups who will join them on parts of the trip and with local businesses who will show them around the locality.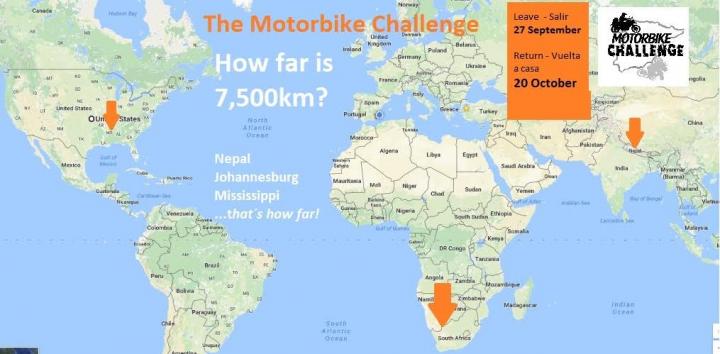 Both riders are highly experienced on motorbikes having raced on the circuits here in Spain up until a few years ago and with Mitch having sat, and ridden, his first motorcycle at the tender age of five years old. The pair are well equipped for what will surely be a test of endurance and conditions as the weather in the north of Spain and in the mountains of the Pyrenees and Granada will be completely different to what they will find in the Southern part of the country.
With both bikes loaded with around 50kg of equipment, and as Dave says, "a few boxers and t-shirts", the going certainly won't be swift, especially in the seaside towns and cities that they'll be passing through every day.
So far all the costs of the trip have been covered by generous sponsors, both businesses and private individuals, which has once again humbled the pair. Said Mitch, "People are just so kind and come up to us handing over cash or requesting the donation page because they all know someone who at some time has been affected by cancer, or has struggled with life at times and has called the Samaritans. We just want to do our bit and with a member of our family being treated for cancer we felt that we needed to do something."
Follow the boys on their Facebook page: Riding for Cancer
or on Twitter and Instagram: davejbull.
The website also has all the relevant information too: (www.motorbikechallenge.es) and there is a donation page at: https://www.gofundme.com/2ggh7wqc where all donations will go straight to the two charities.
Dave and Mitch will be leaving Gran Alacant (town hall car park) on the 27th of September at 12pm and heading up to Alicante Castle before continuing the journey to Valencia where they will camp out for the first night. Barcelona follows on the 28th with an appearance on Simon Harris's radio show on Barcelona FM. Then they'll be off to Gerona before heading across the Pyrenees for two days.
It's a long time on the road but the boys are sure to have some amazing experiences along the way which you'll be able to see for yourself via the various medias available.
We'll keep you updated here too so keep an eye out for the 'Challenge', and the two of them coming through your town in October.