Jan is originally from Manchester England. She moved to Australia 18 years ago and at the end of 2018 moved to Marbella. Jan was diagnosed with cancer in 2018. Jan is now on a mission is to inspire and support over 2000 people to live a Healthy Active Lifestyle.
I suppose you could say my cancer journey started when I was 14, back in the 80's and my mum was diagnosed with breast cancer. Then a few years later my sister was diagnosed with breast cancer in both breasts and underwent a double mastectomy. She was only 30 at the time.
We seem to be one of those families that cancer touches in all different ways. Unfortunately my dad passed away from an aggressive prostrate cancer, which now they believe is linked to breast cancer.
So prevention for me has always been at the top of my list.
Since I've been 35 years old I've been having yearly, mammograms, ultrasounds and MRI's. I made the decision that the odds were pretty much stacked high so the only way I could do something about it was to have surveillance in place (meaning regular checkups) and start making the best healthy choices both physically and mentally as I could.
Over the years I've had several biopsies, even genetic testing and then December 2018 (I was 49) I went for my yearly mammogram and this time they confirmed I had 'breast cancer'. It was a really surreal feeling. It wasn't a surprise yet it was. I think I always thought I was untouchable. I immediately went in for surgery and 5 weeks of daily radiation treatment.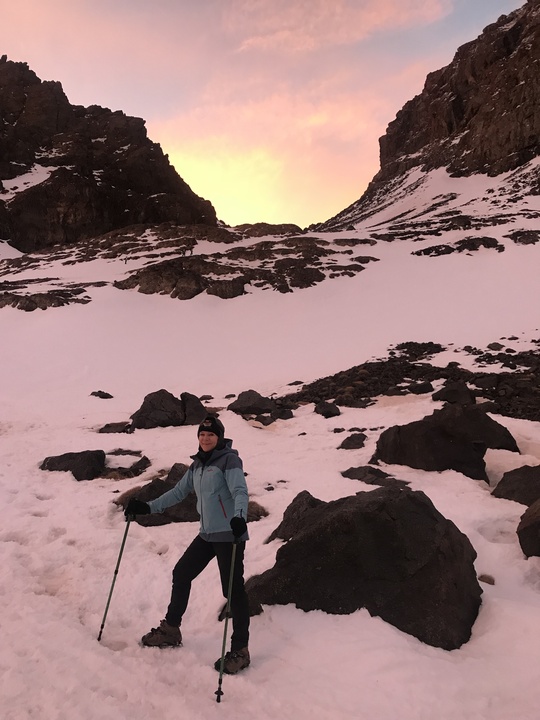 Everything was going great, so much so that I even trekked 4167m up Mt Toubkal in Morocco 3 weeks after my surgeries. But a few months later, during my checkup with my surgeon she noticed a hard lump on the other breast, immediately I went for a biopsy and ultrasound and confirmed it was cancer again this time a fasting growing one all over the breast. So the decision was made immediately, I would have a double mastectomy and a reconstruction.
One of the reasons I want to share my journey is when I was searching for info on reconstructions the best place I found what I was looking for was on social media from other ladies who had undergone the same thing. I am so grateful to those ladies who kindly shared their 'boob' photos and advice.
Throughout this whole journey I have had the best support from family and friends. My surgeon was incredible and has given me a better pair of boobs than I started with. I was offered all the cancer support lines, meetings etc, but that's not my thing. I also believe that keeping myself healthy with the right nutrition, healthy weight & exercise as well as a positive mindset has helped my recovery, healing and peace of mind. I've learnt over the years to only focus on the good. Sometimes its not easy but it's the only way.
Don't wait until your diagnosis. Start now with your prevention plan. It doesn't mean to say you are invincible from anything but just means that the ability to deal and cope with everything becomes that much easier.
I am happy to share with anyone in more detail about my process, what reconstruction I had, photos etc, what I chose to do or not do, in the hope that it may help others just like I have been helped and supported throughout my journey. Thanks for allowing me to share here.