2019 has arrived but before we rush headlong into the year, I thought it would be good to have a celebration and look back at some monthly highlights from our exciting 2018:-
January –
We launched our first Buddy's scheme! The Buddy's scheme is to support new arrivals to an area, or women who are thinking of moving to Spain. It provides non-legal advice and assistance for the day-to-day questions you may have about life in Spain. 
You can find a Buddy or volunteer to be one in your area in our list here
And read more about the Buddy scheme in the article on the website here
March –
Our biggest business event of the Costa Women Calendar is the International Women's Day Conference held at Andalucia Lab in Marbella. We were proud to collaborate once again with Jackie Groundsell of 1230 The Women's Company.
The Day's events were outstanding not the least of which was because you raised 895€ to be split equally between AMUSUVIG Malaga (domestic violence support unit in Malaga) and Asociación Knitted Knockers Costa del Sol (which makes and distributes hand knitted breast prostheses, free of charge, to ladies who have had a mastectomy) 
Here's the photos of the day which was attended by over 130 Women. 
And we loved Jannice Jones' song written just for the event! Have a listen and sing along to #MakeitHappen Right Now! 
Keep 8th March in your diary for 2019 Tickets are already selling fast for our 7thannual event.  Book yours here https://1230.co.uk/spain-2019/
April –
We started Costa Women meet ups in NEW locations:-
Sierra Sur de Jaén – join in the fun with Francoise Rajewski in the group! The group is on the website and on Facebook too
Cadiz – join lovely Lisette Sandoval on the website and on Facebook too 
We have now split our Almeria group into two locations. The original one is now Costa Women Almeria South (Fab Hosts: Amanda Holgate and Leanne Plant) and has been joined by Costa Women Almeria North & Murcia South (Fab Hosts: Elle Draper and Andrea Lowe)
Up in the Serrania de Ronda, delightful Deborah Geater is keeping you entertained.  Join on the website and Facebook too
And last but not least Costa Women Girona is being looked after by Yvon van Ginkel! 
These new groups have extended our reach to 27 local locations where groups meet around Spain – here's a link to the list.
During 2018 Costa Women hosted over 220 events!  This wouldn't be possible without our lovely group of 34 volunteers who bring a welcome smile and organise the local events in your area. 
We appreciate that our hosts are volunteers and therefore sometimes life means that get too busy to organise regular events. If you don't see your location in the list and you would be interested to host, or co-host an event please let me know and we will see what we can arrange! It can be as simple as arranging a coffee morning, or glass of cava at a local bar in your area.  Comment below and let's chat!
May –
In May we organized our first ever a coach trip from the Costa del Sol to Cordoba with a guided tour of the famous patios. Have a scroll through the photos from our first Costa Women Awayday when 50 of us visited the Patios de Cordoba. As Cheryl said "one of the best things was being together"  – hear, hear! The flowers were amazing.
View the photos here from Sue Taylor, Valerie Ann Williams, Nadia Alkatabi and Claudia Rocha Selman 
Along with some of the most amazing British Expats in Spain, I was invited to a garden party at the residence of the British Ambassador in Madrid to celebrate the Royal Wedding. To my surprise my name was called to receive an 'outstanding contribution to the expat community' award on behalf of Costa Women! It was accepted with great pride on your behalf. See some photos here and thank YOU for making Costa Women all that it is.
June –
We held summer parties around Spain.  On the Costa del Sol over 120 Costa Women members partied at Avanto Restaurant – we danced, sang, laughed, made new friends, caught up with old ones AND raised 1000€ for Acompalia Hospice and Asociación Knitted Knockers Costa del Sol. With sincerest thanks to all who came and made it a great night, our wonderful entertainers Simone and Mr. Maph and special thanks to our amazing photographer, Tony West, for 'capturing the memories'.  Check them out here
July –
A popular question asked when making the decision to move to Spain is, "what's it really like to live in Spain?" Beyond 'great', there are many answers. Our second edition of 'Spain & Me' – a Costa Women created ebook was launched.  The book aims to answer that and other questions about lifestyle, family life and business for Women living in Spain. Grab your free copy here and thank you to our contributors! 
August –
We welcomed our 7,000th member – thank YOU for sharing Costa Women with your friends, family and contacts. The more of us there are, the more we can do. 
We also welcomed a new Sponsor – The Good Care Group. Founded in 2009 they are the leading providers of high quality live-in home care in the UK and offer women the chance to work back in the UK for weeks at a time whilst still living in Spain. To find out more click here 
They joined our other amazing sponsors 
My Lawyer in Spain (who offer a free 30 minute consultation at one of their 11 offices around Spain).  And they celebrated too being awarded "Best Legal Services Provider 2018 – Spain" in the Iberian Business Awards run by EU Business news for giving a superior service to their clients.
Caser Expat Insurance getting the right insurance is important for life in Spain. As a user of Caser Expat health insurance personally, it is a pleasure to recommend and suggest them for your insurance needs. 
And last but not least Currencies Direct who were also named "Money Transfer Provider of the Year" by MoneyAge. If you haven't used their services yet – they are completely free and offer transfers for as little as 100€
September –
After a lifetime of using diaries and almost never being able to find the right one, I created the Costa Women Diary/Planner for 2019. If you are interested to find out more look here. 
October –
If you want to expand your business contacts, we are thrilled with our collaboration with B.I.G. (Believe, Inspire, Grow) Network from New York City and Costa Women.  We are arranging monthly online zoom calls which form workshops, or tips, advice and discussions. Join the group and share your current business challenge and we could be brainstorming your problem. 
November –
Launched our 3rd joint Charity Conference with MumAbroad Barcelona. We focused on networking to grow your business by bringing you four great speakers to share their top tips for Successful Networking Strategies, both online and face-to-face. Fiona and I were privileged to attend and meet some of the Costa Women members in Barcelona. Organised by Nadine Kazerounian we raised an amazing €1000.00 for Anything for a Smile
We held the first ever online expo about moving to Spain with over 5000 views of the videos. We talked about moving to Spain, finding and purchasing a home, designing, renovating properties and how to market your vacation home to earn a nice income. We had conversations with brave entrepreneurs who have built local or online businesses. We talked about insurances, saving money, language learning, teaching, banking and living in Spain. If you missed the expo, don't worry, we have kept the videos available here https://spainexpo.org
December –
The hosts organized 8 Christmas events
Our very festive Costa Women Christmas events started on Friday in La Cala where 56 of us joined for a fun-filled Christmas dinner at El Gusto and were entertained magnificently by the Costa Soul Singers choir.  We also managed to raise 170€ for the Alhaurín foodbank. Sincerest thanks to all who attended and to Vivienne Mallinder for taking the photos. 
The Costa Women Christmas events continued with 7 more being organised around Spain in Torremolinos, Benalmadena, Estepona, Marbella, Malaga, Axarquia and Barcelona
PHEW!
As we close-off 2018, let's celebrate the arrival of 1312 new members arriving into our community during 2018.  We now have 7326 Women across Spain (or Women looking to relocate here) sharing their lives and stories.
Some other areas where you can get involved …  
If you are thinking about writing a blog, what better place to start than on the website.  You can upload your own blog here (unique content only please so we don't upset the Auntie Google)
The most read Blogs of 2018 were
Do you like taking photos?  Our monthly competition (Sponsored by Currencies Direct) got many of you out and clicking!  Your favourite photographer of 2018 was Ann-Kristin Haga Øvreeide with this different view of Estepona.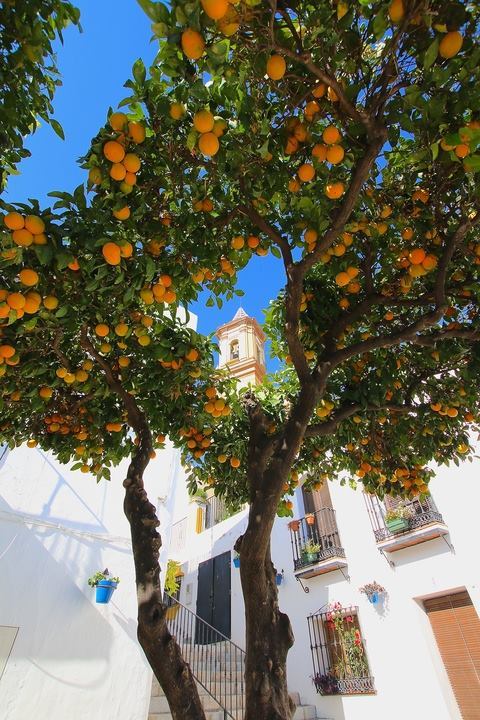 Join in the monthly competition (with the chance to win a prize) in our Costa Pics and Clicks group
Talking about groups – you created and joined one of our 154 interest groups for hobbies, ideas, projects, business, plus writing, photography and reading clubs, online groups for locations across Spain, and groups in different languages. We will be revamping the groups in 2019 so watch this space!
Costa Women were featured
You may have seen, read and listened to the news articles, or interviews about Costa Women which appeared in Essential Magazine, RTV Marbella including the 200th show, Sur in English, INspanje.nl, Key To Mijas Costa magazine, Euroweekly News and RTN Newspaper who have been running a series of interviews with Costa Women and our members too.
 – thanks so much to our media supporters
Would you like to be featured?  
In the 'Costa Women Featured' series we featured, and Fiona and I interviewed, 13 website members and shared these via Youtube or written videos.  In 2019 it could be YOU!  Are you launching a new project, have an uber cool business idea, need support for your charity, book launch, or just want to spread your love of Spain on a live Zoom video?  Let me know by leaving a comment below.
And we got social
Our Facebook page broke the follow barrier this year and connects us to 8,955 friends and followers
On Twitter @costawomen is now followed by 7864 tweeps. Are you following us and also the list of Costa Women members?
Our Linkedin Costa Women Entrepreneur's group now has 327 members
You are liking our images on Instagram too. We started using Instagram more often and now have 1,402 followers @costawomen
And pinning our pins at Pinterest with 712 pinners including our Expat Women in Spain collaboration board.  Let me know if you want to be added
We loved meeting you at events, on the website, via Facebook, Twitter, Linkedin, Pinterest and Instagram. Thank YOU Costa Women for creating 1000s of new connections and very happy memories.
Here's to an even bigger 2019 – watch this space!