There is one thing in life you can create and that is your life – you can choose what you want it to look at, your life to be filled with, who and what you surround yourself with as you create what you want from this one big glorious life which is 100% unique to you.
That's why I am excited to bring you the 4th edition of the Costa Women Planner and hope that this planner is part of your journey in 2022 to help you create your best year ever! You can embrace possibility and decide now what you want your 2022 to look like, sound of, it's taste, the refreshing aroma and how you want it to touch you as it place it into the vast ocean of possibilities.
The Planner
If you have been with us since the Planners came to life in 2018, you will see some changes this year – I hope useful additions. The monthly projects have been moved to the end of the planner to make the diary flow better. As well as all the tools you have loved from 2021, I have also included:-
weekly intentions

journaling prompts

90 day planning

contact page

two pages to record your memories
SNEAK PEAK INSIDE!
In these pages, I have shared some rituals that work for me and will help to move your vision and dream to a clear map and plan for the future so you can create it. Even if you don't use, or have, "goals" you can start to make a plan for your life and your business and celebrate the achievements you make as they happen.
Again for 2022 we have a linked Facebook group which you get access to free once you have purchased the planner. There you will receive information (and bonuses!) about goal setting and planning for 2022. When you tell someone we are going to do something we are 65% more likely to do it. When you create specific accountability plans you are 95% more likely to follow through.
If you are a paper addict like me, I hope you will enjoy recording in these pages your year as you create, plan and make a commitment to yourself. Amazing years don't just happen by chance, we are the ones who need to work to make it happen.
I'm super excited about embracing 2022 and hope you are too!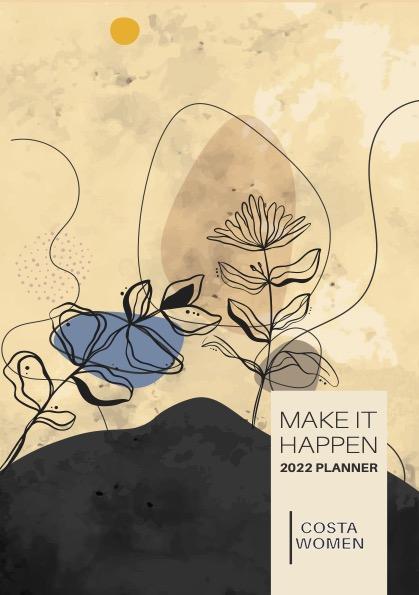 The Costa Women 2022 Planner is available for just 25€ (including IVA, plus postage)
Order your 'limited edition' 2022 planner now and let's make 2022 happen together. Email: planner@costawomen.com
To find out more about the Planner what you can find in it's pages read on…
The Story
Over the years, I have indulged sampling different diaries, planners and journals from small slim Letts style, through the filofax range and onto one that was bigger than my handbag! I love paper products. At the end of 2018, with my creative juices flowing, I decided that I needed to create a planner that was more personal and ticked more of the boxes for what I actually wanted and needed. And I decided to share it!
Whilst I am known for my love of Social Media and we live in a digital age, now more than ever, I think its important to go back to paper and pens. For me, to write things down; thoughts, ideas, goals, dreams, things I am grateful for, plans, experiences – these all brings an excitement about how I will be filling my days. Writing by hand connects your brain and thoughts to the words you are writing making it a powerful process.
I consider every single day so far to be the single most important day in the history of forever.
What's inside?
The Costa Women 2022 Planner has been designed with the female, solopreneur / small business owner in mind; the woman who wants some daily positivity as well as some time saving tips, inspiration and advice. It's contains simple, effective tools to empower you to take charge of your life and we have a Facebook group to keep you on target. The planner has been created to connect, inspired, enable and support you in your journey.
"Without leaps of imagination, or dreaming, we lose the excitement of possibilities. Dreaming, after all, is a form of planning." — Gloria Steinem
The Diary/Planner is A5 – spiral bound
Recycled paper 125g that can be coloured and written on.
Cover 350g plastified
The planner contains Year to view layouts (2022/2023)
Each week to view diary page has space to record:-
weekly intention
to do list
positive quote
journalling prompt
things you are grateful for
your week's achievements
mini calendar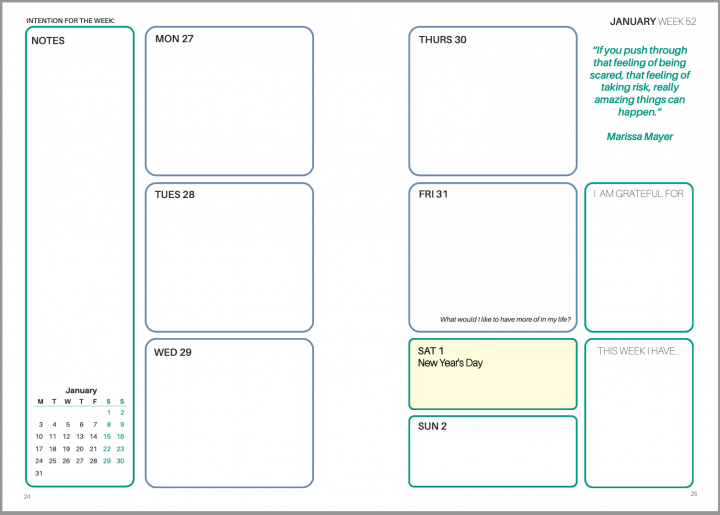 Each month has a theme and affirmation, plus
The One Big thing you will achieve
Commitment to how you are working towards your goals
Focus / intention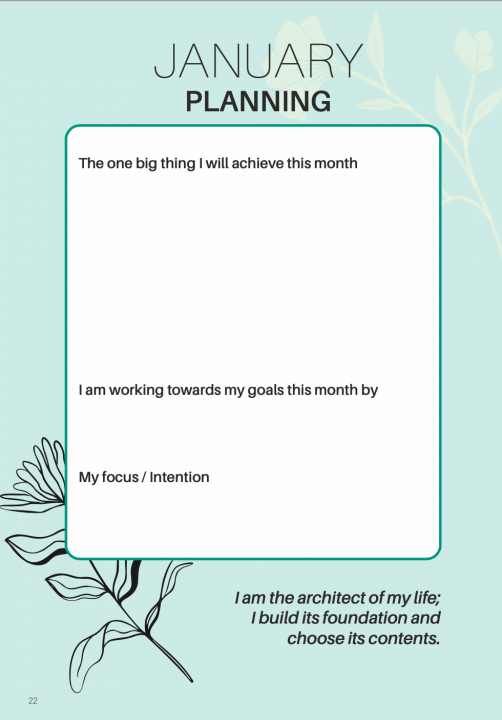 Monthly and Quarterly Planning tools:-
Social Media Ideas and call to action
Your monthly financial goals and achievements
End of Month Evaluation
90 day planning guide
Quarterly evaluation
Space for journaling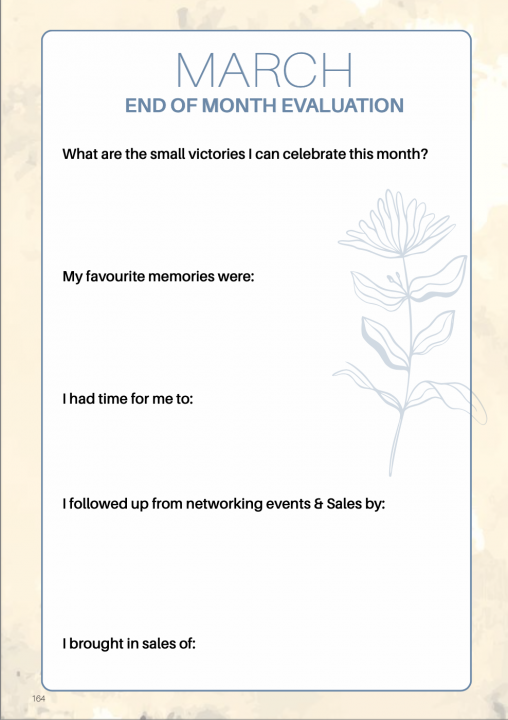 There are also pages for:-
Learning from 2021
Grateful for from 2021
Balance wheel – where you are now and where you want to be
I am ready to make 2022 my year (Goals area)
Vision Board
My Amazing Financial Goal
Word for 2022
Memories Board
My secret wish
Letter to my Future self
In 2022 I will…
Yearly evaluation
Parked Ideas
50 Things to do in 2023
Habits Tracker
Mood Tracker
Books to read
My Favourite Affirmations/Quotes
And for the creative there are 4 colouring pages too designed by Costa Woman, Gaile Griffin-Peers
And a Facebook Group
And that's not all! You will also get free access to a Facebook group that will be an extension of the planner. The Facebook group brings it to life and gives you a place to share experiences, tips and tricks as well as some extra bonuses including online events with 'experts' talking about the planner's theme for the month.
The limited edition A5 planner is available to order for 25€ including IVA and plus postage. When they are gone, they are gone!
Once they are sold out, they are gone!
Email planner@costawomen.com to reserve your limited edition copy.
I'm super excited about the prospect of 2022 and hope you are too!
Ali x