In this week's interview, I chat with Emma Plunkett, is a British born and educated contemporary artist, film maker and designer.
Hello Emma! How did you end up living in Spain?
There is no straight answer that I can give to this question, it was more a series of events that led me here: I was just dipping my toes outside of London, to make sure that it was the best place in the Universe. However, I didn't really have anyone outside of London as a contact. I had a good friend who'd I met in a squatted village in France the year before, called Angela. She is an activist performer and at the time was with a theatre group called the Shiela-na-gigs and she invited me to go on tour with them providing the video backdrop for the show. However, the tour was cancelled just one month before I was due to leave London. I was all set to go, I'd dumped my flaky boyfriend, handed my notice in at work and let my flat out, so I asked Angela if she would still meet me. We met in the north of Spain at a festival. I'd hitched there (but that's a whole other story!) with all my video equipment in 3 large silver flight cases – mixing desk, projector and 7 years worth of films. I was 33 years old and it was 2002.
I had to work out what was the best direction to take after projecting every evening in the dance tent of the festival, so I asked myself, "Where is a VJ* like me supposed to go?" Ibiza was the obvious answer, with all their night clubs / discos. It wasn't long before I was joined on my mission and a show came together, with Angela doing trapeze, Abi doing pyrotechnics and stage managing and me doing a video backdrop with live feedback. We made our own costumes and rehearsed in a circus squat in Barcelona. We wore gaffa tape corsets with circuit boards on and performed in Ibiza for most of the season.
We then went to Amsterdam, to perform at Robodock festival, which is located in a massive squatted ship warehouse and is full of robotic performances. By then it was September in Northern Europe and starting to get cold. I'd been living in a tent or sharing Angela's truck. Angela and Abi both lived in big trucks with beautifully styled interiors. Abi said she had a smaller living vehicle, in Southern Spain, which I could bring back up to Amsterdam to live in. So off I trotted down to Andalusia and of course with all the sunny smiles around and wonderful community, it was hard to leave. I had a strong feeling of home being in the countryside around Orgiva. So I called my friends to let them down and say I wasn't coming back!
And before Spain you were
I have been very comfortable on the squatting scene and I had lived in a few squats over the years. (Keeping my squats light, feminine and arty was usually the challenge). I'd been living in West London, working mostly in East London, cycling between the two. Doing my VJing, which is live video mixing and projecting in places like theatres, clubs, parties, squatted interesting architecture and galleries. I spent most of my weekdays filming and creating uplifting visuals and then projecting them at events all over London at the weekends.
And now you are living in….
I now reside in town, in Velez de Benaudalla, with my Czech web developer husband. We have an agricultural town house, where I have several animal stables and drying rooms out the back, which I have turned into art studios. I have ample space!
Before we go any further… what's VJ'ing?
VJ is short for Video Jockey, like Disc Jockey except we play videos rather than records. These days all the mixing is done on computers and then projected on walls, screens, dancers and buildings. The best VJ's shoot and animate all their own original material and mix it live to the music. My show includes loops of things like turning flowers, abstract lights, architecture, performers, animals, black and white drawings and live poetry all layered and cut into endless patterns.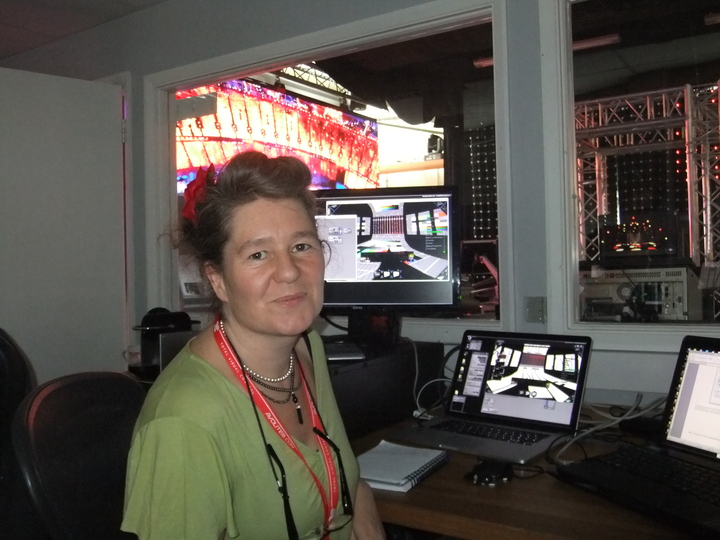 And you are a painter and sculptor too. If you could create something for anyone who or what would it be?
I would really like to get a commission from an art lover, do some life size garden sculptures, massive ones made of concrete, created in situation, incorporating water features and seating, perhaps with a life size mermaid reading by a pool or a sexy angel.
Where do you get your creative ideas from?
I wake up in the morning feeling inspired, the ideas just flash before my eyes. My imagination is fired up by everything I see! The pieces I choose to make are the ideas that won't leave me alone, the ones that I keep thinking about most. When I sculpt, paint and film, I often leave the initial vision behind and let the ideas flow, keeping an open mind as I progress and go along.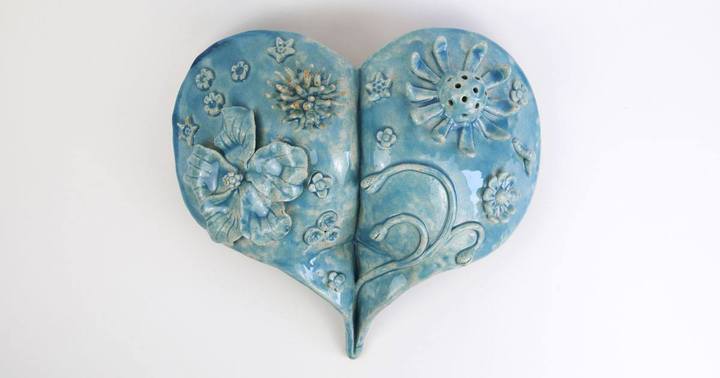 What advice would you give to Women wanting to make it happen for their passion project?
Do a budget and a long term financial forecast. Educate yourself in a realistic way about what it is going to take, the nitty gritty of what you will be doing with your precious time. Look at where you can save on costs and how you can keep your living costs right down. Make your life drama free, so the family and friends around you, support you rather than take up your energy and time. Devote and prioritise time to your passion. Make sure you have your living expenses sorted independently, which may mean keeping your day job until you are ready to seamlessly move into your new venture. Google everything you need to learn and do online courses. Believe in yourself!
Why do you think so many artists move to Spain?
The artists of last century paved the way with murmurs about the light. What they actually were talking about is the 12 hours of sunshine, 365 days of the year. This means you can see well to mix your colours in natural light, paint outside, have a good mood and not worry about working in the freezing dark conditions of northern Europe.
And lets talk about charities….
I support human charities firstly, MSF for taking medicine into war zones and dealing with unfashionable diseases, VSO for educating and empowering people and our local Acompalia for helping people achieve a dignified death.
If you could do an exhibition with anyone – who would you want to have join you and why?
There are so many artists I follow and adore their work but I don't recall their names. So the ones that come to mind may be a bit obvious.
I would love to have Helen Chadwick's artwork next to mine. Hers was the first cheeky art I'd seen done in such a feminine way. I was very drawn to her as a young woman.
Good old Frieda Kahlo, just so we can spend some time connecting together about art, life and play. I'm reading a big juicy biography on her right now.
I also rather like Grayson Perry, his work is playful and honest, he's a real fun character and he'd certainly pull a good crowd to any show he touches!
So who is your favourite artist of all time is… and why?
Laurie Anderson – her multi media artwork comes at you from unexpected sources, like a camera on the end of her violin bow, ringing telephones on plinths, tiny projections chattering in a corner, a whole ceiling depicting the heavens. The content is so profound, everyday and personal too. I have spontaneously burst into tears more than once experiencing her installations.
Business Book you have read that you would recommend and why?
Solution Selling by Michael T. Bosworth
It teaches ethical sales and to connect with what people need rather than what they think they want, so you listen more and try to understand what you can really deliver for them.
Best piece of advice you've ever been given
Both these have stayed with me over the years:
"Get behind the controls and steer your own life!" My boss when I was working in a pub on Thames in Hammersmith.
"Act on the energy of the moment" A film maker from Deli told me this, he meant don't hesitate and don't let opportunities pass you by.
Favourite quote and why?
"My freedom ends, where yours begins"
To be aware of boundaries, how what we do effects others lives.
I am waving my magic wand and giving you 1 wish for your business – what would you wish for, or are you daydreaming about?
I would love to have a larger, dedicated following of art lovers to appreciate and share in the art that I make, which would theoretically increase the demand for my art. I write a weekly art newsletter to keep people informed and so I wish for more subscribers to my newsletter. When you join you get a free download of one of my flamenco dancer watercolours: https://www.missplunkett.tv/newsletter
Something you will achieve over the summer…
To unwind on the beach with just me and my husband.
To complete two animation projects, both for worthy causes.
Thank you for the chat Emma!
You can follow Emma's work via:-
Website: https://www.missplunkett.tv
Facebook:
https://www.facebook.com/EmmaPlunkettArt
And of course the newsletter: https://www.missplunkett.tv/newsletter