Meet Danish member Pia Ault who moved from Dubai during Covid with her 2 dogs, 4 cats, 1 horse and family and believes that planning was everything for the move!
Why did you choose to move to Spain?
It offers a quality of life and climate that we craved – giving my family an opportunity to come together in a fabulous setting
Where are you living?
I'm in La Cala Mijas and moved here from Dubai in December 2020; La Cala has everything a small coastal town should – not closing down in the winter and offering diverse population of locals and expats; it's a relaxed and down to earth environment with a great amount of entrepreneurial spirit
What was the biggest challenge for your move?
Bringing my 2 dogs, 4 cats and one horse – all rescues (except for one dog) from Dubai, during Covid 19, and while our home was being renovated was by far the biggest challenge I've endured in many years. It took my husband and I three separate trips and several Airbnb stays until we could finally settle into our new house in January 2021
What advice would you give anyone thinking about moving to Spain?
Prepare and plan every detail – visualize your outcome and ground yourself when stress and anxiety are evoked. Trust your own strength
How do you spend your time in Spain?
I work about 10-15 hours a week as an executive leadership coach; this is remote / virtual work and offers me freedom to accept work from worldwide clients. I spend the rest of the time reading, caring for my animals, riding my horse, learning Spanish, socialising with close friends and researching, learning and developing myself to grow as a human being and coach.
Something you are grateful for?
I'm grateful for having my son and his wife in Spain too – that wasn't the original plan and it's a blessing that they came and settled too, getting jobs here and establishing their life here.
Who would be at your celebration dinner party?
I would invite my family because we have been too disconnected for so long – on different continents – my mom has been alone and isolated in Copenhagen and I would invite her to celebrate her 80th birthday – we would have fresh seafood and salad and delicious Rose wine
What is your secret weapon?
Empathy
Your favourite quote?
"We work with nutrition and exercise to increase our energy, but we ignore the richest source of energy we possess—our emotions." … Karla McLaren
One thing you had to bring to Spain?
My horse Lola who is my soulmate and co-coach/ facilitator in my equine assisted learning business – she is key to my ability to work with clients who are struggling with self worth and confidence issues and she is a great teacher to humans. Never would I have left her behind!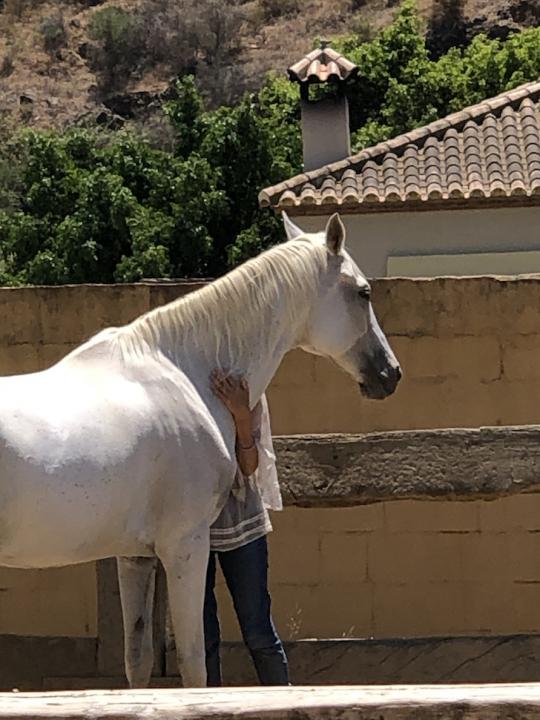 Favourite book and why?
The Bridges of Madison County – it's a great love story and an illustration of a dreams and desires of a better life and deep family ties
What would you tell your younger self?
Don't compromise and don't be attached to the outcome
Where can we connect with you?
Thank you Pia!
If you want to share YOUR story with us, please complete the online questionnaire here