Hello Renate, lets start with your story of 'Why Spain?' why did you here and where you have come from originally?
I am Dutch and after my mother died in the year 2000 by means of euthanasia, which was actually a beautiful and special experience to see her freed from her body that had become her prison, I went to the UK to do some writing. There I met my (ex)English partner who was also an alcoholic. I thought I was 'Florence Nightingale' and happy to try and 'save' him.
A year later he came to live with me in Holland, but I never felt at home in The Netherlands and neither did he. I also lived 5 years in Italy and wanted to go back there, but my English partner preferred Spain, it was 2003. He was a very good English teacher and found a job in northern Spain, in Logroño where we lived for one year.
Although I was well-established in the Dutch art scene it was hard to get into the Spanish scene and I started teaching English for a language school. One day we saw an ad in the paper about a translator job in Torre del Mar, Andalusia, and I got the job. My ex was given the job of proofreader. We moved down to Torre del Mar.
How, or why did you choose La Herradura to live?
When we moved to Torre del Mar, the first day trip we made was to La Herradura. A gallery holder in Amsterdam who was exhibiting my work gave me the address of a friend who lived in La Herradura. An artist. He said I should go there because she was part of a group of artists who were giving art workshops, but back then I knew we were going to live up north.
One year later I came to La Herradura to meet this artist but she was no longer in the group. I became friends with the Spanish guy who run the art-group and fell in love with the seaside village, it has a special energy. I wanted to live there, but it is more expensive than other villages and towns near it and I could not afford the rent. However, I kept returning to visit it.
My ex and I split up after six years together, but continued a very close friendship and I had started working from home as a translator and he was my proofreader. I also started exhibiting my artwork again.
When we split up I joined a writers group in Nerja and translated a sensual short story book I had written in Dutch 10 years prior but was never published. I published this book in English in 2010, it is called Secret Thoughts. This was also the year I finally managed to move to a penthouse apartment in La Herradura.
1.5 years later my ex returned to the UK and just as I contemplated returning to Italy I met my Spanish husband. We married two years later, I was 55 and he was 48. We moved into the house that we renovated and which had been rented out to a Spanish carpenter who had lived in the house for some 20 odd years. In 2003 this carpenter lived in the house with a Dutch artist, the artist who was a friend of the Gallery holder in Amsterdam. I never met her, but I do not believe in coincidences. I am sure it was my destiny to be here.
And since you moved, you haven't been idle! You have written "Reflections from La Herradura" – tell us more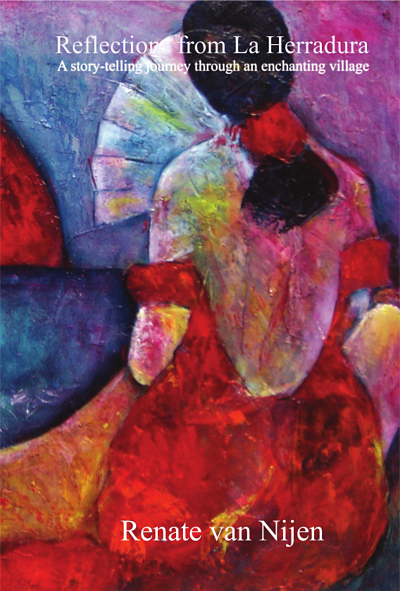 Reflections from La Herradura is a collection of artist's biographies who tell their individual experiences, but you will also be taken on a literary journey through the village's past, present and future. It is a combination of a guidebook, a history book and biographies rolled into one. You are getting a 'behind the scenes' look at life in La Herradura but you also gain a glimpse into the minds of its artists and visionaries. The book is available both in English and in Spanish. I believe that you do not have to be in La Herradura to enjoy reading it, but you might want to come and visit it when you have read it.
You mention that the Village/Town has more than its fair share of creative people and a "special energy". Why do you think that is?
At first glance La Herradura is a simple former fisherman's village, not particularly interesting architecturally, however there is a certain atmosphere. People say it has magic. It is also strange that people either love it or they do not like it at all. Some believe this is because it has 'Ley lines'.
It is a small village but it was the home of the great Andres Segovia, a guitar master. It has also seen many 'famous' artists in its past and to this day it attracts artists, who, like me, feel drawn in by its energy.
The shape of the bay is special in itself. La Herradura means horse shoe although you could argue that it wasn't a lucky place to be in 1562. As this is when 5000 people died during a freak nature event in the bay. A historical fact that was kept secret from the rest of Spain. More than half of the Spanish armada at the time shipwrecked in the bay and this fact had to be kept secret from the enemy. To this day most Spanish have no idea that this important historical fact has happened.
Still, this doesn't put the artists off. Most of the artists I have interviewed explained that they too felt attracted by the magic, the energy. Rather hard to explain.
A passion for Mandala's – when did that start?
In the late nineties I first started experimenting with mandalas. I liked the calming effect it had on me and they became a passion. I have painted mandalas on tiles, on furniture and I also create personalized mandalas.
I believe mandalas have a special energy that can have an effect on people but they are also just beautiful to hang on a wall.
I like to incorporate angels, elephants and Buddha images in my mandalas, some more obvious than others. I have also created a series of horoscope mandalas.
Many of my mandala images are for sale as postcards and or small posters on my website and you can also get my mandalas on lots of products, bags, t-shirts, etc. in RedBubble. http://www.redbubble.com/es/people/renart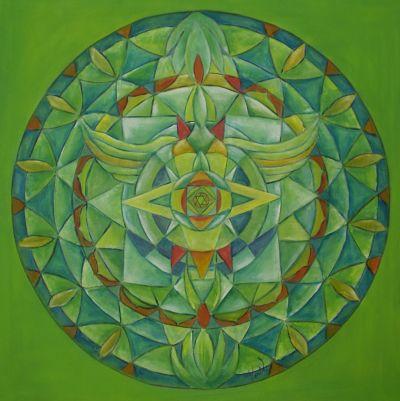 You have created some beautiful pictures and pieces of art – where do you get your ideas?
I never use models and usually start with a rough outline and the painting then simply seems to grow. It is quite an intuitive process. I work mostly with the female figure in my paintings, fully figured women. Perhaps it is a subconscious search to find beauty in myself.
A few years ago I was invited to a group exhibition with the Spanish flamenco dancer as a theme. Since then I have made quite a few 'flamenco' paintings but they are quite different from what you usually see. They hardly ever dance for example. http://www.redbubble.com/es/shop/RenartsWorld
Painting comes in waves, I can paint very intensively for a couple of weeks and then nothing for weeks or even months. I often get inspiration when I work towards a deadline for an exhibition. Like at the moment.
In October I have a solo exhibition in Almuñécar and in December in Nerja. I like to create some new pieces for that and the inspiration just comes as soon as I stand in front of an empty canvas.
I started doing ceramics in the 90s. I see myself more as a writer and painter than as a ceramicist, but I do like creating my series of ceramic 'surrender' balls. They are quite small and very tactile. I like to give them a name and a meaning, such as surrender to your world, accept your situation…
There is also a book called "Cheers" – what is the story behind this book?
My ex was a so-called functioning alcoholic. He had a job but as soon as the weekend came or during holidays he just had to get drunk. It was very difficult. He was a brilliant man, very funny, extremely intelligent and very loving when he wasn't drinking, but I have gone through very difficult moments with him and that is an understatement. It really bothered me that people were only seeing his 'bad' side.
We split up when I sensed that the 'only verbal abuse' was threatening to become 'physical abuse'. However, we stayed friends and worked together for 6 more years, he even proofread my Cheers book which made him stop drinking.
However, I did not write the book for alcoholics. I wrote the book Cheers, the hidden voices of alcoholism to create awareness for partners, parents, children etc. of people who live with an alcoholic and to show the other side of the problem. Three in five people will at some point in their lives be affected by the negative effects of alcohol abuse and yet it is often seen as a problem of the alcoholic. Not of his or her surroundings.
I wanted Cheers to be a holistic book and interviewed parents, children, friends, partners of alcoholics, also people who work in the addiction healthcare sector and alcoholics. Their stories are written as short, accessible stories.
The book is helping people because it helps them recognize their situation. It can work like a mirror. Some people told me that it has changed their view on alcoholics. They now look at them with more compassion.
Cheers can also help to get people out of isolation, which is a very common problem. People are ashamed and in denial, both alcoholics and partners. The partners often think it is their fault. I still am very passionate about the book.
I have had fantastic feedback for Cheers, but I am not good at marketing and to get the book under the attention of people is difficult because there still is such a taboo on the subject. People often feel it is an anti-alcohol book but that is not the case.
I very much enjoy a glass of wine every now and then, but it makes me sad that the effects of alcoholism on the direct environment are so hugely underestimated. I still hope that one day my book will find its way to the many people that could truly benefit from it.
What would be your advice to any creatives in Costa Women for selling their art and craft in Spain?
Selling art in Spain in these times of crisis can be a challenge. I think you should mainly do what you do because you love doing it. If you like to make some money from it however, I would suggest that you value your time and creation and do not just 'give' it away.
I have seen brilliant pieces of handcraft or original art being sold for hardly any money. Which is a shame because people then don't appreciate it any more. It becomes a cheap gift.
There are many exhibition possibilities and art or artisan markets where you can try to sell your work and these can be really nice experiences, but in some you might sell well, in others you might not sell anything. This is how it seems to work.
A good tip is to join an art club or association. Where I live there are lots and lots of artist associations, usually Spanish which is also great to integrate and to practice the language.
More about you, what did you get up to over the summer?
I have been working on two major projects. One is that I have created a cultural magazine for La Herradura www.laherradura-cultural.eu and will very soon also create more or less the same cultural magazine for Almuñécar.
For this I am interviewing people for articles, translating information about events from the town hall, looking for guest writers, writing articles about various subjects and even cooking recipes and taking pictures of these for the website.
In this initial stage it is a lot of work and rather time consuming. I am also collaborating with the local language school and a yoga teacher to offer 'creative Spanish classes, yoga and intuitive painting' in La Herradura.
This is a new project for me. Apart from that I have been writing stories for my RenartsWorld Spanish adventure http://renartsworld-writing.blogspot.com.es/ It has been a while since I've been on a holiday or have been able to relax a few days. But I love what I am doing and I live on the seaside so that makes up for a lot.
Favourite quote and why?
"If you don't like something, change it. If you can't change it, change your attitude." Maya Angelou
I very much like this quote. I you can change a situation that you do not like you must pick up the courage to do so, but if you are in a situation that you cannot change it is so important to try and look at it differently.
Changing your attitude and for example trying to see some positives is not necessarily easy but it can change everything.
What do you do, or give yourself as a treat, or indulgence?
I struggle with my weight but I am also a bit of a health fanatic. I like to eat mostly organic and no meat. But I have a soft spot for cheese. A treat is when my husband and I go out for a drink and a tapa on the sea front.
La Herradura is part of the province of Granada where it is custom to get a tapa with each drink. Also, practically every Saturday night, we don't go out but watch a silly series on the telly and have one gin and tonic with crisps. Being able to have a drink without feeling fear is very special to me.
During my 12 years with my ex I hardly ever drank alcohol as I did not want any alcohol in the house to not tempt my ex-partner. Now I can just relax as my Spanish husband is not a 'drinker' and a glass of wine or a gin and tonic has become an occasional treat.
You are invited to dinner, who would be the ideal dinner partner to sit next to?
Oprah Winfrey. She has been a huge inspiration to me for many years. When I was still living in Holland I used to watch her shows a lot. She has suggested some books that have changed my life, like Seat of the Soul by Gary Zukav. I very much admire her and would love to meet her.
Piece of advice to someone new to Spain
I would say that the most important thing is to learn the language. You might move to an area where there are a lot of expats and you might be able to perfectly survive without learning Spanish, but I personally feel that being able to have a little chat with the Spanish lady on the market or with the waiter, etc. is what makes living here more special. In my experience the Spanish also value your efforts.
I also think it can be a good idea to join groups with like-minded people or join a specific club where you can interact with people who like doing the same thing you like doing.
Something you will achieve before the end of 2016
Have both web magazines, laherradura-cultural.eu and almunecar-cultural.eu running smoothly so that I can spend more time on my other projects.
I am hoping to have found someone who can help me marketing my books and art.
I will have finished book number 4 of a series of 7 books called 'The Art of Feeling Better'. These are quite thin visualisation books and are for sale on Amazon, like all my other books. Each visualisation comes with a mandala, and last but not least I hope to start writing my next book, a novel about my life, but seen through the eyes of my mother.
To find out more about Renate
Website: www.renatevannijen.com
Blog about living in Spain:
http://renartsworld-writing.blogspot.com.es/
Web magazine: www.laherradura-cultural.eu
Facebook: https://www.facebook.com/RenartsBookWorld/
Instagram: https://www.instagram.com/renartsworld/
Twitter: https://twitter.com/Renartsworld
Redbubble mandalas: http://www.redbubble.com/es/people/renart
Redbubble flamencos:http://www.redbubble.com/es/shop/RenartsWorld