Today, in the 'Make it Happen' studio I met Sarah Houldcroft – an Independent Publisher at goldcrestbooks.com She is also a Business Book Coach – turning business experts into expert authors and the designer for our colouring pages in the Costa Women 2020, Make It Happen Planner.
Hello Sarah – please introduce yourself
I'm the founder of Goldcrest Books and I like to say I make dreams come true! If you have ever dreamed of becoming a published author then I'm your woman so to speak. I work with new and existing authors, both fiction and non fiction. I take their manuscripts and create paperbacks and ebooks, help them with Amazon and basically take the stress out of the whole process and make it a fun experience for my clients.
I'm based in Leicestershire in the UK but I work with clients overseas too.
Tell us your business story – where and how did you start?
I was a PA for many years before I became a VA at the beginning of the industry in this country. But I wanted to find a niche. So I found a course for VAs which was to do with book marketing. I really enjoyed it and I then became a VA for authors and coaches. After some years one of my regular authors asked me why I didn't just become a publisher as I was doing everything a publisher did anyway. So that is when Goldcrest Books was born which is my imprint and I now provide ISBNs (International Standard Book Number) so my clients look traditionally published, but they retain all the rights to their books which is the way I like to work. I am paid to create the book, but then the author keeps any royalties and can do what they wish with their book.
Munich – tell us more about your life overseas (and will you be joining us in Spain soon?)
I would love to live abroad again for a while, so maybe, who knows!
I lived in Bavaria, just outside Munich, for about 7 years in the 90s. It is a beautiful country. I think everyone should live abroad for some time as it really broadens your horizons and makes you appreciate not just your own culture but the culture of the country in which you live too.
Life as a publisher – what does it entail?
A typical day for me might be looking at a possible book cover with my designer, typesetting a manuscript, I might be 'knee deep' in HTML code as I create an ebook. And then of course I have enquiries from potential clients and it is always interesting to hear about what they have written and why. Then I might be having a video call with a client to help them create their business book. I work with my clients from the very beginning sometimes, so before they have actually written their book right through to receiving an email with a finished manuscript. Every day is different and I really enjoy working with books because I love reading too.
The current biggest challenge you see authors facing is…? And what are your advice tips to be overcomers?
I think authors face two main challenges – the first one is actually getting started with writing, I am thinking particularly of business books here. Turning a wish into a Word document is the hardest thing for a lot of potential authors. A huge percentage of people who want to write a book don't actually ever do it. So I work with clients to help them get started. If any of your listeners are struggling with this then I offer a free download to help particularly coaches, speakers and business experts start writing. It is called the 4Ps principle to start writing your first book https://www.goldcrestbooks.com/the-4ps-principle/
I also offer 1-2-1 sessions with clients to help them find or develop a book idea.
The second challenge is promoting the book after it is published. Business books have a slightly easier time perhaps as generally the author already has a number of contacts or clients that she can reach out to. But it does take perseverance and generally a lot of time on social media! One of my authors turned down a traditional publishing deal as she felt she could do a better job herself. She is on social media every day and sells pretty consistently. Just putting a book up on Amazon just isn't enough these days. The key is to be creative and get noticed, obviously.
Who has been the most influential in your journey and why?
I think it has to be Lizzie Lamb. She is one of four authors who make up the New Romantics Press – her, Adrienne Vaughan, June Kearns and Mags Cullingford – all amazing romance writers who have given me advice and really encouraged me over the years. I have worked on several of their books and helped with their promotional campaigns.
And then my business coach, Jo James of Amberlife who has been incredible. I think every business owner should have a business coach. She has helped me stay focused and build my business.
How did your beautiful 'Colour me Inspired' colouring book start?
I have always loved those posts on social media with inspirational quotes, but so often we read them and think 'yeah that good…' and then get on with our day. I wanted to create a book where we can actually spend time contemplating the words and so we can really appreciate what they mean to us which is why every letter in my book is to be coloured in. Colouring is also a great way to relax and switch off from everything else so the two went together perfectly I thought. The book contains 52 quotes, one for each week of the year. And the idea is that you colour in the page and write your top achievements for that week on the opposite page. So by the time you have finished colouring in the whole book you also have a wonderful record of what you have achieved over a year and have taken some valuable mindful 'me' time for yourself. You don't have to start ion January though, you can start anytime during the year. The book contains quotes from not just me, but from a number of business ladies who I know and hand-picked to be part of the book. They have also all inspired me in some way too. It is not a book of famous quotes, these are our own words and thoughts which makes it quite unique.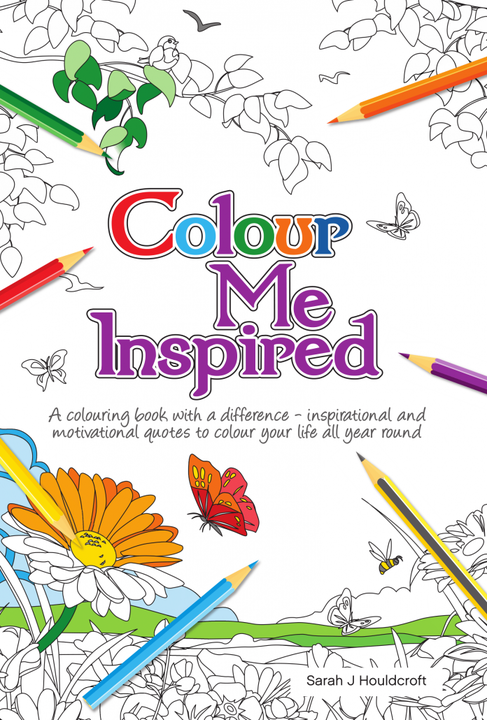 What will you make happen before the end of 2019?
I am very much hoping to have finished writing my own book by the end of the year. But I am a bit like a builder whose own house is never finished because he is too busy building everyone else's! I'm too busy creating books for everyone else! But fingers crossed…
What's your favourite book you have read (and maybe published) this year and why should we read it?
I do like all the books I've published but I think it would be a little biased to suggest one of those. So the book I've probably read the most is The House on the Strand by Daphne du Maurier. I absolutely love it. It was published in the late 60s and is about a man who strangely enough works in the publishing industry! Perhaps that was some sort of omen for the future as I first read it as a teenager! It is set in Cornwall (my favourite place in the world). The main character takes a drug which makes him hallucinate about a point in the past and he follows the life of one particular person. So a bit science fiction and a bit time travel and wonderfully written.
I am waving my magic make it happen wand – what dream can we make a reality?
Business related – I love public speaking so am always looking for new opportunities to speak. My dream is to do a Ted or TedX talk.
Personally – A little cottage in Cornwall would be just perfect after the usually 'health and happiness for all I know' bit!
How can we connect with you after this interview?
Facebook: https://www.facebook.com/SarahHouldcroft
Email me at https://goldcrestbooks.com
Thank you Sarah!