Meet Sharon who fell in love with Spain in the 1970s (and more recently a Spaniard) and believes that women can achieve anything. "When I allow life to unfold before me, amazing things happen."
Did you choose Spain, or did Spain choose you?
I have to admit, Spain, for me, has always felt like home. The love affair began when I was 7 years old and my mum, tired of the unpredictable weather in the UK, wanted to guarantee her tan and outdoor lifestyle by venturing into the 70's package holidays. We never looked back, and when I was 20, I left the UK to work in a piano bar in Puerto Banus. I was there for about 9 months and it was a wonderful time to be in Marbella.
I later came to Spain as a music teacher in Madrid and Malaga. Fast forward to today, after a 10 year stint in Haywards Heath working as a HR manager and company director of a small business support company and owning a shared ownership property in the UK, we decided to sell our portion and buy a house outright in Spain. The only thing is, we didn't want a mortgage (I was still on a UK payroll and my husband had been made redundant) so we bought what we could afford outright in a beautiful area of Spain, Aracena, in the mountains of Huelva.
We found the perfect house for us. Three bedrooms, beautiful terrace and views of the 'Sierra' great connections to all of the hikes in the area (I love walking) and about 10 minutes drive to the main town. Then just 4 months later we were in lockdown. We'd left our daughters in the UK and our plans to return every 3 months to see them were thwarted.
After 18 months living in that idyllic and picturesque white sierra village, I found myself without a job (the business support company set up Spanish construction companies in the UK so the pandemic did finish us off) my husband without work and wondering what the next step might be. Luckily, as a qualified transformational coach, I was able to work online and I also did email marketing and copywriting for Animas, the school where I studied to be a coach.
However, although I appreciate that I found work helping with marketing and copywriting etc, working online at home alone for 18 months became somewhat lonely, so when I received a phone call from.an acquaintance who had just moved to La Cala asking me if I wanted to bring my coaching skills together with her beautician/esthetician and healing skills and start something on the Costa del Sol, I jumped at the chance. I knew the area well and relished the idea of being around people again.
So we moved to a 2 bed apartment in Riviera del Sol where we share with Kiran (soon to be Kiran and Martin when he comes to teach at the Benalmadena British College). Rather than feeling short on actual space (which in reality we are a bit) I actually feel more spacious within me. I look out at the sea every day and I'm offered that reflection of space and the beauty of this area. I'm truly in love with what nature offers in this area. The sea is always different – it's colour, it's stillness, it's movements – the full moon reflecting on the surface, the distant mountains on the African continent and the fog that sometimes rolls in from the horizon.
I've always been happiest around mountains and this area doesn't disappoint either – everywhere you look, there are hills or mountains – it's truly beautiful. We now hope to rent our house in Aracena for weekend hikers so that we can stay here.
I am passionate about helping parents to access their innate leadership skills from a place of love and wisdom within them so that anxiety and mental health issues in teens is supported as much as possible. I'm deeply concerned about the increasing substance abuse and self-abuse in teens and young adults, and I feel that we, as parents, can do much to create a foundation of harmony by modeling emotional intelligence, equanimity and loving leadership skills to our children before or during their teen years. That's what I plan to do here on the coast as well as online.
I use a very unique combination of coaching and voice therapy (reconnecting to the body by tuning into the vibrations of the voice and willfully changing the energetic quality of those vibrations to heal and to communicate from the whole body and not just the head where the emotional triggers and reactions occur. Building fitness in conscious presence where a response to what is needed is always the default expression ensures long lasting and consistent transformation ).
I am also working with Kiran in our new beauty inside and out business called Evolve Health and Beauty Mijas Costa (inside The London & Co hair and nail salon in La Cala) Kiran has many wonderful beauty machines that do amazing things to your skin to maintain it's elasticity and tone, prevent aging and plump up already matured skin. I'm a fan of facials and that's my particular forté.
Where are you now based and why would you recommend it?
We're based in Riviera del Sol. I love this area because it's a little quieter than the towns such as La Cala (an easy bus trip or 5 minute drive away) But it doesn't disappoint the young either with it's trendy beach clubs. Up in the hills you have the most amazing views of the sea, you're a stones throw from busy Fuengirola where you'll find any shop your heart could desire and Marbella with it's classy shops and beautiful promenade is about 20 minutes drive.
What I really love is how you can walk to La Cala one way along the wooden promenade or to Cabopino in the other direction. There are sandy areas and areas that are more rocky with much wildlife to view.
Just yesterday my husband and I just rested our elbows on the wooden boardwalk fencing and watched the seabirds coming in to land on the little rocks as the planet slowly tilted away from the sun.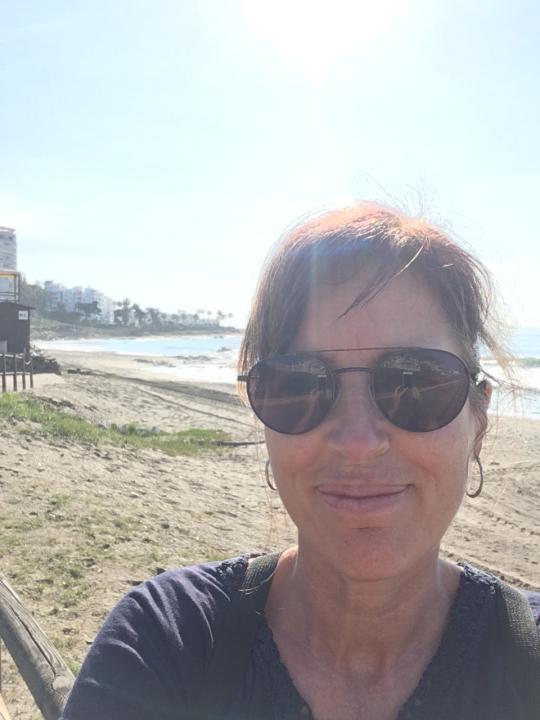 What was the biggest challenge to your move?
I refer to moving over from the UK to Huelva as moving from Huelva to Riviera del Sol has not really had it's challenges other than physical space. Our biggest challenge was leaving our daughters. My eldest has a long term relationship and has a recording deal (she's a singer) in London so there was no way she was leaving that. My youngest daughter didn't want to leave either, although now she's changed her mind and is coming out here in August to stay.
We got over the challenge by making schedule to travel to the UK every 3 months but that's not been possible of course. We speak daily on FaceTime and hope that in the future we'll be able to travel more.
What advice do you have for someone making the move?
If you have an established online business I wouldn't hesitate to move. Finding a job here that pays as well as the UK is just not the reality. Do your homework with regards to how self-employment works here as it's more expensive than in the UK. But oh my "Summertime and the living is easy – bureaucracy is slow but the bougainvillea is high!"
How do you spend your days?
I get up at 5.30 to write my book – it's all about how to bring leadership skills to parents of preteens and teens and how to access wise responses so that there is more harmony in the home and children are empowered to face the challenges of growing up. I then write my posts on FB for the day and 4 days of the week I go to our beauty room at Evolve Health & Beauty Mijas Costa within the London & Co hair and nail salon. There I give facials – facial massage, emotional release facial healing, inner voice therapy, microdermabrasion and Genie Complete non surgical facelifts which I personally love (it really is a genie of a machine!)
In between I work online helping with social media marketing and copywriting for a client in the UK who has a business mentoring membership for women.
I'm a singer. pianist and songwriter too. I used to play in hotels and restaurants along the coast but now I prefer writing songs and recording them – however I have a private party coming up and perhaps a golf club gig – so I may be doing some more gigs before long.
I was involved in a pro-bono coaching initiative in the UK for those affected by Covid 19. It has come to a completion now but it was wonderful to be of assistance in that project and I continue to coach young adults for free (that's my passion and I charge parents so that I can continue to assist young people who perhaps aren't able to afford coaching themselves)
What do you most appreciate?
I think what I most appreciate is how I've been able to relinquish control and fear. When I look back, I balk at the fear I had, especially with authority. My confidence has grown so much since I began moving more from intuition and letting go of outcomes.
I feel women can achieve anything, but if there's an attachment to an outcome, for me, it often ends in disappointment. When I allow life to unfold before me, amazing things happen. I, myself lost everything after the 2008 crash, my home and belongings and started again with two young children – I studied in HR and was appointed company director by the CEO just 7 years after having lost everything – it wasn't determination, it was getting my head down, being open and not trying to control things.
Your special dinner party – who would you invite and why?
I have beautiful friends so they would always be my first choice – with regards to famous people, Stephen Fry for a great conversation – just love him, Mike Myers to make us all laugh and Jill Scott the singer and actress to entertain us with her wonderful voice. The food would be gluten and dairy free – full of veggies and with Indian spices (my favourite food)
Your secret weapon is..
My soul – when you learn to listen and respond from there, you will always be responding from wisdom and not in reaction!
Favourite song and quote?
Amazing Grace – I love the empowering yet humble words.
I can't choose a quote because I love so many but here's one from me – "Break the dams of yesterday and flow into the ocean of the present that always offers magnificence to each and every one of us"
One thing you had to bring with you to Spain?
My husband because he's Spanish lol – no, really he's my rock and we've been together 30 years – he is the kindest and gentlest soul.
Favourite read?
I love so many books it's really hard to choose a favourite – I love Rachel Joyce (The Unlikely Pilgrimage of Harold Frye) because I love how things just unfolded for him with no plan and no control – it inspired me.
Something you would tell younger Sharon?
Be more humble – realise that you know nothing and begin from there. Life isn't something to control it's something to witness and bring your all to.
Where can we find out more about your projects?
FB page for Evolve Health & Beauty Mijas Costa
FB page for Gorgeous Hearts (coaching parents of tweens and teens)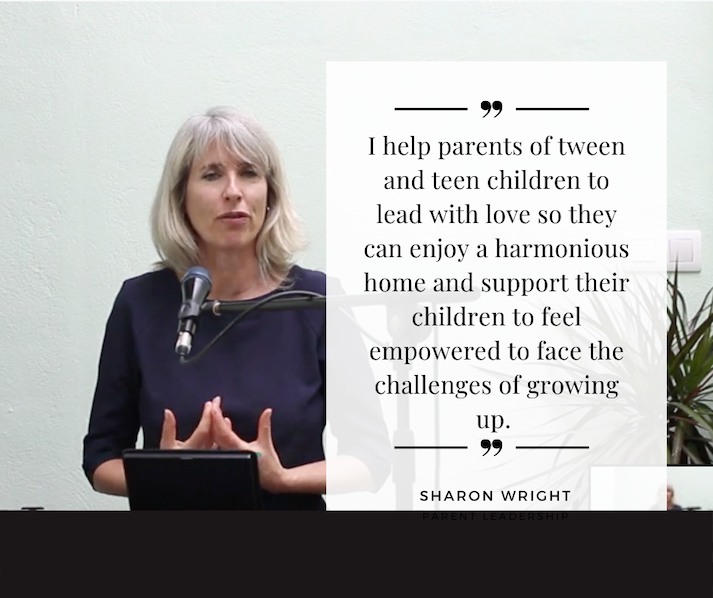 Thank you Sharon!
If you want to share YOUR story with us, please complete the online questionnaire here