Reaching out to Family and Friends during the pandemic
For the past year, unable to travel, confined to our homes, we have learned to connect with loved ones through the internet and computer screens. Like many of you, I reached out to my family through on-line calls. We coordinated our times and worked out a 4:00pm CET Zoom conversation to include a sister in California, another in Pakistan, and a third in England. By June, we realized we needed to do more than discuss COVID-19 infection rates, international politics, and family gossip.
So, the sister in California, Anniqua (a writer) and I decided to document some important and some not-so-important memories of our lives growing up between Pakistan and London. We shared them with the other two sisters who became our content editors – our fact-checkers. We created short videos and shared them with friends and family on Facebook. They were a hit.
The initial idea of writing a dual memoir
Both Anniqua and I are avid readers and have always bonded over books by our favorite authors. Over the summer, we decided to coordinate our reading so we could discuss writers like Szabo, Pamuk, and the Progressive Indian Writers. These discussions then inspired us to add a new element to the vignettes of memories we were sharing with our family: a reference to the literature we love. So we took our writing to the next level and began writing a literary memoir, The Simurgh Rises: Tales of Two Sisters from Pakistan.
A literary blog to host cultural memories
Then, in January 2021, we decided to take our writing a step further and connect with a larger audience. We created a blog:
Tillism طلسم: MAGICAL WORDS FROM AROUND THE WORLD.
Tillism encourages readers to read – and write. It invites them to access literature and share cultural memories. This Urdu word of Arabic origin – with it its magic, science, and mysteries of the occult – beckons readers to experience personal journeys, weaving them with literary ones. Tillism is a virtual exhibition of literature and life.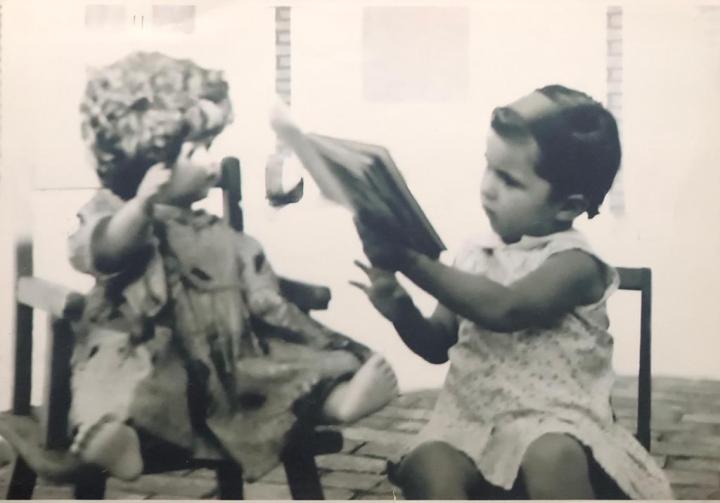 Inviting the world of readers and writers to join us
Within the first three weeks of starting the blog there were more than 3,500 views from over twenty-five countries. We are having so much fun with these vignettes of memories related to literature, we decided to invite the global writing community to share similar memories with us. We've already uploaded a few posts by our guests (now friends) and have had requests from poets and writers in the Bay Area and beyond who want to share their work.
This new way of life has become our norm, and we imagine it will continue for some time yet. Just as connecting with others online has helped us overcome the loneliness of shelter-in-place, members of Costa Women might consider connecting with others through their cherished memories: a short (500 word) post of a memory related to literature in this on-line community of writers. Our guidelines for submissions are very simple:
Posts should be inspired by literature and connected to a personal memory.

Posts should include at least one word from a language other than English. You're welcome to use more.

Include keyword tags to include in the post.

Include no more than two images —only if you have the copyright.

Submit your blog post to

setufail@gmail.com

embedded within the email (attachments will not be opened).

We will get back to you within the week of submission.
The Tillism Team:
Anniqua, who lives in the Bay Area, is the author of Wild Boar in the Cane Field, shortlisted for Pakistan's UBL Literary Award 2020 after being published by Folio Books and She Writes Press in the States. She holds a doctorate in International Education and has taught at San Mateo Community Colleges, University of San Francisco, Lahore University of Management Sciences, and Stanford University.
Selma, an artist who lives in Spain, set up the very first Department of Art & Design at Zayed University in the United Arab Emirates. In that capacity, she developed an academic relationship with the Complutense University in Madrid, Spain. Because of this she was awarded the coveted honor of the Outstanding Faculty Member of the Year award at Zayed University (2003-2004) and the Spanish Order of the Civil Merit granted by His Majesty King Juan Carlos I of Spain. She is the author and illustrator of Con Yanci: When Chickens Fly and Other Tales, a children's book.