Once again Dave and Mitch Bull are off on another adventure raising awareness and funds for charity.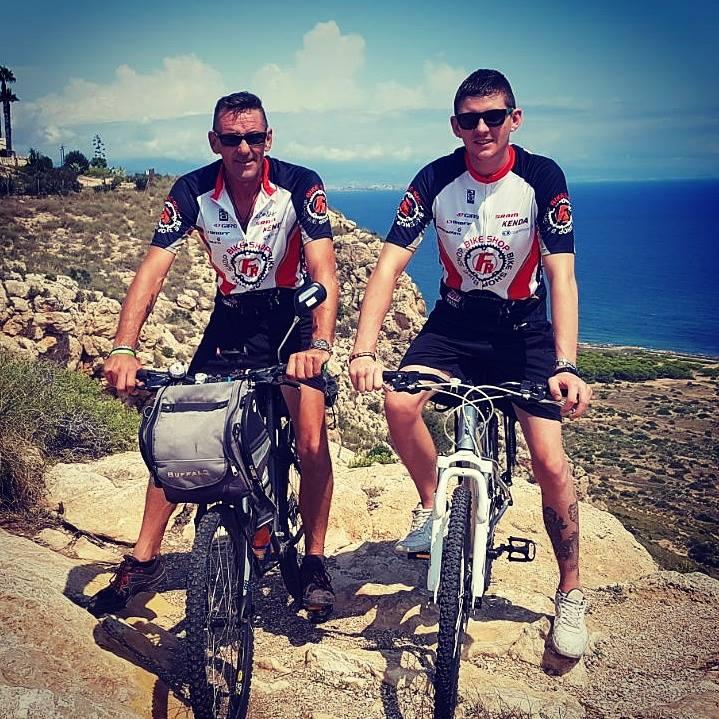 Last year the father and son team headed off on a mammoth 6500km journey around the perimeter of Spain and in 2015 they rowed two kayaks 52km down the River Segura from Murcia to Guardamar on the coast with support from Costa Women.
The 24th of October will see two riders leaving Gibraltar and attempting to ride the 800km along the coast to their homes near Alicante on the Costa Blanca. Father and son, Dave and Mitch Bull will be camping at night and hope to complete the journey in less than two weeks meaning they need to cycle about 75km on average per day, and along the southern coast of Spain that means a good few hills to climb!
The pair are no strangers to adventure having kayaked 52km down the Rio Segura in November 2015 and last year saw them riding motorbikes around the perimeter of Spain for their chosen charities; the Samaritans in Spain and Spanish cancer research (AECC). Why those charities? Well Dave is the patron of the Samaritans here in Spain and Mitch has seen a close family member lose their life recently to cancer of which he says,
"I think cancer has touched most families at some point and I wanted to try and help sufferers and their families in some way."
The two of them will call into the charities offices in Playa Flamenca (Pink Ladies) and Punta Prima (Samaritans) when they finally arrive in the area at the start if November.
Again they are being well supported by local businesses both on the Costa Blanca and the Costa del Sol who include; Costa Women, Cooking for Languages, Gran Alacant Services, Coys rents a car, Hamiltons Bakehouse, Club Cars and Studio Nemo. Dave also added that he'd like to thank the support of local press, especially The Leader, for their annual contribution to the cause by helping to publicise and therefore raise funds for the two charities.
From Gibraltar the two riders will hug the coast passing trough Estepona, Marbella and Fuengirola and then on to Malaga. From their they'll pass through Nerja, Motril, Almeria and San Jose where they will turn a sharp left and start heading north via Mojacar, Mazarron, Cartagena and Torrevieja. Its from Torrevieja they'll leave for the last leg of the trip to Alicante and the guys welcome anyone who wants to join them for all or part of the ride. They are also welcoming Michael from Marbella when they pass through and he will ride with them for the morning after seeing their story and asking if he could go with them part of the way. Dave added that if anyone else wants to join them for a part of the ride (it could be as little as an hour or as long as a morning or afternoon) then they would be very welcome.
The bikes they'll be riding are hybrid models with 29″ wheels (for the cyclists among you) and they'll be lakes with around 25kg each of equipment including tents, sleeping bags, cooking equipment, medical kit, devices such as phones, cameras and battery chargers. They hope to have a little room left for some clothes too!
You can follow them on their journey with regular update in The Leader and on their Facebook page, 'The Long Ride Home' where you'll find links to the charities for donations. Dave also added that a good number of bars and businesses in Gran Alacant also have sponsor forms and collection fine for those wishing to donate that way, again check the Facebook page for a list of which ones are supporting them.
Well have more on their story before they go and updates while they are on the road. They'll also, as they did last year, add some video blogs to their Facebook page so keep an eye out for those at the end of each day as they summarise their adventure.
Donation Links:
AECC
https://www.aecc.es/colabora/Particulares/Contuaportacion/Donaciononline/Paginas/OpcionesDonacion.aspx?ref=99&fin=451
SAMARITANS IN SPAIN
http://www.samaritansinspain.com/donations.html
And follow their journey in The Long Ride Home here