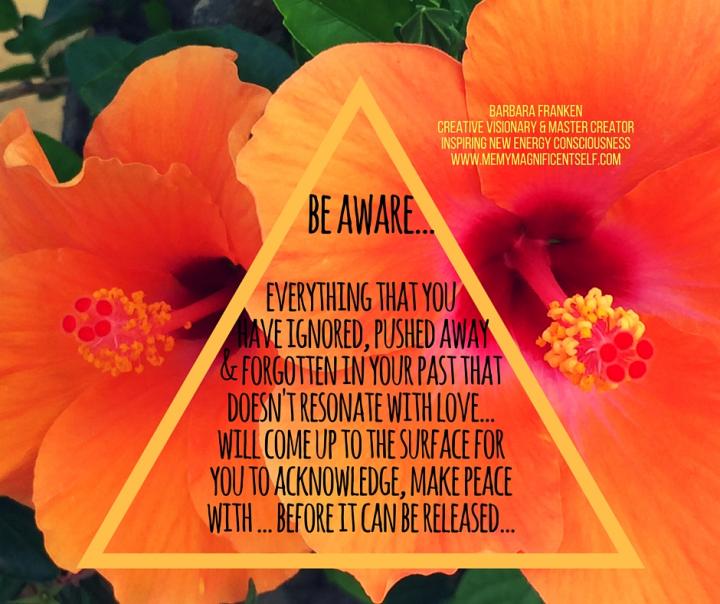 While the Human Body and Mind goes through a tremendous reNEWal… natural UPDATES and DETOXIFICATION due to the high light frequencies penetrating Earth and all Humankind, the MasterCreator within (spirit essence) waits patiently to be acknowledged and welcomed in. To fuse in conscious awareness Body, Mind and Spirit and prepare for Embodied Enlightenment. S/he is excitingly READY to play their NEW role in the next phase of Human life and introduce the DivineHumanBeing and enjoy a NEW level of experience beyond anything ever known.
Meanwhile the Human 'Barbara' continues her Integration… wondering if it will ever end. She catches the MasterCreator within, who observes, laughs and wonders if she will allow herself to be distracted again… OR will she continue to breathe, embrace, trust and know that ALL is well. She knows deep within, her Integration will take as long as is appropriate for her and in the meantime enjoy it all AND imagine how she will delight in her new role as DivineHumanBeing living her heart and soul dream.
I wrote these words the other night as I found myself, yet again, enveloped in a flow of darkness…
Feeling used, abused and tossed away
Bullied, torn and worn
What is LIFE all about?
'Cause I thought we were doing our best
AND following ALL the rules…
We stand tall, express well?
Enjoy the life we perceive
The miracle and magic intertwined
Throughout All creation
Connecting everything together…
Yet the cold winds continue to whirl around us
People acting out and pointing fingers
Are we not wanted and rejected?
Shall we close our hearts and react?
Or shall we follow an inner knowing…
A passion within that steers us to BREATHE
Consciously in everything we are
To trust and allow ourself to follow
The goodness of our own hearts and souls
Feeling safe in the magnificent world around…
Where did we go wrong?
What did we misunderstand?
All we wanted was to feel the love and joy
Be with others, have fun
Dancing, playing and singing together…
YES, we can be direct and serious?
Aren't we just being open, honest
AND honouring our own feelings
Isn't that how we are meant to be?
Surely others feel our compassionate hearts…
Only NOW, many years gone by
Do we realise the game we all continue to play
A big distraction, to keep us away
From the POWER within, our natural state of being
An abundant flow of LOVE and JOY..
If we're lucky, we will pick up a book
Bump into a person who inspires us
Become AWARE of our individual truth
AND rise above our dense physical reality
To a space where we perceive NEW potential…
I know now everyone plays the best roles we can
There is no fault, no blame, no judgement
It's about experiencing, discovering what we love and desire
AND realising IAM Magnificent, infinitely powerful
Because IAM a reflection of YOU…
Barbara Franken… MasterCreator
Inspiring New Energy Consciousness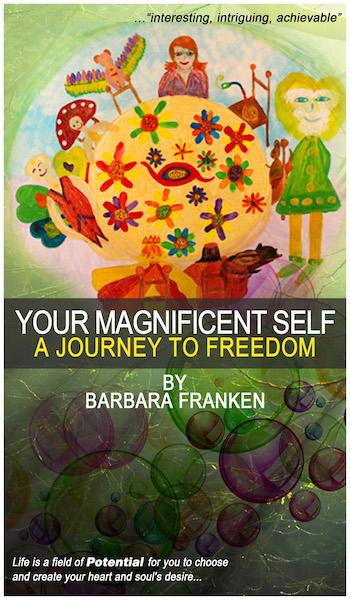 I published my book Your Magnificent Self… A Journey to Freedom to share my journey awakening and integrating All of myself and be able to create a life of celebration as my Magnificent Self. Inspiring others to resonate with their own magnificence and remember their own natural state of being.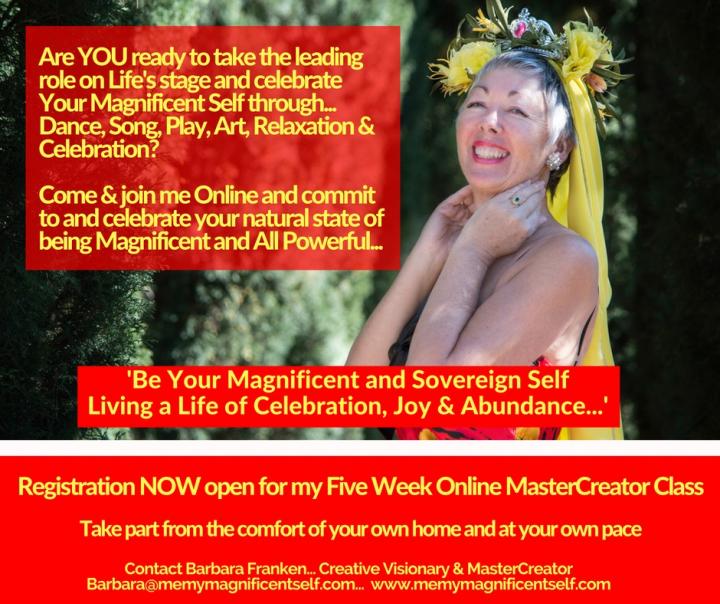 For hearts who are ready to commit to and live their own life as a celebration… I created my local and online Five Week MasterCreator Class.
Taking the leading role on Life's stage as Your Magnificent Self through Dance, Song, Play, Art, Relaxation & Celebration
You can sign up on my website… www.memymagnificentself.com