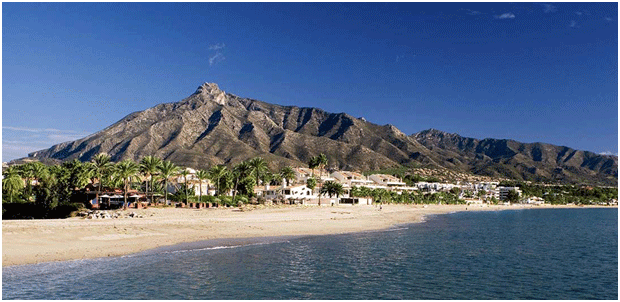 This beautiful mountain called 'La Concha' towers over Marbella. Isn't it gorgeous? Something I love about this part of the Costa del Sol is how you get such elevation so close to the sea. Recently I hiked with a friend part of the way up this mountain. We turned back because it was threatening rain. Winter in this part of the world has changeable weather. October had its rain this year and now it appears to be gone for a while. Sunny days are back again!
Winter and the cooler temperatures allow for hiking in ways that aren't so welcoming in the summer heat. Sweat and sunburn, no thanks! Refugio de Juanar, on the Coin road, is the area where the La Concha hike starts. I recommend it for a lovely stroll in nature. As we arrived, so many cars were parked that some cars turned back! We weren't the only ones that were taking the advantage of the cooler temperatures for an afternoon in the hills.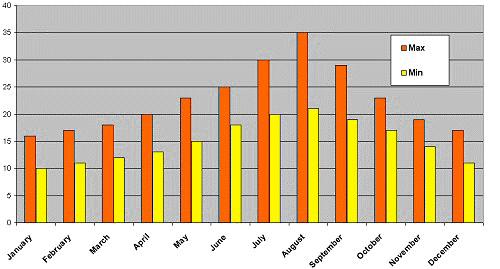 Winter in the Costa del Sol is quieter of course than in summer. For those of us living or visiting here, it being less busy is a great thing to enjoy. It's not as hot, so it's nicer to sit out in. Perfect to sit in the warm sunshine, read a book, have a chat with a friend and get your Vitamin D!
Personally, I can't sit for very long under the summer sun. It is not so good for your skin anyway to have such exposure. Aren't we always being told that? When I meet my friends during the day in summertime one of the first things we consider when choosing a place to meet is 'does the cafe have shade?' Where is coolest to meet? When we say 'cool' its the temperature cool we mean, of course!
Driving into Marbella or Fuengirola in August and you can expect traffic. In winter, gone is the traffic what you have left is still as beautiful and a lot less crowded. I have thought twice of driving into downtown Marbella in the summer because I haven't been sure I would get parking.
I personally love Marbella, even in the rain. I like the softness of it. I'm from Ireland, it rains here so rarely by comparison to Ireland that the rain here makes me smile. Call me strange, I don't mind! Its so sunny almost every day of the year here, that days where you can have an excuse to not go out and be active is nice! There is something about sunshine that makes you feel like you 'have to' do things. Consequently, the Spanish themselves are a fairly outdoorsy bunch and cafe society or taking an evening stroll is very much part of the culture. As is typical in the mediterranean area.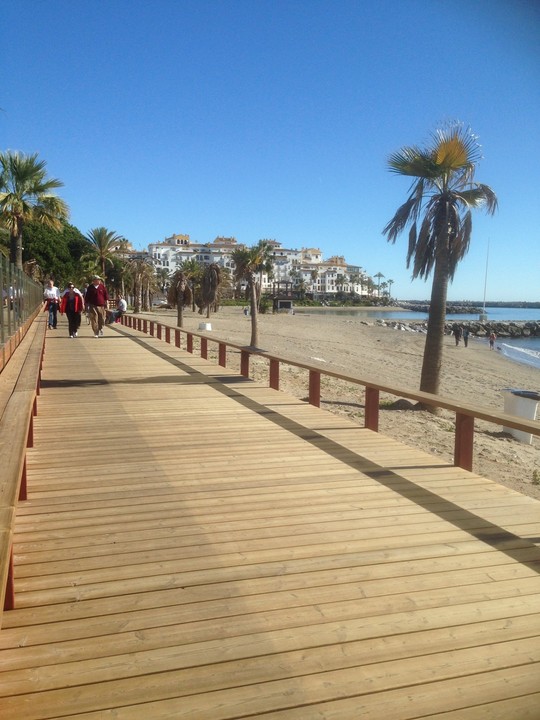 This image shows the boardwalk in the Calahonda / Riviera del Sol area of the Costa del Sol. Its a fairly typical offseason image of what the beaches look like. If you see in the distance the people on the boardwalk are wearing light sweaters, that's about right.
Actually, when you live here you acclimatize and your reaction to temperature changes. I've gone soft. The other day I was walking to the gym with my cosy fleece all zipped up to my neck, I passed by two couples, in their later years, looking fit and sporty. They looked Scandinavian, Norwegian most likely. The men had their tops off. I cringed a little, not liking to look at men shirtless when not on the beach. I glanced over and all four beamed smiles at me. I mean, they radiated joy to me. I felt immediately guilty for my disapproval of the men being topless and immediately so happy for them obviously enjoying the winter sun. They weren't just enjoying, they were in their element!
I remember that moment so clearly as it was a quick sharp reminder to me of how wonderful it is here. The humour of me being in a fleece and the men not needing shirts wasn't lost on me either. However, it was maybe around 15C. That's a cool temperature right? Not to a Norwegian in November obviously! I'm sure in the past before I acclimatized I would have found 15C to be warm also. It is for an Irish person too, just not those who have lived here for a while!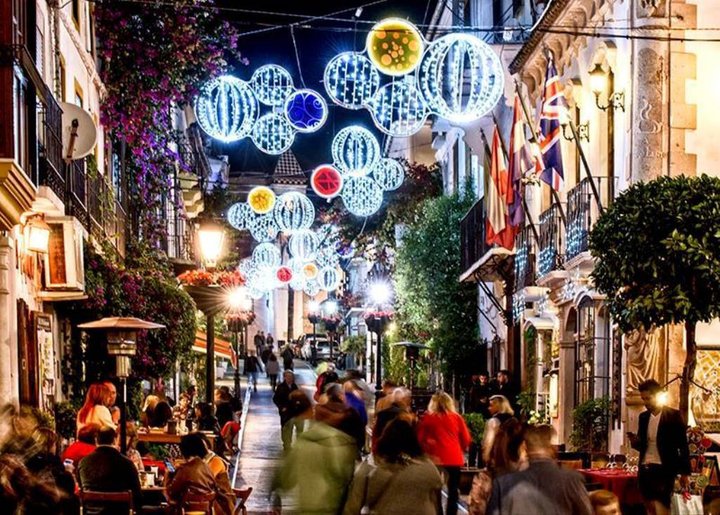 Here is a great photo of Old Town Marbella at Christmas time. It's a typical scene. You can see people sitting outside. They are sitting under heaters yes, but happily enjoying being outdoors at night in December. Where I come from, you just can't do that in December unless you want to freeze. From October many cafes will put cosy blankets on the backs of every chair that is outside. Isn't that wonderful? They aren't worried about theft, it's just so civilised to me. In the summer the Old Town is jammed with people, happy people, but jammed with them nonetheless. There is a relaxed ambience and elegance when the crowds are gone. I think anyway.
As I write this its another blue sky warm November day. I think I will sit in the sun for a little while and read my book. I hope you enjoyed my personal experience of the Costa del Sol in the winter time. Thanks for reading.