I would like to introduce you to Compassionate Mindfulness or Compassionate Psychology for #MentalHealth Wellness.
As many of my family and friends may already know I've always avoided popular mainstream ways of standing in life, mainly because I found them to be too limiting and miss the main ingredient of #Consciousness… of #Love… of Me (and YOU) that I have been passionately working with these last 30 years.
I've found it quite difficult in the past to know how to express my passion and mission in life, but now everyone is experiencing for themselves how the world is changing and how life is bringing everyone… screaming if necessary… to look at themselves and decide how they are going to live their lives… oh quite differently… it feels quite natural and easy now to talk about living out of the box.
It is my passion and mission to help remind listening ears that everyone holds their own answers and how it is time now to be the one to play both roles, the client AND the psychologist, and undertake Compassionate Mindfulness or Psychology and unravel the mystery or truth about Who YOU Truly Are and What Life is All About… AND what better time than now, when we find ourselves isolated.
IAM dedicating May to Mental Health Wellness, writing and talking live about Compassionate Mindfulness and how it can be quite simple to bring Illness into Wellness. You can read my last blog post and listen to my videos by following this link… Mental Health WellBeing.
A little background about Me & Mental Health…
I've never followed anything mainstream, including medical healing, whether mental or physical as I feel the majority of people are focused on fixing the Body/Mind without looking at the whole Body/Mind/Spirit. AND instead of healing holistically or even promoting wellness in our society, we have created a society suffering more and more with mental and physical chronic illness.
I must add here that IAM most grateful for mainstream medical help when it comes to fixing a physical trauma like a broken leg or hip etc, for the doctors and nurses who do care enough to make society comfortable and well and all the therapists who are following their own knowingness to help point their clients within.
I've therefore never been diagnosed with any illness or dis-ease because I haven't wanted to be labelled and boxed in a place where there is no holistic understanding or answers.
For much of my young adult life, I held the belief that other people could save me AND in turn I could save them. Until the day I realised that no-one was responsible for saving another, never mind being able to do it!
I first felt this belief might not be true, during a situation at home when my body/mind jumped in shock and froze, long enough for me to feel it. It wasn't until years later that I understood that fear had visited me and left me traumatised… with the good intention of waking me up and make me realise it was up to me to save myself and be responsible for caring for and loving myself.
It felt scary, even a little lonely… but made me look deeper into myself, to get to know more of myself and change how I acted with the world around me!
It would be another few years before I understood it was time to acknowledge this fear and trauma, to embrace and release it, as it had become clear to me how it continued to serve me. In my sad moments when someone wasn't saving the day for me, I would easily slip into playing the role of victim and drama queen!
The trauma was deep and was all about me absolutely recognising myself and knowing without a doubt my own worth, power and magnificence. Which I diligently worked on, practicing in each moment, following my inner knowing, being aware of all of myself and loving myself, oh so unconditionally.
Eventually the love I realised IAM transformed this fear into love, quite naturally.
I realised without a doubt that there is nobody out there who can do the work for me! Yes I could find someone to point within or facilitate a transformation from illness to wellness… to hold a safe and compassionate space for me to go within and realise how simple it can be… to be aware of body, mind & spirit, to acknowledge all my light and darkness and allow my own IAM presence, the loving presence IAM to bring me back into the arms of wellness, of wholeness.
AND Compassionate Mindfulness or Compassionate Psychology was born that I just love to pass on to YOU.
I've also experienced with a loved one, how our medical profession are just not geared up with the time or knowledge about mental wellbeing and seem to rely on medication… similar to how they treat chronic physical illness. Unfortunately this lead us to experience the worst side-affect of medication and brought us into a deep experience of desperation and hopelessness.
Thankfully we both knew that to focus only on illness or fight for wellness makes illness worse, and instead we focused on love, on being mindful of the healing power of the body, mind & spirit. We practiced compassionate mindfulness, and slowly… slowly over a couple of years, body, mind & spirit came back into balance and allowed us to experience a new sense of wellness.
I must add here that we worked with our doctor to reduce and eventually stopped medication. It is important you always consult with your own doctor about any changes you wish to make with your life regarding medication.
Simple Tips for Compassionate Mindfulness…
*Ask yourself whether you believe the person you're talking to is going to save you?
*Understand that nobody knows how you feel, better than you do yourself. You are unique and have different triggers and weaknesses that need acknowledging, embracing and accepting by yourself, before they can release or be transformed.
*Ask yourself whether you are talking to the person you're talking to as a means to keep your story of illness, your drama alive?
*Understand that your story of illness has no end, that it will go on forever, because your ego mind loves playing the victim & aggressor roles and the last thing it wants is you to start practicing self love!
*Understand that wellness from all dis-ease is about stepping out of duality, of the Human conflict and the need to fix, rather than seeing it as an experience in which to remember your natural state of being whole, loved and well.
*Know it can be that easy to be well, but you have to choose it, practice it and be it!
*Know you are not alone, it may seem like it at first, but once you begin to focus on loving yourself, you will feel and know the truth of you being love incarnate, interconnected with all life and can never be alone.
*Know there is always someone to help you step out of the reality of illness into wellness.
I thought you might like to listen to Part 3 of my live chat series of 4 Compassionate Mindfulness for Mental Health Wellness.
©Barbara Franken… Creative Visionary & MasterCreator
Inspiring New Energy Consciousness
Subscribe to my Blog & YouTube Channel…
To keep you up to date with my weekly inspiration for living the good life, you can subscribe to my blog (www.memymagnificentself.com by leaving your email at the bottom of home page) and my YouTube channel that will notify you. Thankyou for caring about YOU.
Please help me share this Mental Health Blog post…
I would appreciate you sharing this blog post with your friends, family and social media groups so that this dedication to Mental Health can be enjoyed far and wide. Thankyou.
Do you want to be part of my Guest Blogger Feature…
Magical NewEarth
Throughout May, IAM hosting a Guest Blogger Feature to put YOU and your writing talent in the LIGHT. Not only this, your story Magical NewEarth will be part of a Free E-Book we will be publishing worldwide to inspire mass consciousness who is now Awakening.
I know this is an incredible venture that is deeply impacting the world we live in.
For more information and how to apply, please read my post here.
A paperback and Digital Book is available from all Major online stores… Amazon and Apple
I share my own magical journey, exploring Who I AM with the help of nine Elemental Beings and expand from a world of fear, struggle and limitation into a New Energy Consciousness of love, grace and freedom. It is in this loving space that I discover my Divine and ALL LOVING self and allow myself to integrate together as one Body Consciousness… a DivineHumanBeing… and Magnificent Master Creator who expresses and creates heart and soul passion on the physical plane and beyond.
Join my MasterCreator Class and emerge yourself in the celebration of life through dance, song, art, relaxed inner journeys and beyond everything known… preparing yourself for your NEW role on New Earth.
There is no time like the present moment to Sign Up and give YOURSELF this magnificent gift… More Info: MasterCreator Class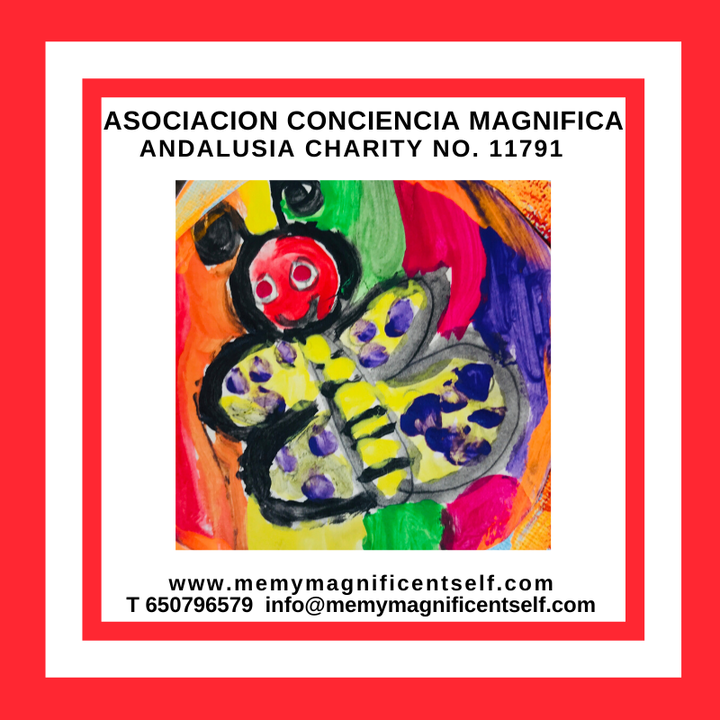 All the money raised from my books and classes go to my non-profit association The Magnificent Consciousness that holds free local creative art projects for children in Benalmadena, Spain.