Looking forward to an exciting new life and road ahead, meet Annika who is on her way to Malaga.
Did you choose Spain, or did Spain choose you?
2019 me and my novio, Christian, visited a friend in Malaga, which led to meeting more nice Malaga citizens. Christian is fluent in Spanish and had for a long time before we met thought about buying something in Spain. But not moved forward in his plans.
In January we went to Grand Canaria for a holiday and there we looked at some properties. We soon came to the conclusion that this was too far away, too isolated and not too attractive. Then we looked back to our memories of Malaga and how much we like this City. We are not beach lovers and we both like a "real " city. We went out on Idealista and Google, looked around a lot and finally we found a flat in Centro Histórico that we could renovate just the way we wanted! And we have started!
During the renovation we have found a small studio where we will stay during the creation of our dream place. We will come back to Malaga the 26th of July. And a very exciting road is laying in front of us!
So far we have experienced no big challenges. We will still have our base in Sweden. We have chosen not to take help with a lawyer so paperwork is one of the challenges but at the same time it gives us the opportunity to learn about how everything works.
And why Malaga?
Malaga has got everything you can wish for. It's the warmest city in mainland Europe in the winter, but only one of the warmest cities in the summer. It's a town with a lot of history, things to explore, good food and also the beach if you want it. Easy to access from other countries and close to surroundings to explore.
What advice would you give someone thinking about making the move?
I would give the same advice to everyone not just about moving to Spain. You go girl! If you want something grab it!
How do you spend your days?
I'm a fashion designer and dressmaker. I've been self employed in all my life. I also have a side business catering for parties and I'm qualified for interior design. If I decide to go full time in Malaga I'm sure I will fill my days. In my free time I will exercise – I do dance aerobics, yoga and long walks.
Something you are proud of?
Running my business, raising three children. Living my life.
Who would you have around your dinner table?
I would like to invite historical people from Malaga to understand how the city has developed. I read a lot of biographies of leaders and dictators in the world, I would like to get under their skin… But of course new friends of/in Malaga to be one of the común and also practice the language.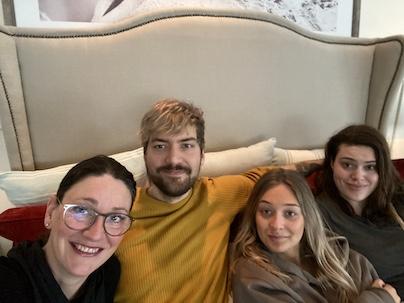 What's your secret weapon?
I'm a great cook
Favourite saying?
Be curious, spontaneous and it will lead you to adventures you never dreamt of.
Things you have to bring to Spain with you?
My sewing and cooking tools
Something you would tell your younger self?
Everything will be as you want it to be. As long as you thrive for it.
Where can we connect with you?
Thank you Annika! See you when you arrive 🙂
If you want to share your story with us, please complete the online questionnaire here