Meet Spain dreamer, Liz who is hoping to move to Malaga in September. She (and her husband) have started to track their journey and are looking forward to sharing their music and her holistic treatments with us very soon!
Why Spain?
My husband has just conquered type 2 diabetes and we want to be able to keep him healthy with lots of outside living for walks, swims etc. We'd also like to buy a home together and here we can with relative ease as we're self employed and banks don't often give mortgages. Wanting to set up our businesses in the sunshine before we retire as life is very short after losing my father in law, my cousin and a very dear friend all very suddenly.
Where are you living?
We currently live in Southern Ireland but we're from the UK and now want to move to Malaga province for the tourism, the expat community, the weather and the closeness to the ocean
What's your biggest challenge currently?
Not being an EU citizen.
How do you spend your days?
I spend my days seeing clients (especially those with mental health issues, special needs and the elderly) for massage therapy, yoga and meditation classes and recording and managing for 4 YouTube channels!
We walk our beloved dog Luna too. We're also musicians who play live gigs (Joni Mitchell covers and hubby is classed as the local artist with the widest catalogue of songs!) help in special schools (our great passion) and community hospitals with the elderly and make puppets for the same (they have their own show!)
We also love to spend time with our son who is studying in Sligo to become a nurse (so proud)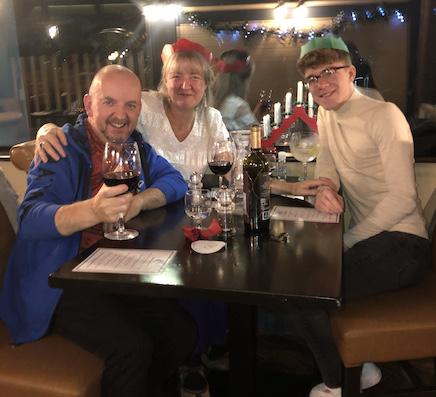 Something you have recently achieved?
Started up 4 YouTube channels, planned and organised moving to Spain and really enjoyed spending a lot of time with my husband walking and talking. Wrote a book and started another.
Who would be around your fantasy dinner table?
Oscar Wilde – writing and wit. Stephen Fry – intelligence and travel. Joni Mitchell – she's a genius and the best songwriter of her generation. Bob Dylan – musical genius and stories. Neil Young – his music and personality. Terry Pratchett – his writing and imagination, Gene Roddenberry – were huge Trekkies and I'd love to talk to this man, Sir Patrick Stewart, – seen him in many Shakespeare plays and love him as Jean-Luc Picard, Sir Ian McKellen – it's Gandalf!! Ella Fitzgerald – voice to die for, John Coltrane – musical genius.
What's your secret weapon?
Ability to adapt to any situation and make it work. We've come across many issues and problems over the years but have managed to find a way no matter what.
Favourite song and why?
"We are stardust, we are golden and we've got to get ourselves back to the garden" Joni Mitchell. The honest rock bottom truth of our existence and how we will live and work together and save the planet for humans and other life forms.
Something you will have to bring to Spain and why?
I'm going with things that aren't alive, so our guitars and musical instruments. Life is nothing without music.
Favourite book?
Fantastic Mr Fox & Asterix. Love Ronald Dahl but this book is his perfect one! Lovely writing and so clever. Asterix because they've made me laugh for years and taught me about french and Roman history into the bargain.
Something you would tell your younger self?
You're going to be a respected holistic therapist a musician and a yoga teacher and you are loved – it'll be ok.
Where can we find out more?
Facebook – YouToo Aromatherapy, YouToo Yoga, YouToo Spain, Liz & Skatz, Liz Scattergood, Liz & Skatz Shop.
YouTube – YouToo Spain, YouToo Yoga, YouToo Aromatherapy, Liz & Skatz, Innabubble
Thank you Liz – see you when you get here!
Do you want to share your story? Complete the online questionnaire here