Celebrating living in the moment, because life after all, is not a dress rehearsal, meet Mary O'Donoghue. Recently arrived in Estepona and already feeling that its paradise!
Did you choose Spain, or did Spain choose you?
I have married for the second time in 2013. I am a retired nurse and my husband is a retired farmer. We live in Dublin. We have 10 children and 9 grandchildren between us. We have both worked hard all our lives and now that all our children are finished college, married and settled all over the world we decided we would like to have somewhere to spend the winter months and get away from the cold and rainy winters in Ireland. We looked for a long time and then with the onset of covid19 it seemed like we would never even get over to Spain to view properties. However last year we saw what we felt was the perfect property for us. We did a crazy thing and bought the apartment online without even seeing it!!! Now we did have a friend who lives in Spain look after all the legal side of things for us.
We finally got over in June to see the apartment and are delighted with it. It does need a bit of work done to it but we knew that when we bought it. We spent a month sourcing a builder and we hope the work will begin in September and be finished for December so we hope to spend Christmas there. We are coming over in November and will stay in the apartment next door to oversee the final touches to the building work.
We are an easygoing friendly couple. My husband plays golf and intends joining El Parasio golf course and I play bridge and want to take up golf so would love to meet anybody who might like to take lessons with me. We hope to spend about six months a year here and would love to meet up with new friends. I am 59 years old.
Where is your Spanish home?
We have bought our apartment in Estepona. It is a beautiful town with fantastic restaurants; small enough to walk around and is only an hour from Malaga airport.
What was the biggest challenge for your move to Spain?
We found the move went very smoothly, having a friend who lives here was a great help. I would say not having the language is a bit of a challenge but with google translate we manage ok. We are going to take Spanish lessons and would like to join a nice group if anybody knows of one?
What advice would you give for Women thinking about making the move?
Do it, it is paradise out here. As they say its not a dress rehearsal!!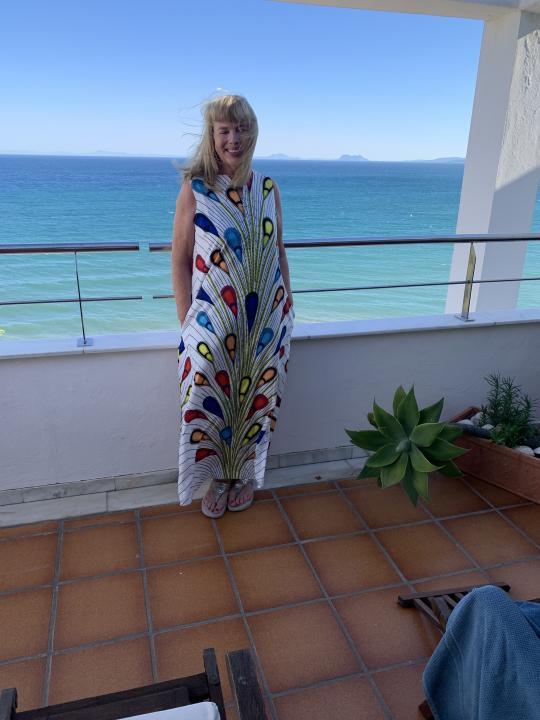 What plans do you have for your visits?
We are only just moving, but for the month we were there we played bridge and golf, walked the paseo daily and enjoyed the amazing food. I am interested in creative writing and would like to spend some time writing while I am in Estepona. Am interested in joining or setting up a book club, let me know if you are interested?
(Have you found the one near to you Mary organised by The Bookshop San Pedro and run by Alicia?)
Something you are grateful for?
I am grateful for rearing four happy healthy children who are all doing well now in life.
Your dinner party – who would you invite?
Ursula von der Leyen and Angela Merkel, they have both achieved so much in a male dominated world and handle themselves in a no nonsense way with great dignity. I'd say they would have great stories to tell. Warren Buffet one of the worlds richest men and lives in the same house he bought when he first got married, has a Macdonald's very day and is a brilliant bridge player. Luciano Pavarotti who would get the party going with a great after dinner sing song!!
Your superpower?
I have a positive attitude to life. Even when hard times come my way I just dust myself down and carry on.
Favourite saying?
"Everything will be okay in the end. If it's not okay, it's not the end."
Something you had to bring to Spain with you?
My husband! I know he's not a thing but I could not imagine life without him.
Favourite Book?
"This is the Moment" by Keith Wilson. It reflects on where I feel I am in life right now. It's about enjoying life and not looking back in regret.
Something you will tell your younger self?
You can please some of the people some of the time but never all of the people all of the time, so calm down and don't be such a people pleaser.
Thank you Mary!
If you want to share YOUR story with us, please complete the online questionnaire here