Which is the most natural and gentle way to balance our hormones?
Hormone Balance with Progesterone Cream is a gentle way to achieve results in combating menopause symptoms.
In a woman's normal healthy monthly cycle Estrogen is the dominant hormone for approximately the first two weeks, balanced by progesterone which is the dominant hormone for the latter two weeks.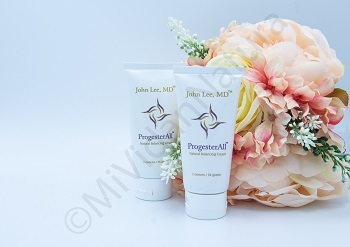 Natural Balancing Cream – The Original Dr. John Lee Cream
Only supplemental Natural Progesterone has been demonstrated over many years to increase serum and saliva progesterone levels in women, certified by ample clinical and published scientific research.
As the liver intercepts about 90% of all progesterone taken orally or by suppository, many informed women have chosen to use premium transdermal cream almost 100% biologically, available as shown by salivary hormone assays.
Environmental Suppressors
Women of all ages who reduce their intake of known environmental suppressors to natural progesterone production and use a premium high-quality Natural Progesterone Cream, such as ProgesterAll, can restore an optimum healthy balance of estrogen and progesterone.
Consequently, women may enjoy a higher quality of life. The restoration of hormone balance changes women's lives and alleviates the symptoms.
ProgesterAll Natural Balancing Cream may also be termed as bio-identical, which means your body recognizes this hormone, relates to it, and is able to process it through the liver. This is much better rather than via the stomach tract where acids and other internal liquids can alter the compound.
There has never been an easier or more practical way to reshape your system.
Chemical Free and without Parabens or colorants. No side effects to deal with.
Why ProgesterAll?
Natural Progesterone ProgesterAll is a lightweight easy to use gel-cream that works with your body and through your skin transdermally.
ProgesterAll will give your body the ability to balance naturally and combined with a few lifestyle changes you can bring yourself back to your usual self without the use of needles, medication, and chemical-based hormones.
Talk to me
Please feel free to contact me for any questions you may have about natural hormone balance, menopause, and perimenopause. Find out more about how you can achieve a natural balance without artificial hormones. My services are private and confidential and not publicized.
Aly Farmer
Email: hello@mividanatura.com